Combining with Chongqing People hall, the People Square is the architectural symbol of Chongqing.
Chongqing People Square built in June 1997 together with the birth of Chongqing municipality directly under the central government at the same time, the area of about 30000 square meters, the square was paved with granite and music fountain, all the year round here is green, flowers in full bloom. Behind the square is renowned Chongqing Great Hall of People, was established in September 1951, completed in January 1954, two years and four months in all. Every evening, the citizens organize thousands of people in the square to dance group dance, aerobics, which constitute a beautiful landscape of life.
In fact, there are five magnificent squares: the People Square in front of the People Hall, the Liberation Monument Shopping Square, Chaotianmen Square, the Green Art Square and the Jialing Square. Chongqing citizens in particular, are well- known for their hospitality. They call these squares as 'the Parlours of Chongqing' and treat these squares as the best platform for communication with all the tourists coming from home and abroad. You will soon directly experience the honest and enthusiastic attitude of local people handed down from generation to generation.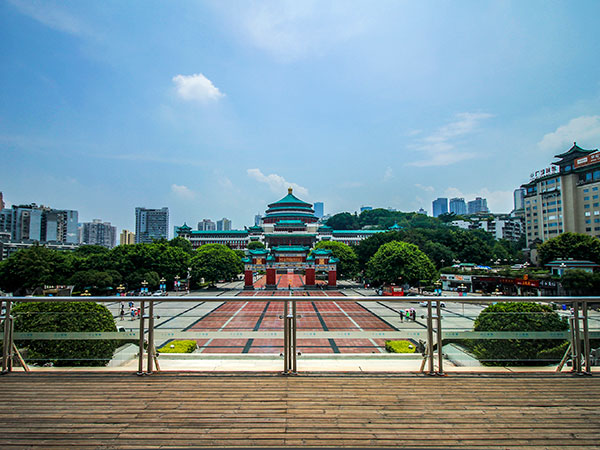 Main Attracions
【Chongqing Great Hall of People】
Chongqing Great Hall of People adopts Chinese traditional axis symmetry technique, match with the south and north flank in both sides of symmetrical relationship. Outside is a glorious view with imposing manner, rational layout; inside of Chongqing Great Hall of People is a big stage, four floors of audient seats for 5000, is the main attraction of the Chongqing People Square, is also a big celebration, grand rally and important place, lots of tourists from home and abroad praise.
【Three Gorges Museum】
Chongqing China Three Gorges Museum (Chongqing Museum) grew out of the Southwest Museum, which was founded in March 1951. In June 1955 it was changed its name to the Chongqing Museum, and in September, 2000, general office of the state council approved the establishment of Chongqing China Three Gorges Museum to take place of Chongqing Museum