Located on the northern bank of the Yangtze River, Fengdu is an ancient city with a time-honored history, known as the 'Ghost City' to most Chinese people.
Fengdu got its reputation as the 'Ghost City' in the Eastern Han Dynasty (25 A.D. – 220 A.D.). Two officials from the imperial court named Wang Fangping and Yin Changsheng, got bored with the political life in the court and came to Mt. Minshan outside the Fengdu City to practice Taoist teachings. Both of them later became immortals by carrying out self-cultivation. This story widely spread and makes Mt. Minshan famous. When combined together, their surnames Yin and Wang, sound very much like 'King of Hell' in Chinese, hence the people began to call Fengdu the 'Ghost City'.
According to superstitious legend, the dead come to Fengdu Ghost City and the devils go to hell. Since Tang Dynasty, forty-eight temples have been built in the place, such as the 'Hall of the Jade Emperor', 'the Palace of Hell', 'Boundary Between the Living and the Dead', 'the Ridge of Helplessness' and 'the Balcony of Nostalgia'. All of the temples there look quite magnificent while statues are extremely lifelike.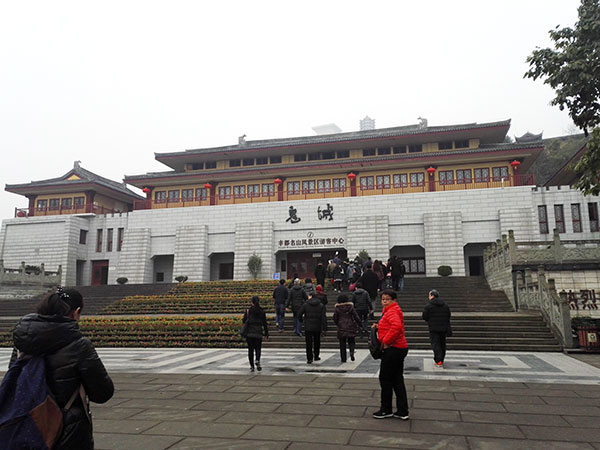 The national first batch AAAA level tourist area – Fengdu Ghost City, originated in Han dynasty is a famous historical and cultural city, has been touted as "the devil city", "the land of the dead", the home to return to the land of human beings. It is not only a legendary ghost town, but also a art treasure house in collection of Confucianism, Taoism and Buddhism as one of the folk culture and it is one of the most famous cultural landscape on the Yangtze River Cruise.
Fengdu Ghost City is located in the southeast of Sichuan basin, located in the Yangtze River upstream, is the home of Qili. It is an ancient city close to mountain and river, in the Spring and
Autumn Period, people called it "Bazi City". It is the first attraction along the Yangtze River three gorges tourism scenic spots going from Chongqing. Legend has it that there is a home of soul after death. Since the ancient times Fengdu Ghost City is the famous cultural city, is China's most distinctive, the most famous historical and cultural town, and it is famous with its ghost town culture famous throughout the ages. With its long history, unique cultural connotation, the legend of magic, the beauty of the scenery and irreplaceable ornamental value, it shows mysterious oriental culture to tourists from home and abroad.