Langmusi Town is nested on the remote eastern edge of China's Qinghai Plateau, at an altitude of 3600 meters and shared by Gansu Province and Sichuan Province. The town was built and developed around the Langmu Temple (founded in 1748), hence the name Langmusi Town. A 2-meter-wide river named Bailong River (White Dragon River) and a mosque divide Langmusi into two parts, one belongs to Gansu, and the other belongs to Sichuan. For centuries, this serene, legendary town has been inhabited by Hui Muslims and Amdo Tibetans, who live together peacefully and stick to their respective beliefs.
The top things to do and see in Langmusi Town include two Tibetan Buddhism temples of Gelug Sect, Sertri Gompa & Kirti Gompa, the Hui Mosque, Bailong River Gorge, Langmusi sky burial, Namo Gorge and Tibetan horse trekking around Lamgmusi Town. Many travelers (some are backpackers) like to make an overland trip from Lanzhou, Labrang Lamasery, Langmusi to Jiuzhaigou to experience the Amdo Tibetan culture and hidden natural beauty.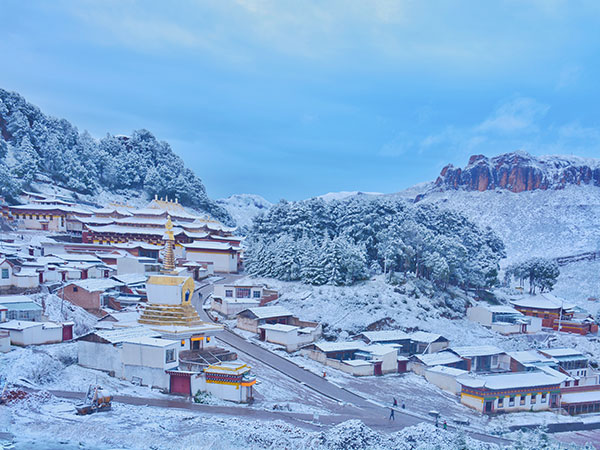 How to Get to Langmusi Town
By Air: The nearest airport to Langmusi Town is Gannan Xiahe Airport. Passengers can take bus from Xiahe to Langmusi Town.
From Xiahe: In the peak season, there are two buses every day from Xiahe Bus Station direct to Langmusi Town leaving at around 6:40 a.m. and around 7:40 a.m. (subject to change in the low season). The bus fare is RMB72. If you miss the buses, you can get to Hezuo (合作) first (1 hour's drive from Xiahe), and then transfer to a bus to Langmusi. There are three buses every day, leaving at 6:30a.m, 7:20a.m, and 12:00p.m.
From
Lanzhou
: There is not direct bus from Lanzhou to Langmusi. So travelers have to make a transfer in Diebu (迭部).
From Ruoergai County: Direct buses also link Ruoergai (Zoige) and Langmusi. There is not direct bus from Chengdu to Langmusi, but you can make a transfer in Ruoergai.
Jiuzhaigou-Sonagpan-Langmusi transportation: No direct bus has linked Jiuzhaigou and Langmusi. So if you plan to travel from Jiuzhaigou to Langmusi, you can 1) catch the Jiuzhaigou–Lanzhou bus, and get off on the main road outside Langmusi, and then you need to walk to the town. 2) Get on a bus from JIuzhaigou to Songpan then transfer in Zoige for another bus to Langmusi.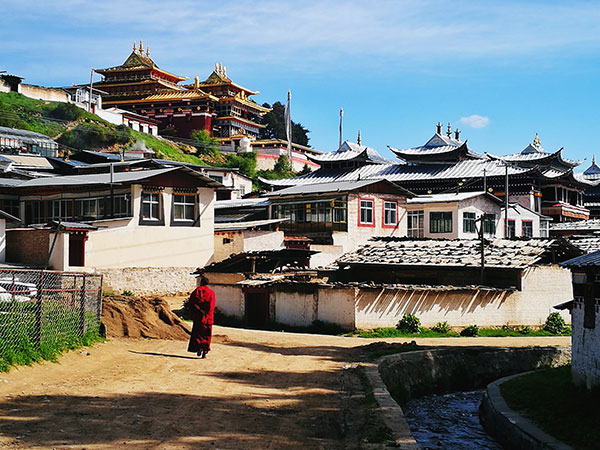 What to Do and See in Langmusi Town
Kirti Gompa
Also named Langmu Temple, it is situated on the southern hill in Sichuan Province. It keeps the body of Living Buddha Kirti V, which remains unbroken and unspoiled. The hall to preserve the body is opened to the public every three or five days. It is worth hiring a local guide to explain to you the legends and stories about the temple and the Living Buddhas.
Sertri Gompa
On the northern hill in Gansu Province, the gold-topped buildings of Sertri Gompa are wreathed in mist in the morning, a great place for photography. There is a sky burial ground on the mountain behind the temple (40 minutes' hiking), where the traditional sky burial is still practiced.
Bailong River Gorge
In the heart of Kirti Gompa is the entrance of Bailong River Gorge. It is accessible by walking or horse trekking. The gorge with the surrounding countryside is available for those who like to plan on a Langmusi Tibetan horse trekking trip and explore more of the town. Langmusi is known as 'the Oriental Switzerland' featuring breathtaking landscape, and ideal for hiking around. If hiking up to the mountain top, you will have a full view of Langmusi Town.

The Sacred Buddhist Activities
If you are lucky to visit Langmusi in the right time (not fixed), you can experience many sacred Buddhist activities, such as Tibetan Buddhist debating, the grand festival of Sun Buddha that is to show the huge silk painting of Buddha under the sun and hold a solemn ceremony, and mysterious Tibetan dance.
Useful Travel Tips
Langmusi weather and best time to visit: It is cold here, with annual average temperature of 3.3℃. May till September in summer is the best time to visit Langmusi, when the weather is mild, and the grassland is full of galsang flower. However, if visiting Langmusi in winter, you can expect many Buddhist festivals with various activities.
Langmusi accommodation: There are comfortable hotels, convenient youth hostels, and Tibetan architectural style guesthouses.
What to eat: Most of the local restaurants serve Tibetan Cuisine and Sichuan Cuisine. There are one or two Western restaurants, but also blend the local flavor.