At an altitude of 2980 meters (9777 feet), Chuanzhusi Town or Chuanzhu Si is a peaceful, exotic town with a mix of Tibetan culture, beautiful natural scenery, ancient city, and convenient modern facilities. For travelers to visit Jiuzhaigou and Huanglong National Parks, allow yourself half day or one night in Chuanzhusi Town to experience something very unique.
Chuanzhusi Town is favorably located, facing Huanglong Village on the east and Hongyuansedi Village on the west, and close to Bozuo Village, Zoige Country. The town is a colony for several minority groups, including Tibetans, Qiang people, Hui people and Han people. The Tibetans, Chuanzhusi's largest ethnic group, have been living here for centuries and still keep the Tibetan traditions. Therefore, making a trip to Chuanzhusi, you can experience authentic Tibetan foods, architectures, temples. music, dance.
What to see in Chuanzhusi Town
Chuanzhu Temple
Initially built in 1270, the temple used to have 86 rooms, 2018 clay Buddha sculptures, 1025 bronze Buddha sculptures, 128 wooden Buddha sculptures, 524 prayer wheels, 350 Thangka paintings, 3250 reels of Buddhist classics, 2 dagobas and some other Buddhist art works. However, most of them and part of the temple were severely damaged during the Cultural Revolution period. Only the "treasure of the temple" with some Buddhist classics is preserved up to now. Chuanzhu Temple has been rebuilt.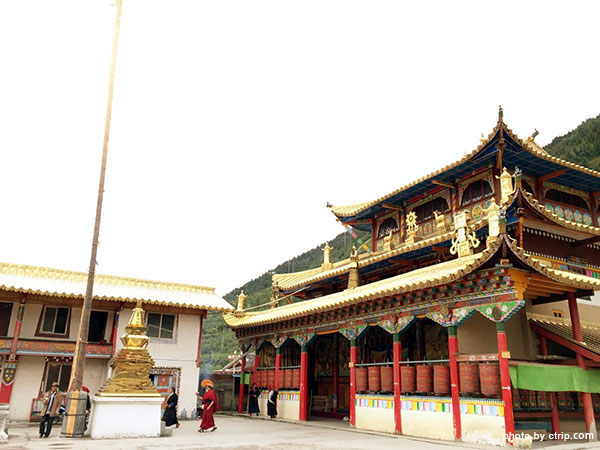 Lavender Fields
The fields are 2km away from the Jiuhuang Airport of Chuanzhusi, and cover an area of 6 km². The lavender fields are at its best from July to September when the flowers are in full bloom. You will see the purple seas of lavender when making the way to Jiuzhaigou and Huanglong scenic areas.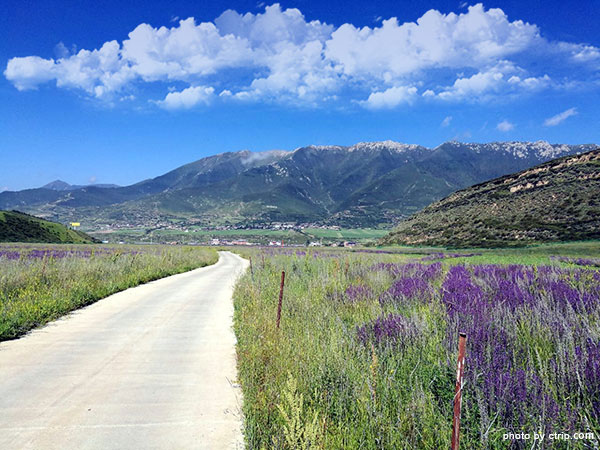 Xueshanliang Mountain
The heartland of Xuebaoding (the main peak of Minshan Mountain in Sichuan Province), Xueshanliang is 4000 meters (13123 feet) above sea level and a place you must pass by when traveling to Huanglong Valley. The mountain ridge is dotted with colorful prayer flags and banners with mantras, showing local Tibetan people's love and worship of nature.
How to Get to Chuanzhusi Town
By Plane – It is just 12km (7.5 miles) south of Jiuzhaigou Huanglong Airport, which is connected with Chengdu, Chongqing, Beijing, Xian and other China cities by daily flights. From the airport to Chuanzhusi Town, the taxi fare is around RMB30. Refer to the page: jiuzhaigou Flight Schedule
By bus – The daily regular bus departing at 09:30a.m. runs from Chengdu Chadianzi Bus Station to Chuanzhusi Town (400km / 217 miles, around 8 hours' drive). The bus fare is RMB114 p.p.
Getting around to the Nearby Scenic Areas
At the crossroads leading to Songpan Ancient Town, Hongyuan Grassland, JIuzhaigou Valley and Huanglong Scenic Area, Chuanzhusi is an important traffic hub in this area. Travelers can transfer in Chuanzhusi Bus Station for the buses to Langmusi (via Songpan), Muni Valley, Hongshi (Red Stone) Park, Jiuzhaigou, Huanglong, Mianyang, Dujiangyan and Chengdu.
Chuanzhusi to Jiuzhaigou National Park: 87km (54 miles)
Chuanzhusi to Huanglong National Park: 39km (24 miles)
Chuanzhusi to Songpan Ancient Town: 17km (10.5 miles)
Chuanzhusi to Hongyuan Grassland: 40km (25 miles)
Tips: For those who plan to travel from Jiuzhaigou to Langmusi in Xiahe by bus, you need to make a transfer in Songpan Bus Station.

Where to Stay in Chuanzhusi
There are plenty of hotels in Chuanzhusi Town, from the comfortable 4-star standard hotel to the basic guesthouse. Data shows that there are even more hotels in Chuanzhusi (totally 258 in 2017) than in Jiuzhaigou Natural Reserve area (totally 217 in 2017).