At the border of Jiuzhaigou Country and Songpan Country, Ganhaizi National Forest Park is another must-see attraction in Jiuzhaigou Scenic Area. The park is 20km away from Jiuzhaigou Valley and 60km away from Jiuzhaigou Huanglong Airport. Ganhaizi is also named Fangcao Lake and used to be an alpine lake (at an average altitude of 2200m / 7218 feet), but gradually turned to be 'a dry lake' because of geological change causing a much bigger outfall. Today, Ganhaizi scenic area is not longer dry, but full of crystal lakes, clear streams and tinkling brooks, with the snow-capped mountains afar as the background.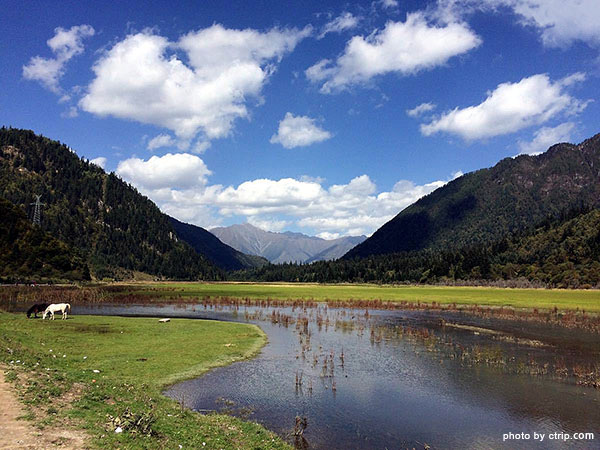 What to see in Ganhaizi National Forest Park
The entrance ticket to Jiuzhaigou National Park has included a visit to Ganhaizi National Forest Park. The major lakes including Jin Xiniu Hai (Golden Rhinoceros Lake), Fangcao Lake and Jiuqucai River (Nine Blends Colorful Lake) are surrounded by overlapping mountains and massive valleys. There are waterfalls of difference sizes and rare plan species hidden in the primitive forests.
At the Hinterland of Minshan Mountain Range, the Ganhaizi Scenic Area is a sacred land for the descendants of the Chinese Nation. Legend has that the Queen Mother of West Lake settled here after moving from West Lake. Besides, Chinese people's earliest ancestors Yan Emperor and Huang Emperor were born here. Apart from the beautiful natural scenery, Ganhaizi also offers exotic cultural experience. Visit the local museum, temples, prayer wheel fields, pagoda forest, sacrificial altar, Tibetan and Qiang watchtowers to discover the mysterious Tibetan and Qiang culture and traditions. Ganhaizi is beautiful all year round, yet features different kinds of scenery in different seasons. Everything is green in spring. The world is warm, and you can feel it. While in summer, the ground is covered with little wild flowers, and flocks of cattle, sheep and horses enjoy the grasslands and are running happily and freely. Ganhaizi National Forest Park is a dreamland in autumn, because of the fall foliage of all colors, and become a tranquil place that seems disappear into the mountains.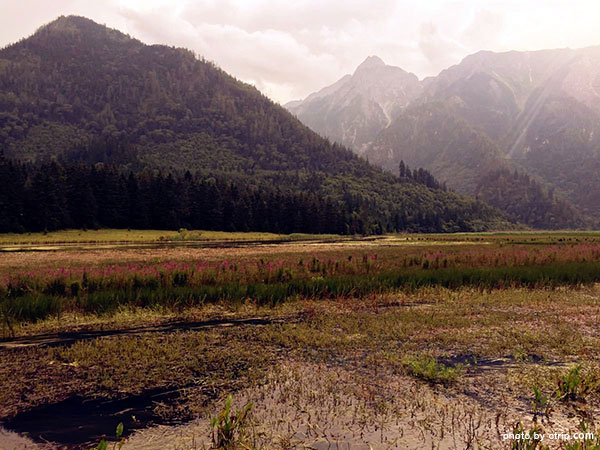 From Jiuzhaigou Valley to Ganhaizi
Not regular bus has linked JIuzhaigou and Ganhaizi directly. You can 1) take a Jiuzhaigou to Chuanzhusi Town (or Songpan Country) bus, and get off at Ganhaizi. 2) Take a taxi or charter bus. The two places are approximately 20km apart. The taxi fee is around RMB50yuan.
Tips: Ganhaizi National Forest Park, Goddess Lake and Jiuzhaigou Valley form a triangle geographically. Since the road network has not yet connected Jiuzhaigou Valley and Goddess Lake Directly, travelers can make a transfer in Ganhaizi if planning traveling from Jiuzhaigou Valley to Goddess Lake.


Where to Stay
For those who plan a trip to Ganhaizi National Park, you can book your hotel in Jiuzhaigou Valley or Chuanzhusi Town. Both of the two places offer various kinds of accommodations. Or you can stay at InterContinental Resort Jiuzhai Paradise (five-star), which is a short distance to Ganhaizi.