Jingzhen Octagonal Pavilion (Chinese name: 景真八角亭), an famous ancient Buddhism architecture in China, is one of the most important cultural relics in Xishuangbanna. Located in the Jingzhen Village, about 14km away from Mang Hai County, this pavilion is called Octagonal Pavilion which means a place to hold the holy religious ceremony.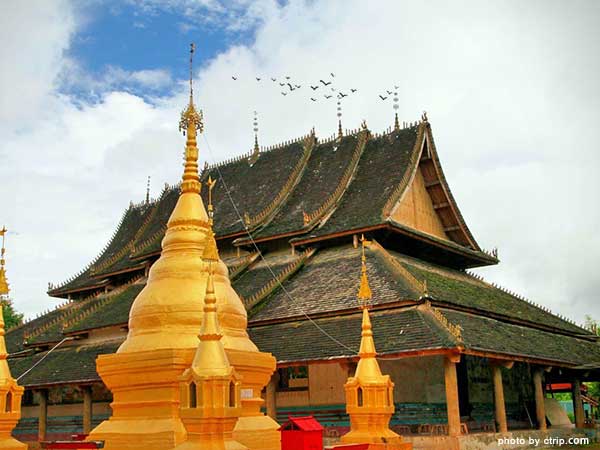 History of Jingzhen Octagonal Pavilion
Built in 1063, Jingzhen Octagonal Pavilion was once a part of the Jingzhen central Buddhism pagoda called "Wa La Zha Tan". It is said that this pavilion was built for worshiping of the Buddha Sakyamuni and based on the shape of his golden silk hat. In the ancient time, it served as a meeting spot. During the 15th and 30th each month in Dai minority calendar, monks would come together to Jingzhen Octagonal Pavilion to have the religious events, or any other large ceremonies. In 1988, Jingzhen Octagonal Pavilion was listed as the National key cultural relics protection unit.
Structure of Jingzhen Octagonal Pavilion
Jingzhen Octagonal Pavilion is a Buddhism pavilion built on the top of mountain. With brick materials, it is in a height of 21meters, 31 sides, 32 corners. On the wall, there are 31 carving pictures which are all about elephants, lions, tigers, etc. And the mirrors and colored glassed are inlayed outside the layout of the pavilion. The room of the pavilion is 6.4-meter-width and 2.5-mete-height. There are 24 sides wall that decorated with golden patterns. The top of the pavilion is wooden material. Each pavilion angle has an elaborate carvings such as golden chicken, phoenix, etc. The Octagonal Pavilion is the typical Buddhism architecture in Xishuangbanna, absorbing the southeastern Asian style as well as the traditional Chinese ancient architectural factors.