Ganlanba Dai Minority Park (Chinese name: 橄榄坝傣族园) is located in the southeast direction of Jinghong. It is a dwelling place for Dai minority people cause they have lived there generations to generations. Thus, the dense Dai minority culture can be found here.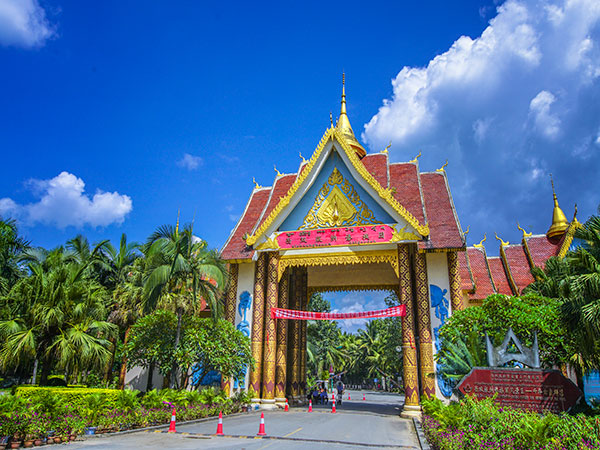 Ganlanba can be a representative to experience both the minority culture and the tropical atmosphere. Because Ganlanba with the lowest altitude which is about 530m in Yunnan, it is the hottest place. The hot climate makes Ganlanba as a rich fruits production area. Ganlanba in Xishuangbanna culture means "the imperial gardening village". Inside it, there are two large villages called Man Chun Man (means flowers village) and Man Ting (means fruits village) separately. No matter which village you choose to visit, you can appreciate the typical Myanmar temple pagoda and Dai bamboo house.
The Position of Ganlanba in Xishuangbanna
Locals give the title "the feather of peacocks" to describe Ganlanba. They regard Ganlanba as the peacock which is spreading its tail, it is a place with shining colors. Those bright Dai minority villages are looked like the decoration of the spreading tail.
Name of Meng Han (Ganlanba)
Ganlanba is the nickname of the Meng Han Dam which is located in the middle reach of Langcang River in Xishuangbanna. Meng Han means the rolling place of clothes. It is said that, when Sakyamuni had his tour in Xishuangbanna to spread Buddhism, locals of Ganlanba put white clothes on the ground to expressed their hospitality of him. But the white clothes was not enough to cover the whole Sakyamuni's route in Ganlanba. So locals rolled the former period and used to put forwards to continue the road. Sakyamuni was so touch by this behavior. So he named this place to remember the honesty people here, thus it got the name "Meng Han".

What You Can Experience in Ganlanba
【Important Dai minority dwelling place】 – Ganlanba is one of the important Dai minority dwelling areas in Xishuangbanna, The splendid Dai minority culture constructs Ganlanba as an ethnic kingdom in Yunnan. Aiming to spread the unique culture to the world, Dai people had built some interesting folk villages. And inside these villages, the joyful activities between tourists and Dai people bring each one the deep memory.
【A big fruit garden】 – Ganlanba is a big fruit garden with rich fruit types. The most famous ones include coconut, pineapple, watermelon, banana, and tamarind fruit. The coconuts and pineapples selling in Jinghong are majorly produced in Ganlanba.
【The unique rubber forest scenery】 – the rubber forest is decorated by the tall and slim coconut grove. Ganlanba is one of the leading places to produce rubber.
【Dai minority villages】 – Ganlanba consists of 5 villages, about 300 families. Locals here are hospitality and still keeping their own living style. When you walk on the lane during the evening, you may hear the melody of Lusheng and the rhythm of Xiangjiao Drum.