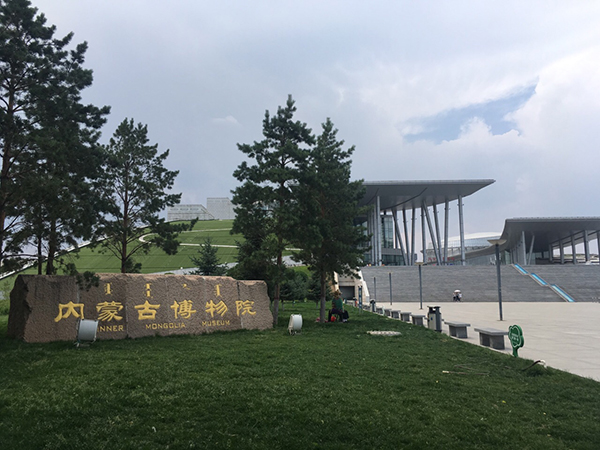 Inner Mongolia Museum is located in the city center of Hohhot City. Built in May 1, 1957, it is the only provincial comprehensive museum in Inner Mongolia Autonomous Administrative Region. With a total area of 15,000 square meters, the exhibition area is about 7, 000 square meters, boasting a good selection of Mongolian items and a historical lineage of this vast grassland. The running horses on the top of the building aim to express the rapid developing Inner Mongolia. Since the opening day, this museum has been the symbol of Hohhot till now.
This museum was founded on the occasion of the tenth anniversary of the establishment of the Inner Mongolia Autonomous Region, in 1957. The building, expressive of local minority characteristics, is located at the intersection of Xinhua Dajie and Zhongshan Lu in the heart of Hohhot City, the capital of the autonomous region.
What to See
The Museum boasts 56,475 pieces of cultural relics, of which 635 pieces are the first-grade, including an eagle-shaped golden coronet of the Warring States Period (475-221BC) with 7.1cm in height and 192 grams in weight, and a set of golden coronet strips (consisting of 3 pieces) with 1,022.4 grams in weight. These two items were unearthed in 1972. In addition, an incense burner of the Yuan Dynasty (1271-1368) of 42.7cm high was unearthed in Hohhot in 1970.
One of the important sources of its collections are precious materials excavated from the earth as a result of archaeological research. These materials are of great speciality to the museum. The Inner Mongolia Museum is renowned for its extensive collection of fossils and dinosaur remains found in both Inner Mongolia and Outer Mongolia including a complete skeleton of a wooly rhinoceros unearthed from a coal mine in Manzhouli.
The Museum features four exhibition halls: Display of Ancient Animals' Remains, Display of Historical Relics, Display of Folk Relics and Display of Revolutionary Relics.