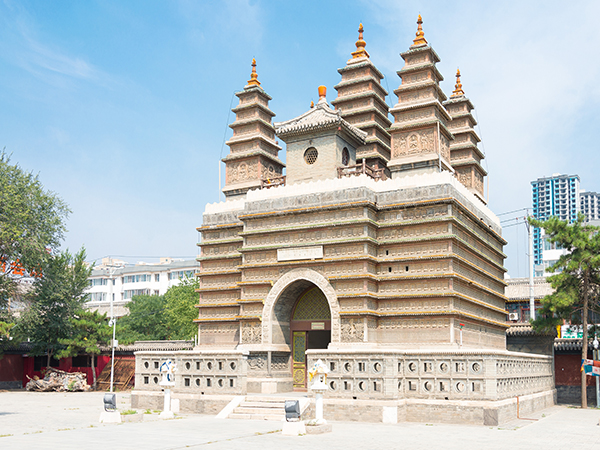 Five Pagodas Temple is located in the city of Hohhot. This temple was built in Qing Dynasty. The total height of it is 16.5 meters. Comparative with the Five Pagodas Temple in Beijing, this one is also showing a dense religious atmosphere and will bring visitors the real experience in a Chinese religious temple.
Construction of the temple began in 1727 and was completed in 1732. The distinctive five pagodas surmount contains a temple with 1563 images of Buddha carved into its walls each differing slightly to the other. Inside is a rare Mongolian cosmological map carved into a large stone which illustrates the zodiac and positions of numerous stars.
The pagoda consists of three parts; the foundation, Jingangzuo, and the five square pagodas. The vivid carvings and designs on the pagoda are finely made, and it is representative of the architectural achievements that were made in the Qing Dynasty (1644 – 1911).
Compared with other pagodas, Five-Pagoda Temple is unique in at least two aspects: its special structure, pagodas over pagoda, and the green and yellow colored glazes on the short eaves and tops of pagodas. Those make Five-Pagoda Temple quite special, a treasure of Hohhot City. Note: The government of Hohhot City plans to restore the sites in Five-Pagoda Temple. The projected will be finished in July according to the schedule.