Ili Grasslands in
Xinjiang is one of the most beautiful four places; it is also one of the most beautiful six grasslands in China. Like other grasslands in Xinjiang, Ili Grasslandss is not only in the opposite of desert, and it is also in the opposite of Snow Mountain. There is a feeling of beauty of rich and complex, multifaceted beauty.



Ili Grasslandss develop in one of Asia's largest mountain system of
Tianshan Mountains in and its mountain basin, the north, east, south of Ili Grasslands is surrounded by three sides of mountains and the openings for the west bring moist air in the west and become "wet island" scenery in the desert here alone, what contribute to full perpendicular band spectrum development of Ili grasslands. From high to low in sequence distribution there are alpine meadow, upland meadow, mountain meadow steppe, mountain grassland, mountain desert grassland, desert plains, river valley meadows, the diversity is very rich.

Information
Ili is embraced on the east, north, south sides surrounded by mountains and with a landscape of trumpet shape opened to the west, on the one hand, it resists against the cold snap from the south of the Siberian, hindered the dry wind of Taklamakan desert go to the north; On the other hand it accept the Atlantic and the Mediterranean Sea warm current as much as possible, therefore it is the most rainfall areas of Xinjiang province, an average annual rainfall is more than twice than the average rainfalls in Xinjiang province, what making it the actually "wet island" among the drought desert of central Asia and it contribute to full perpendicular band spectrum development of Ili grassland. Ili Grasslands consist of Nalati grassland, Tangbula grassland and Gongnaisi grassland. Whether famous Nalati grassland, rising star Tangbula grassland, or the traditional Gongnaisi grassland, and Zhaosu grassland, Ili Grasslands all show a transcendental beautiful temperament and appearance. Ili river valley is so extraordinary with infinite vitality
.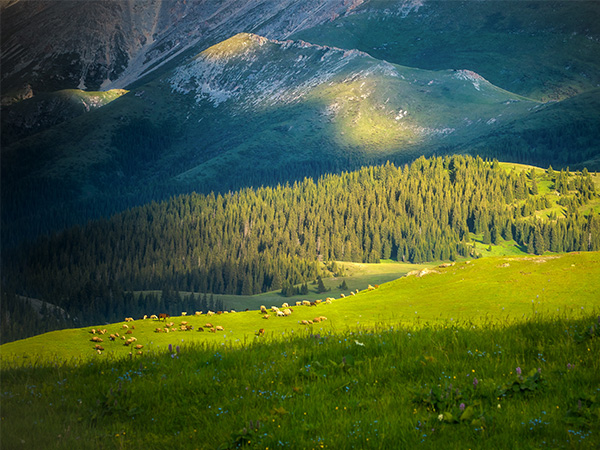 Geography
Ili Grasslands climate is moderate and moist with fertile soil. Although in the both sides of valley have less rainfall, rainfall is much in the mountain. With good natural conditions, the average annual temperature in 8 to 9 degrees Celsius where is suitable for farming and herding. Distributed from the plains to the mountain, there are desert, grassland, meadows, thickets and forests and other vegetation types of the lawn, nomadic culture here is obvious. Herdsmen are herding in plain desert in winter, in spring they will shift up to the hill, in summer go to alpine grassland, and in autumn begins a new cycle.
Grassland Human Landscape
Ili Grasslands widely distribute grasslands tombs mound, mysterious and colorful Ili grassland stone painting and rough man rock. It can be said "three major cultural relics wonders" in Ili Grasslands. Grasslands tombs mound also called Wusun tombs mound. There are tens of thousands of tombs mound in Ili vast plains, the tombs mound mostly are half cone, the majority of the mounds are north-south distribution, or 3 to 5 as a column, or a group of more than 20. The largest one at the bottom of the circumference is 350 meters, 20 meters high. Tombs mounds are tall, imposing and impressive. Ili river south shore there are so many well-preserved bombs mounds. Distributed in Ili, tombs mound are the remains of ancient ethnic groups in Ili River valley. It is not only the unique human landscape in Ili Grasslands, but also ancient national treasure to understand the Ili rare and precious cultural relics. Stone men were found in the Ili Grasslands and there are several large stone portraits. For thousand years, they stood in the vast grasslands, experiencing the ups and downs, being called "grassland stone man". Most of these stone men were carved by choosing complete rock. From the perspective of the appearance of a man, some stones were carve the portrait, the head, face and body what made they more vivid, and they were dressed in clothes with countable accessories, and they were fine carving and vivid. Some stone men were only shallow carved a few fine lines, represented rough showing facial contour. According to history record, once celebrated Turks have long-term activities in Ili river valley. After Turks died, according to their custom, they need to butcher horse, sheep and other livestock for sacrifices, and then pick an auspicious day of the funeral. The tombs tend to erect the stone. Accordingly, bronze statue of a man scattered in Ili Grasslands should be the relics of the ancient Turkic.