Bazaar means a fair or a market in
Xinjiang area. And the most famous bazaar will be
Erdaoqiao Bazaar (Chinese name: 二道桥大巴扎,新疆国际大巴扎) in the center of
Urumqi. Began to serve as a market since 130 years ago in the late Qing Dynasty, Erdaoqiao Bazaar has attracted countless customers from all over central Aisa. Erdaoqiao Bazaar located at the southern end of Tianshan area in Urumqi Erdaoqiao business circle. Completed in June 26, 2003, is the world's largest grand bazaar. Erdaoqiao Bazaar is a combination blocks of modern and ancient islamic style, blue and silver dome roof is imposing and magnificent, and it is the window of the Xinjiang.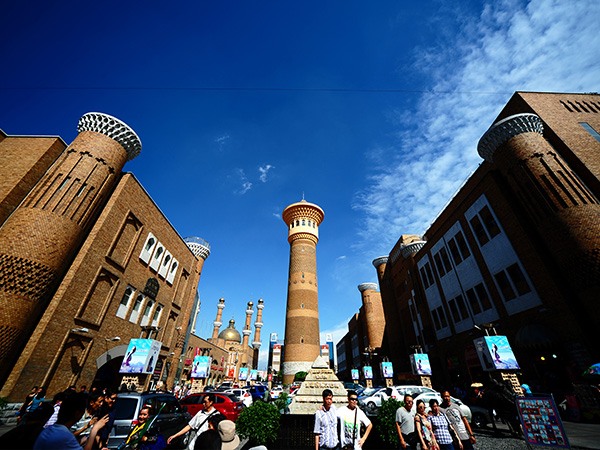 Renovated in 2002 by Urumqi municipal governemt, Erdaoqiao now has become a shopping street in 1.2km long, mainly consisted of Xinjiang Ethnic Prodect Street and Xinjiang International Bazaar.

Bazaar is a symbol of business and tourism prosperity in Xinjiang, is also the landscape architecture of Urumqi as minority's city, and is a landmark building in Urumqi. Erdaoqiao Bazaar with rich Islamic architecture style on the basis of the function and period feel, recurred prosperity of the ancient Silk Road, intensively reflected the rich western ethnic features and regional culture.


What to See in Erdaoqiao Bazaar
Erdaoqiao is situated at the Erdaoqiao Block of South Jiefang Road in Urumqi, where you'll find a bustling market filled with fruit, clothing, crafts, knives, carpets and many antique items. The market has special space for grand ethnic songs and dances performances, and the folk street is furnished with a miniature landscape of Xinjiang's attractions. On Sunday, there are more stalls and more goods than any other days.
Souvenirs in Erdaoqiao Bazaar
In Erdaoqiao, the main thing to do will be shopping. You can find many famous souvenirs here, such as the Hotan jade, carpets, silk, traditional clothing, Uygur embroidered hats, musical instruments, handmade carpets, and cashmere scarves, not to mention all kinds of dried fruit and herbs. Bargaining is a must as all prices are negotiable.