Happy Valley of Shenzhen is a national AAAAA level scenic spot in China, covering an area of 350,000 square meters. It cost a total investment of 2 billion yuan. It is a modern theme park in China. Opened on 1 May 2002, it is the first of the Happy Valley theme park chain. The whole garden is divided into nine themed areas: the Spanish Square, Magic Castle, Adventure Mountain, Happy Hour, Gold-mining Town, Shangri-la Snow, Hurricane Bay, Sunshine Coast, as well as the unique Mayan water park. It introduced unique items from the United States, the Netherlands, Germany and other countries, such as the world's highest drop of "Ji Liu Yong Jin" Asia's tallest roller coaster "Global Extreme ejection roller coaster", China's first suspended roller coaster, "Snow Dragon", China's first roadway "Mine Car", etc. When night falls, elegant large magic show "Magic Track Phantom" will give visitors an endless surprise and extraordinary enjoyment. These entertainment items give a realistic and perfect theme packaging, creating a beautiful and pleasant environment.
Main attractions
【Spanish Square】Spanish Square make visitors feel like as if immersed in the Spanish pier. All scenes also seem to be beside the Mediterranean coast. All the scenery is so natural and so harmonious.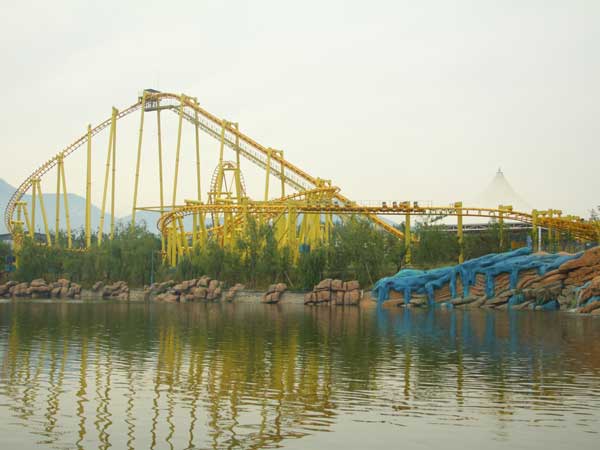 【Magic Castle】
Magic Castle is first fantasy-theme space in Asia. Visitors can have a magic experience here.
【Adventure Mountain】
Adventure Mountain has China's first space shuttle thrilling tower. The key projects here include the space shuttle, climbing forest and lover garden.
【Gold Mine Town】
Gold Mine Town is an American style town. Visitors can experience the simulative mining life here.
【Shangri-la Snow】
Shangri-la Snow is in a mysterious Shangri forest. You can walk through the jungle leap between sharing wonderful journey in the rainforest, experiencing real adventure in the entertainment.
【Sunshine Beach】
Sunshine Beach is a tropical beach with a relaxed casual environment. Sun, sand and rich tropical trees are side by side. You may wish to rest in a long hallway for a casual or a stroll in the sunshine along the valuables on the beach, or take the kids to the beach side built up in various forms of Sand Sculpture……
【Happy Times】
Happy Times refers to a European-style bustling town of the early 20th century here. It is a never-ending carnival. Joy is an eternal theme for people who arrive here.
【Playa Maya Water Park】
The Playa Maya Water Park is open for five months each year, and is themed after the Mayan civilization with buildings and statues in Mayan architectural styles.