Shenzhen Xichong Beach is a scenic spot in Longgang District, Shenzhen, China. It is located in the south part of the Dapeng Peninsula, facing the South China Sea with Mirs Bay on the west and Daya Bay on the East.
Shenzhen Xichong Beach is one of eight most beautiful beaches in the country and also the largest one in Shenzhen. Traveling here can get you away from the hustle and bustle of the city. Visitors can embrace the blue sea, feel invincible sea view and relax you. Because of traffic inconvenience, few outsiders come here. It is 20 kilometers away from Shenzhen Dongchong Beach along the coast. Along the way can see blue and transparent sea, as well as purple flowers open in the mountains.
Xichong attracts tourists mainly because of its long beach and surf. It is in eastern Shenzhen in the Dapeng National Park, a popular recreational and scenic part of the city. In 2006 Chinese National Geographic named Dapeng Peninsula as one of the ten most beautiful parts of China. To its north is Qiniang Mountain, the second highest mountain of the city. Since this is one of the least populated and most remote parts of Shenzhen, it is not easy to access Xichong Beach. Private cars can be hired in Dapeng or Nan'ao, and regular buses travel from these towns to Dongchong and Xichong Beaches (M231 and M232). There is also a popular hiking trail running down the coast between Xichong and Dongchong (approx 10km).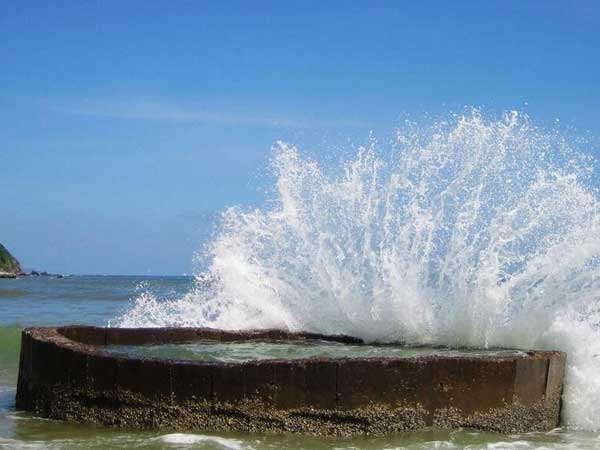 In addition, this scenic spot features a variety of fun projects, including bathing , beach volleyball, beach tug boats, campfire, etc. , to meet the different needs of tourists. Shenzhen Xichong Beach enjoys the reputation of "Oriental Hawaii", where there are mountains, rivers and clear blue waters. It has a beautiful 4.5 km-long beach with soft sand. Here visitors can overlook Moon Island and Sanmen Island.
Transport
Visitors can first take the E11 bus from Yinhu Bus Station or the M321 bus from Dapeng Bus Station, and get off at the Nan'ao terminus. From there visitors take a mini-van to Xichong – a van leaves for Xichong every 30 minutes.