Gaochang Ancient City located at the east of Turpan, the city-state that ruled the area from the 9th century to the 13th. The city was actually founded a few hundred years earlier than that, and gradually became known as a trading post on the Silk Road.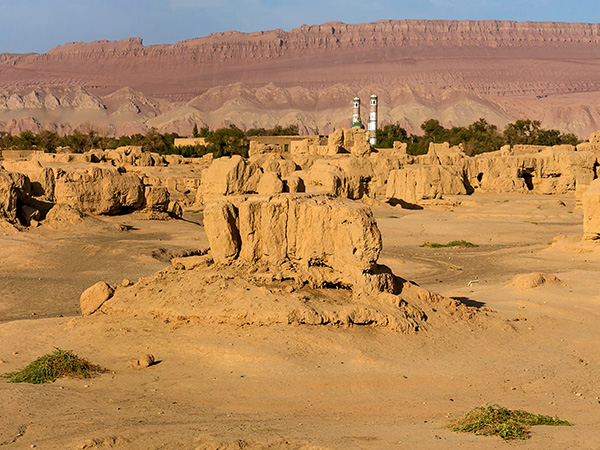 Most of the ruins are gone, but enough remain to give a feeling of the true size and majesty of this Silk Road city. The city was divided into an outer city, an inner city, and a palace compound. The best-preserved structures in the ruins are two temples in the southwest and southeast corners of the outer city section.
History
The foundation of Gaochang was laid in the 1st century BC. The city was built during the Western Han Dynasty and re-built in the early Ming Dynasty. It was an important site along the Silk Road, but was burnt down in wars in the 14th century.
Gaochang Ancient City was the capital of the Gaochang kingdom, located 40 kilometers east of Turpan city Sanbao village.The ancient city of Gaochang is in large-scale, very spectacular. Total area of 2 million square meters, is the largest remain site in the ancient western regions. Gaochang city in 1961 was listed as national key cultural relics protection units. It is the traffic crossroads from east to west, and is also one of political, economic and cultural centre for the ancient Xinjiang.

Art
Since the Han and Tang dynasties, Gaochang is a hub connecting central plains of central Asia and Europe. Economic and trade activities were very active, and religion from all over the world successively introduced to the mainland of China through the Gaochang, literally, it is the most active and most developed place of the ancient religions in the world, also is one of the world's religious culture place for gathering. The Tang dynasty buddhist eminent monk Xuanzang, in order to improve the level of buddhist learning, in 629 AD he secretly leaved Changan, passed the Yumen Pass and went along the Silk Road via Gaochang to India, traveled in Afghanistan, Pakistan and India and many states for 17 years.
It is the witness of vicissitudes of life of Turpan region for thousands of years.