The Grape Valley is located in Flaming Mountain. From ancient times, Grape Valley has been famous for the cultivation of the sweetest, tastiest grapes. Be enticed by the sight of bunches of green pearl-like grapes hanging from the vines in splendid profusion. It's a great relief to recline in the shade of the green leaves and delight in the fresh juicy fruit, appreciating the coolness after the heat outside.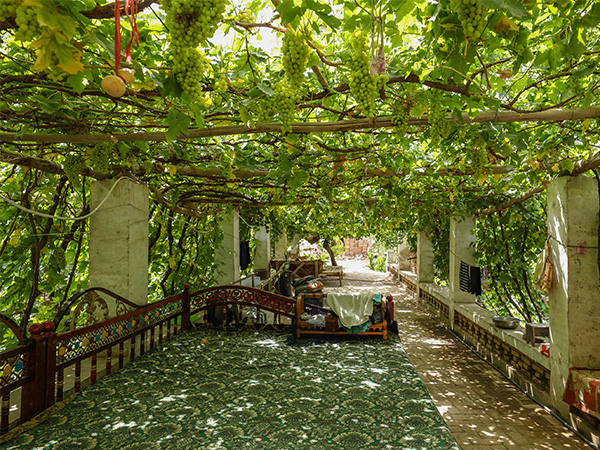 Looking Flaming Mountain from Turpan into distance, there is red sand burning, no trees. But throughout the Grape Valley in Flaming Mountain, about 15 kilometers away from downtown, you will see a new world with beautiful scenery which is in sharp contrast with flaming mountain. Once entered the valley, jade green, lush grape fields overflow hill valley. Streams, canal water, springs, add unlimited poetic atmosphere to valley, mulberry, peach, apricot, apple, pomegranate, pear, fig, walnut, and a variety of watermelon, melon, and elm, poplar, willow, such as a variety of trees, spread across the gully, make the grape valley became flower garden, and the best orchard.
In the Grape Valley there is a reception center where dense grapevines interweave with each other and winding paths lead to secluded places with clusters of grapes within easy reach. Eight kilometers long, half a kilometer wide and inhabited by about 6,000 people of the Uygur, Hui and Han nationalities, the Grape Valley has more than 400 hectares of cultivated land, 220 hectares of which is grape-growing area. Grapes growing in the valley are of several strains, including the seedless white, rose-pink, mare-teat, black, etc. There is a fruit winery producing several kinds of wines and canned grapes.

Recommended Tour Time
The best travel time: July to September
Turpan belongs to unique warm temperate zone continental arid desert climate, is the hottest place across the country, known as the "Fire Continent". From the middle of April every year, Turpan started to enter summer, achieving the highest temperature throughout the year, June to August are the hottest months in a year, with the highest record of 53.2 ℃, and an average of more than 38 ℃; in late November Turpan started to enter winter, the average temperature is minus 5 ℃ ~ – 10 ℃.

Recommended Tour Activities
Every August, Turpan will hold Turpan Grape Festival. At that time, grape tasting, darwaz, performances, mukam folk activities, a variety of colorful activities such as large-scale song and dance party will be gathered here, tourists can fully enjoy the classic feelings of the Uighurs of Grape Township.