The Baxian Mountain National Nature Reserve is located at the southern slope of the Yanshan mountain chain, northeast of Jixian County, Tianjin. This nature reserve covers 5,360 hectares, over 95 percent of its area covered by trees. There are 19 peaks rising over 900 meters above sea level in this area.
There is a legend telling the story of the mountain. It goes that eight fairies once passed this thickly wooded mountain and were attracted by its beautiful landscape. They stopped for a drink by a rock and took refreshment. This rock came to be called "Baxian Table" and the mountain became known as Mt. Baxian (Eight Fairies). This was how these mountains got they name.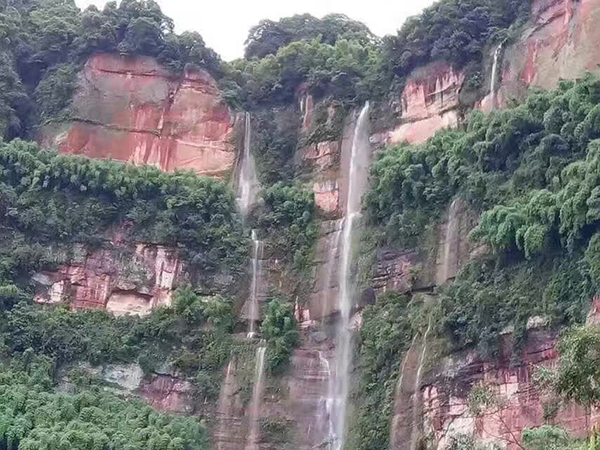 It is well-known for its continuous ridges and peaks, deep gullies, boundless forests, running brooks and several geological relics. Its main peak, known as Cricket Cage, stands at 1046.8 meters above sea level, the highest peak in Tianjin City. The reserve is nicknamed the "Green Kingdom" thanks to its wide variety of animals and plants, as well as ontinuous ridges and peaks. Its forest coverage reaches over 95 percent. The reserve is an ideal place to go hiking in summer.

What to See
【Pine Forests Baths】Pine Forests Baths covers an area of 1696 acres. Here plants 120,000 piece of pine trees. At the end of spring and the beginning of summer every year, pine trees bloom. The tiny pollen particles floats in the air and can be easily inhaled by people. According to the latest medical research, it has been proved that pine pollen is good for the human immune system and cancer prevention. It is also good for the treatment of cardiovascular and cerebrovascular diseases.
In addition, pine trees helps clean the air, produce oxygen, has the functions of disinfection and sterilization. The anion content of this place can reach up to 2000 per cubic centimeter or more.
【Cricket Cage Peak】
The name of Cricket Cage Peak comes from a legend. It is said that such as the Eight Immortals (figures of Traditional Chinese mythology) once passed the peak and was attracted by the beautiful scenery. They gathered this mountain and had refreshment in the peak. Hence the name " Cricket Cage Peak" comes. It has a height of 1046.8 meters above sea level, the highest peak in Tianjin City.
【Baxian Resort】
The main attractions in this resort includes Cricket Cage Peak Hua Ping Hills, Flying Stone, etc. there is a natural stone table here named "Baxian Table", located in the north side of the Cricket Cage Peak, about one kilometer. It is said that the stone table is where the Eight Immortals took rest.
Travel Tips
【Chinese name】: 八仙山自然保护区
【How to get there】: If visiting from Tianjin, visitors can get to Jixian County by bus from Hebei Coach Station or by train No.6416. And then take taxi to the scenic spot. If you are coming from Beijing, take intercity bus from Beijing Sihui Long-Distance Bus Station to Jixian County. The bus leaves every 15 minutes during 06:00 am – 7:30 pm. And then take a taxi or ride a tricycle in Jixian County to get to Mt. Baxian National Nature Reserve.