Located in Yongshun County in Xiangxi Tujia and Miao Autonomous Prefecture of western Hunan Province, Furong Ancient Town (or Hibiscus Ancient Town) is originally known as Wangcun Village. It is where the famous movie Hibiscus Town was filmed, so it changed its name to Furong Town (Furong means Hibiscus in Chinese phonetic alphabet.) After the movie "Furong Town" was done in this place. Furong ancient town consists of a group of mixed people, ethnic group of Tujia and Miao mixed with Han people. Tujia people account for more than 80% of the total population.
It is an old town with more than two thousand years where Tujia Minority people live together. It is one of the best attractions to seek peace and visit classicism and it is also the portal of Mengdong River scenic. Furong Town not only has the beautiful natural landscape and rich Tujia ethnic folk customs, but also is a perfect place to explore a lot of protected cultural relics and records of Tujia political and military history. More than three hundred relics collected in Tujia Diaojiaolou buildings (vernacular pillar-supported dwellings) is the best presentation of Tujia culture.
The town is surrounded by green mountains and rivers. The highest altitude of the town is 927 meters, and the lowest is 139 meters. You will see winding paths and Tujia Diaojiaolou buildings by the river after coming into the township. Attractions in Furong ancient town you must not miss are Furong Waterfall, Wuli Slate Street, Tusi Palace, Xizhou Bronze Pillar and Tujia Ancestors' cave Relics.
Furong Waterfall——芙蓉镇瀑布
This waterfall is about 40 meter wide with a drop height of 60 meters, and looks spectacular in rainy season from June to August. Walking behind the hanging water screen of the waterfall is like placing oneself in a crystal palace. Furong town water fall s also the biggest waterfall in west Hunan province, any tourist visits here would see this place and you can hear the crystal sound of the waterfall ten miles away from it.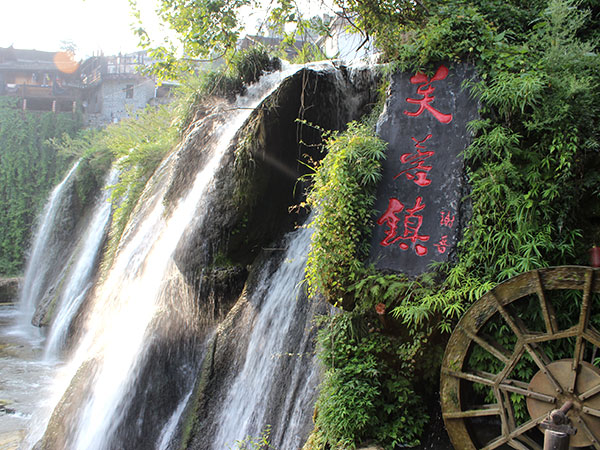 Tusi Palace——土司行宫
The Palace of Tusi (appointing hereditary headmen of national minority in the Yuan, Ming and Qing Dynasties in old China) is another highlight in the town. It is actually a Tujia Diaojiaolou building complex. It was built by a rich chieftain of the Tujia nationality for summer resort. In front of the palace is an ever-flowing stream and on the both sides are cliffs.Building on the cliffs makes the palace easy to defense any invasion, during the ruling of Tusi, those Diaojiaolou buildings were soldiers' dormitory in fact.
Wuli Slate Street——五里石板街
The Wuli Slate Street of Furong ancient town with many traditional shops and buildings on its both sides, is winding through the whole town and leads you to the pier of Youshui River(酉水). From the pier you can enjoy a different view of Furong Waterfall and Tusi Palace on your left-hand side. Wuli Slate Street has a history of over 2300 thousand years, it has witnessed the history of Furong ancient town since the time when it was still a transportation hub both on land and via water.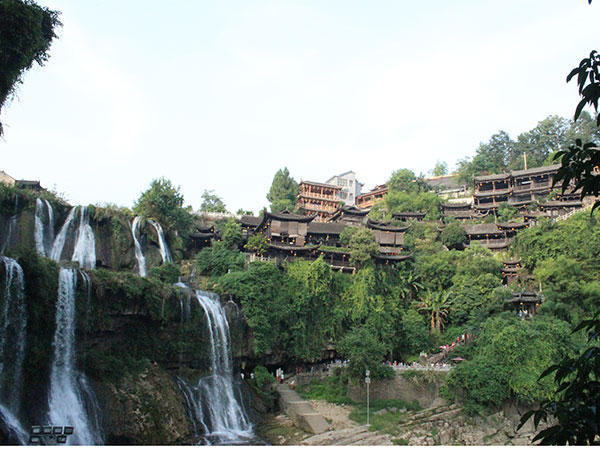 Xizhou Bronze Pillar——溪州铜柱
Xizhou bronze pillars were marks of peace between two states in history. In 940, king of Chu state and envoy of Xizhou set an agreement of ceasefire. 2500 kilos copper pillars were the symbolizations for this agreement. The original copper pillar sank and corroded into water long time ago, what you can see today is a duplication version.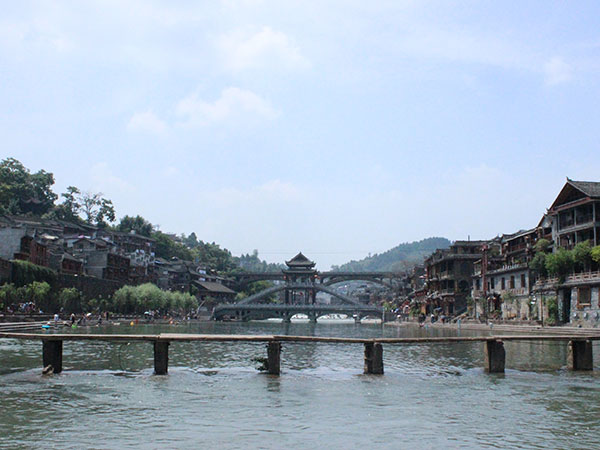 Tujia Ancestors' cave Relics——土人穴居遗址
At the entrance of Furong Waterfall, there is a rock cave. This is the relic site of the early native Tujia people thousand years ago. According to the local book, a group of people escaping from central war came here to survive. And they did survive and flourish, and run the place together.The caves were big enough to accommodate thousands of people, after thousands years of water erosions, it is not like it was before.


Everywhere in town reflects the honest and ancient folk customs of the Tujia ethnic minority, which let all visitors are full of praise and enjoy themselves so much as to forget to leave.
Due to it remote geographical location, village size, inconvenient transport and lack of promotion, Furong Ancient Town is less popular than Fenghuang Ancient Town. But this is also its advantage, as it is more peaceful compared with Fenghuang being stuffed with tourists. If you have enough time, you can stay in Tujia Diaojiaolou building with waterfall view in the town for one night, to experience the tranquil and easeful here. Furong Town is the only road to Mengdonghe River. You can go to enjoy Mengdonghe River rafting from the town.
Travel Tips
【Best time to visit】From April to October is the best time to visit there. If you visit the town in winter (November to February in the following year), it would be very cold.
【How to get there】For travelers who go from Zhangjiajie, one can take a bus at Zhangjiajie Bus Station to reach Furong Ancient Town directly. It takes about 1.5 hours and costs RMB 25. For travelers who go from Jishou, one can take a bus at Jishou Bus Station to get there, which takes about 2 hours. For travelers who go from Fenghuang Ancient Town, one can take a bus at Fenghuang Bus Station and ask the driver to drop you off at Furong Town, which takes about 2.5 to 3 hours.
It is suggested to spend 2 to 3 hours to touring around the village.