Dehang Miao Village (Chinese name: 德夯苗寨) is located 24 kilometers away in the western suburb of Jishou city, Xiangxi Tujia and Miao Autonomous Prefecture, Hunan province, China. In Hmong, "Dehang" means beautiful valley. The village lies in the central part of Dehang scenic spot. Dehang scenic spot consists of three parts: Dehang Miao Village, Liulong Stream and Yuquan Stream. Each of them has their unique highlights. Dehang Miao Village is built around mountains and waterfalls, with a wind-and-fire wall, Diaojiaolou Houses (vernacular pillar-supported dwelling) and carved windows. Here is inhabited by a group of Miao people. There are many flagstone roads leading you to every corner of the village and other attractions around it.
The Liusha Waterfall in Liulong Stream has the greatest drop in 216 meters in China. You need to walk along Jiulong Stream for an hour or so to reach the waterfall. Tianwen Platform is a perfect location to overlook the Dehang Valley. You can walk up the hill along Yuquan Stream from Dehang Miao Village, then pass through Yuquan Gate, Yuquan Waterfall, and reach the top – Tianwen Platform.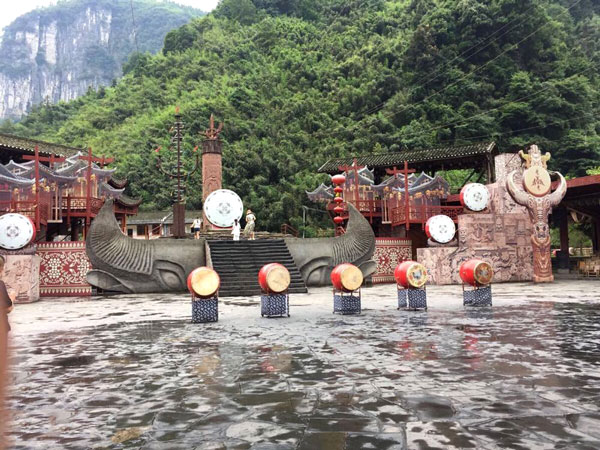 Drum performance in Dehang Village
On the way to the village, you can marvel the most breathtaking bridge in the world – Aizhai Suspension Bridge, which is newly completed. The bridge is built between two high mountains and has a total length of 1073.65 meters. It would be very exciting to visit one of the engineering wonders of the world.
There are also fold customs performances in the village, including Miao marriage customs show, costumes show of the Miao nationality and drum performance. You can't miss them. And the cost of performances has been included in the entrance ticket, so you do not have to pay extra fee. But the performance is not available every day. It depends on weather and the number of tourists in the day.
In a word, Dehang scenic spot is a perfect place to experience unique ethnic customs and enjoy natural landscape.



Travel Tips
【Best time to visit】April to October is the best time to visit the village.
【How to get there】It is suggested to take a bus near Jishou Railway Station to reach Dehang Village directly. The buses leave every 30 minutes from 6:00am, and it takes about 1 hour. It is recommended to spend about 2 hours to touring around the village.