Guangzhou Flower City Square is located in the Central Axis in Zhujiang New Zone. The area of this square is 560,000 square meters, about 8 to 10 times than the People Square. It's now the largest square in
Guangzhou.

Features of Flower City Square
► Flower City – the nickname of Guangzhou – makes this square easily be remembered.
► More than 600 trees planted in this square, various kinds of trees ensures flowers blooming all year around.
Culture of Flower City Square
There will be 39 architectures surrounds the square according to the plan, including Children Palace, Guangzhou Grand Theater, Library, Museum, etc… Till now, 8 architectures have been established, 3 ones are on the way to build. Among the architectures, public facilities and art palaces are located along two sides of the Guangzhou Central Axis, makes the square in a dense art atmosphere.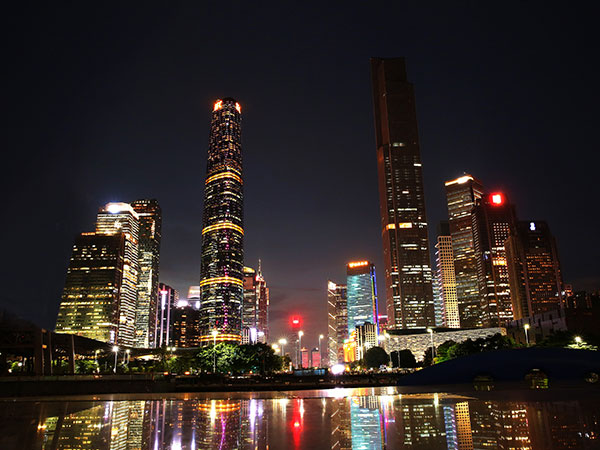 Commercial Style of Flower City Square
Flower City Square will becomes the most charming area because a commercial shopping area in it has been invested by Hong Kong Lan Kwai Fong Group, aiming to build the largest shopping center in Guangzhou.
Code Area of Flower City Square – Mall of the World
Mall of the World is the code area of Flower City Square. It is a new landmark of Guangzhou integrating shopping, dining and entertaining together. Mall the the World consists of three parts which covers 400 high-quality shops.
►
First Area: Shops for Fashionable Clothes and Entertainment, such as clothes from famous Japanese/Korean brands, Jewelry shops, IMAX 3D cinema

►
Second Area: Fashionable Life. Clothes from famous European/American brands,Cosmetics, Boutique restaurants

►
Third Area: Glamours Theme. Clothes from high-ends brands, Jewelry shops, High-ends restaurants



Surrounded Attractions
►
Guangzhou Tower – ranks as the highest tower in China and the highest TV Tower in the world.
►
Haixinsha – 2010 Asian Games Opening Ceremony place
►
Guangzhou Grand Theater (Opera House) – the most advanced and completed performance art center in Norther China
►
Guangdong Province Museum – Guangzhou patriotic education base