As a part of Chimelong Tourist Resort in Guangzhou City, Guangzhou Crocodile Park has been classified as China's first group of AAAAA Scenic Areas. The crocodile park is regarded as one of the largest crocodile-themed amusement park in the world, with more than ten thousand crocodiles, accounting for over 70 per cent of the total number of crocodiles in this country. Guangzhou Crocodile Park also houses dozens of rare beautiful wetland birds. Covering a green area of over 1,333,340 square meters, Guangzhou Crocodile Park, this park is a large and important wetland ecological wildlife park in Guangzhou.
Guangzhou Crocodile Park is divided into different areas, including Crane Bay, Croco Island, the the Amphibian and Reptile House, Swan Cove and Crocodile Gallery. Together they bring an astonishing experience of animal watching, education, science and ecological sightseeing to tourists. All guests can indulge themselves in ten entertaining and educational crocodile performances. As the world's largest crocodile park, there are tens of thousands of crocodiles, living in the park. Here you can see the process of the crocodile growing from hatch of a crocodile eggs, birth, to the growth of the crocodile. In the park, you can see how the different periods of the crocodile live and grows up. Here is a live encyclopedia of crocodile.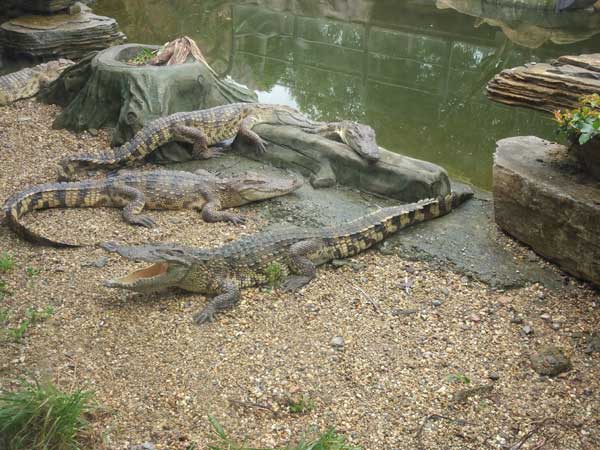 Attractions in Guangzhou Crocodile Park
【Crane Bay】
Crane Bay is located in the left of entrance of the crocodile park. This are covers an area of hundreds of mu and is a paradise for all kinds of birds. As the largest natural wetland ecological park in southern China, on the basis of the original topography, Crane Bay plants a lot of vegetation types with carefully selection of a variety of plant species of wetlands representative. In addition to cranes, here lives black-necked swans, egrets, diving ducks and other waterfowls.
【Amphibians and Reptiles Hall】
Amphibians and Reptiles Hall homes a wide variety of reptiles. There are golden yellow gold pythons, snake Trimeresurus, gray King Snakes, black Burmese python.
These cold-blooded animals entrench in the trees and stone edge with different shapes of various S. Here also lives lizards, frogs, chameleons and so on. This animals are raised in glass box for exhibition and display, and is equipped with note cards, allowing viewers to have a better understanding of crawling animal species and living habits while watching the animals.
【Swan Bay】
Here displays a variety of swans. Also, there are large professional waterfowl performances in Swan Bay that allows visitors to go into the world of wetland birds.
【Pelican Bay】
Pelican Bay is the largest ecological exhibition area themed with Pelicans. Here exhibits hundreds of pelicans the region. In addition to static display, but one can also enjoy the wonderful pelicans flying performances.
How to Get Guangzhou Crocodile Park
One can take Subway Line No.3 to and get off at Hanxi Changlong Station, then get out of the station from Exit E and you will reach the pick-up point of Chimelong free shuttle bus, which will take you directly to the park.