Panyu Lotus Mountain locates on the eastern Panyu City. It is famous for the 4.88-meter-high bronze-made Kwan-yin statue, ranking the top in the world. Lotus Mountain is named because of a peak inside its area. The peak is called Kylin Peak. And on the top of the peak, there is a rock in a shape of lotus. Thus it is called Lotus Mountain.
Origin of Lotus Mountain
In the ancient time, Lotus Mountain was once a quarry. After hundreds of years quarrying work, the cliffs and mountains of Lotus Mountain became a unique scene – man-made caves or natural caves connecting each other, forming a special scenery which can be regarded as a highlight of Lingnan scenery.
History
Firstly built on 1664, Lotus City which was built along the Lotus Mountain was once a city covering about 10,000 square meters, functioning as a defense city in Qing Dynasty. Lotus Mountain was titled as "The Great Wall of Guangdong". It was once the important military area. And now, there is a Qing Dynasty Military Camp has been built in Lotus Mountain for tourists to experiencing the warring time.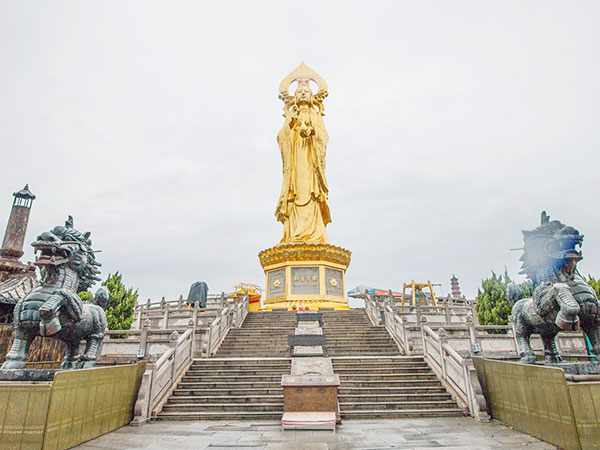 Main Attractions in Lotus Mountain
【Bronze-made Kwan-yin Statue】
The Bronze-made Kwan-yin Statue located on the northeast part of the scenic area is a key attraction. Advocated by Edmund He Houhua (former Chief Executive of Macao SAR Government), helped by He Xian Social Welfare Foundation, this statue was finished on Oct 23rd 1994. It is 40.88 meters high, casting by 120 ton bronze, pasting 50g gold outside.
【Ancient Quarry Relics】
Swallows Rock is the highlight of the whole Ancient Quarry Relics. Each morning and evening, groups of swallows are flying here to have a rest. Their nests are built between the stone gaps, thus the rock named Swallows Rock.
Inside the Ancient Quarry Relics, there are countless strange and giant rocks. Looking up from the route under the cliff, the surrounded rocks squeeze the sky into a narrow area. Along the route, many strange shape rocks which were created by the human's hands show the intellectuals of them.
【Lotus Pagoda】
And inside this area, a pagoda named Lotus Pagoda was build on 1612. This pagoda is the representative of the mountain. It is called Wenchang Pagoda as well. Locating on the entry of Zhujiang river, it plays a direction function for ships shipping through here. The pagoda is a 8-corner brick-build architecture, 50-meter-high, with 9 floors outside and 11 layers inside. Tourists can climb up the pagoda and have a bird view of the magnificent Zhujiang River.
Festivals in Lotus Mountain
【Lotus Festival】
Time: Jun – Aug
What to see: Lotus exhibition, hundred kinds of lotus will be exhibited in the scenic area
【Peach Blossom Festival】
Time:Spring Festival
What to see: Spring Festival is the period for peach blossoms
Travel Tips
Best time to visit: Spring Festival – peach blooming time; Jun to Aug – play in the water park
Restaurant: Canton-style dishes and Panyu taste snack served in the restaurant
Suggested time: 3-4 hours