Famen Temple is located in Famen town, 120 km west of Xian. From 5-12 May 1987, after the opening of underground palace, four relics claimed to be directly related to Buddha were found. Thereafter, Famen Temple became Buddhist pilgrimage.
This temple is famous for discovery the fingers bones of Sakyamuni. And historical records reveal that eight emperors of the Tang Dynasty once welcomed the finger bones of Buddha to the palace and donated a large number of treasures to the underground palace of the temple.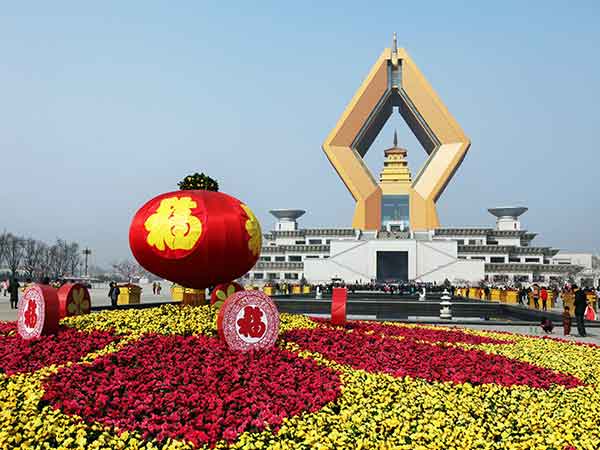 Main Attractions
The main attractions of Famen temple scenic area are: Famen temple site, Namaste Dagoda and Treasure Hall.
Famen temple site Grand True Relic Pagoda was rebuilt according to the appearance of 2-foot-tall tower of Ming dynasty, the underground palace enshrined the three Buddha sarira duplicate relics.
The modeling of Namaste Dagoda is putting hands together, which represent buddhist ceremony features, the basic concept and basic intention of human pursuit of peace. Namaste Dagoda has total six floors, divided into the ground and underground part. In the center of underground palace was enshrined true relics of Shakyamuni Buddha, and in the front of true relics of Sakyamuni Buddha there is a sarira treasure–the world's only Buddha finger bone was preserved in the last of eight boxes, each enclosing the others, each wrapped in thin silk. In the ground floor of the underground also has placed the Treasure Hall.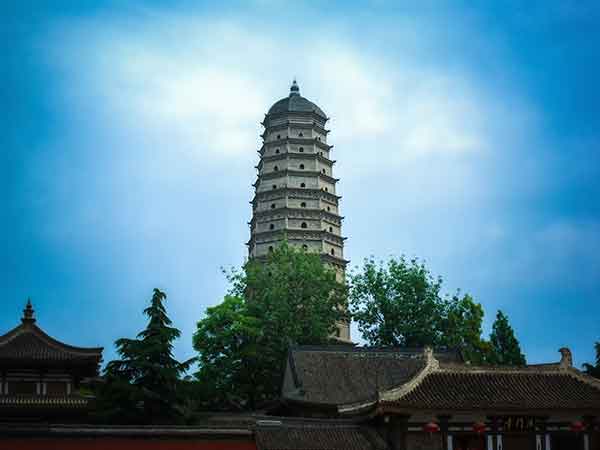 Treasure Hall collects, protects and exhibits the rare and precious cultural relics unearthed from Tang dynasty relics, including domestic first discovery of royal Mystic Color Ceramics, colored glaze porcelain series, empress Wu zetian's embroidered skirt which garment is obviously made by a master-hand and can be rated as an unsurpassed piece of embroidery. Also on display are 121 gold and silver articles, 17 glass articles, 16 pieces of olive green porcelain, more than 700 pieces of silk fabrics, 104 Buddhist figurines, hundreds of volumes of Buddhist scripture. The main body of Tresure Hall was modeled on the pagoda style building of the Tang dynasty where placed the unearthed gold and copper. It is tall, magnificent, having a unique style and look.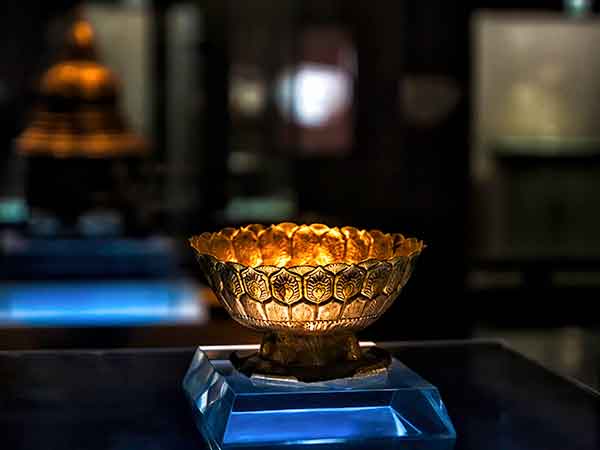 How to Get to Famen Temple
By Bus


► Starting from Xi'an 1. Taking bus tour No. 2 from Xi 'an railway station can be direct get there, 8:00 every day dispatch a bus, 15:00 to return in the afternoon. One day will only depart a bus, one-way ticket price is 18 Yuan.

2. From 8:00 to 11:00, there will be free bus in
Tang Paradise west gate depart to Famen Temple hourly, and the bus will stop over
Big Wild Goose Pagoda north square. About 90 minutes driving


► Starting from Baoji:

1. Baoji west bus station, from 7:00 to 15:30, every hour will have a bus sent to the Famen Temple, about 2 hours;

2. There is direct bus to Famen Temple from Baoji Airport Road Bus Station, the fare is 19 Yuan for one way, three shifts buses a day, departure time is 9:00, 11:30, and 16:00.