On the lofty peak of Mt. Liangshan, about 80 km northwest to the Tang Dynasty capital- Xian, lies the only joint burial ground of two Chinese imperial rulers. Tang Dynasty Emperor Gao Zong (628-638) and his Empress Wu Zetian (624-705) are buried together in Qian Mausoleum. The mausoleum is considered to be the most representative and best preserved of all 18 Tang mausoleums. The ground relics here mainly include stone carvings. Each of the four gates has a pair of stone lions. Outside the North Gate stand three pairs of stone horses.
Over the past 1,300 years, countless people have tried to find the entrance to this fabled underground palace, but its secrets remain veiled in mystery.
The Qian Mausoleum is tomb of the Tang dynasty emperor Li Zhi. But actually it is a multi-burial tomb of emperor and empress. Outdside the south gate there are two steles for the emperor and empress Wu and sixty-one statues of stone carving of China minority leader and friendly state envoy who attended the emperor's funeral.
The most attractive of Qian Mausoleum is two groups of stone human statue tidily and respectfully arrayed outside the Rosefinch gate of both side of scarified avenue, 32 statues in the west side and 29 in the east side, 61 in all. These residual human statues are as high as real people. These same size statues dressed different clothes.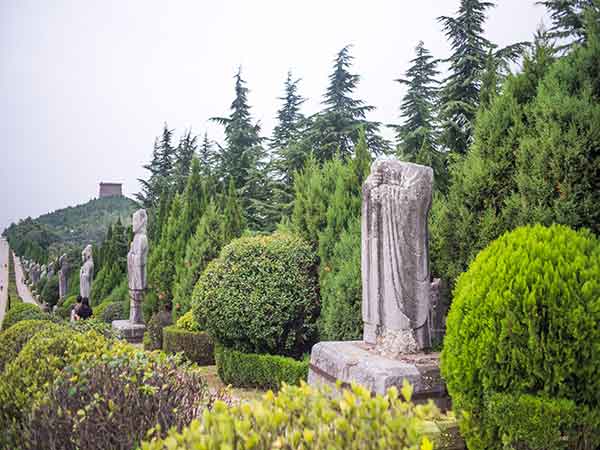 And in the east side of Sima Avenus stands the famous Non-Inscription Stele. This blank stele designed and set up by Wu zetian is in the cemetery of the Qian Mausoleum is attractive not only because a significant position, also because its exquisite carving art, and a variety of legendary tales. Why there are no words on the stele, there are three kinds of thoughts. The first theory is that, Wu zetian set up stele without words to boast, because that she thought her denotation is far beyond verbal and word expression. The second theory is that, Wu zetian realized that she is full of sin so it is better not to write inscriptions as well .A third theory is that, Wu zetian is a wise woman, she let the future generations to comment what she did, and this is the best way.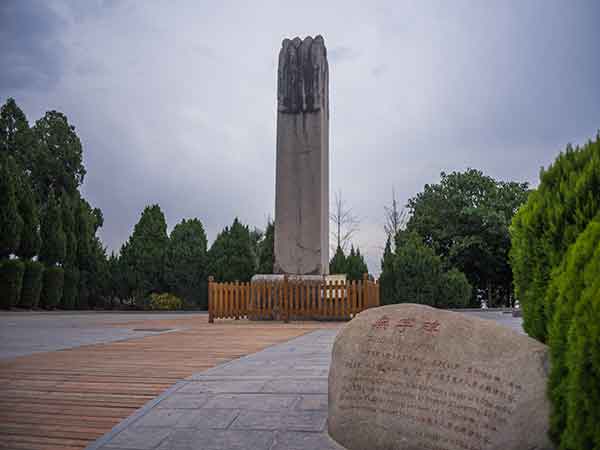 How to Get to Qian Mausoleum
1. Tourists can take tour bus No.3 in Xi'an railway station in east square to Qian Mausoleum. No.3 bus is one bus a day; 8:00 departs from Xi'an railway station in east square, 15:00 returns from Qian Mausoleum. Drive about 2 hours. Tickets: one-way costs 18 Yuan. Golden week will be extra buses. Off-season in January to march will have no bus.
2. In the city west bus station in Xi'an or xianyang long-distance bus station to take the long-distance bus to Qian Mausoleum, after arrived in the Qian Mausoleum county then transfer to the scenic spot by bus.
3. If you are self-driving, going westward from Xianyang International Airport for 40 km you can get there.