Couple's Retreat Garden(Chinese name: 耦园), also known as Ou Yuan Garden, is sited in east of old town of Suzhou, near to the moat. It is one of the classical gardens in Suzhou and the world cultural heritage. The garden was originally built in the early Qing Dynasty and named as She Yuan Garden. In 1874, it was rebuilt to have its existing look and layout that we can see now by Shen Bingcheng, and was renamed as Ou Yuan Garden as what we call today. Since then, it went through several damages and changes. The site has been faithfully restored and formally recognized as an UNESCO World heritage site in 2000. Compared with the larger gardens like the Humble Administrators and Lion Grove Garden overwhelming you with their scale, the smaller scale of gardens like the Couple's Retreat Garden allow your mind to register, absorb and process the million details that compose a Chinese garden. Although it is much smaller and less crowded than the Humble Administrator's Garden, it offers visitors a quiet and peaceful look.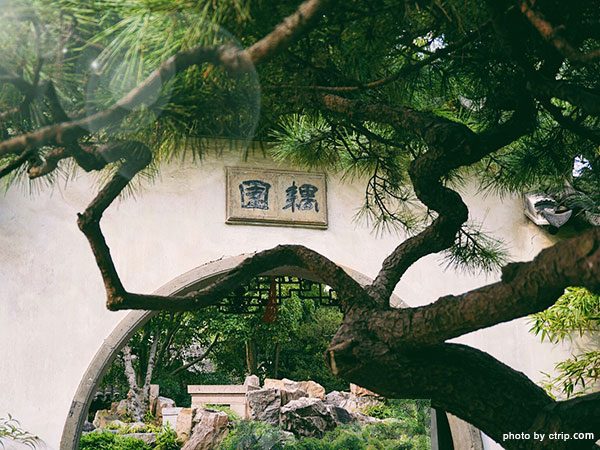 "Ou" means "a couple" in Chinese, which is quoted from a famous work written in Spring and Autumn Period (770-476 B.C.): "To till together with my spouse", mani-festing the couple, husband and wife, were both to live in seclusion. This garden tells a sad and beautiful love story of Shen Bingcheng and his wife. Therefore, it is suitable for lovers or couples to visit together. Every where of the free-handed arrangement (conceived with free imagination) in the gardens shows the congenial interests of the couple, man and wife, of their seclusion in this Peach Blosesom Land.
Couple's Retreat Garden is surrounded by a canal at three sides. And it mainly consists of three parts: a large residential complex with smaller houses in the middle of the layout, and two gardens to the east and the west respectively.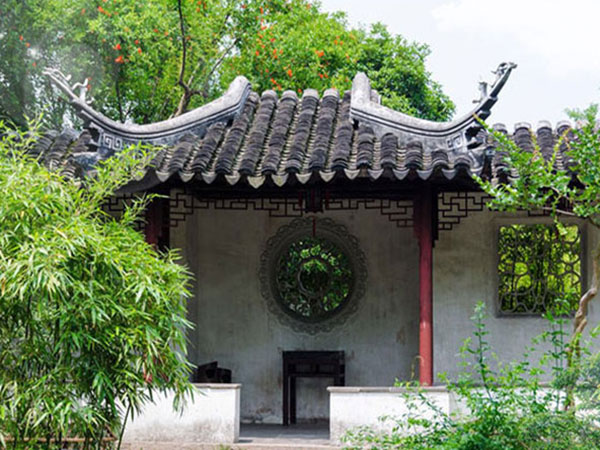 Sampan in Moat near to Couple's Retreat Garden
Entering into the garden from the main entrance, you will reach the residential complex in the middle, with halls, rooms, courtyards, connecting passageways, covered walkways, interconnecting with to some very small garden spaces, etc.. You could easily slip back in time.
The Eastern Garden is the highlight of Couple's Retreat Garden tour. It was the former place of She Yuan Garden in early Qing Dynasty. The Huang-shi Rockery, heaped up with yellow rocks is a must see in the garden. The rockery is one of the representative works of Chinese gardens. Visitors can also see pavilions, corridors, halls, pool, etc.. The entire layout is well designed.
The Western Garden takes the old house as the main hall which provided the husband a place to study in and the place for wife to weave. In front of and at the rear of the house are rockeries and towering rocks to mean that they were living in a true secluded mountain, tilling and studying.
Having a private pier is another most important feature of Couple's Retreat Garden. At the end of the tour, you can return to the car park by sampan with affordable fee (a kind of traditional boat) via a rear exit. The boat will take you to have a round trip along the moat. The journey takes only minutes but it reminds you of the old way in which former residents moved about the old town of Suzhou.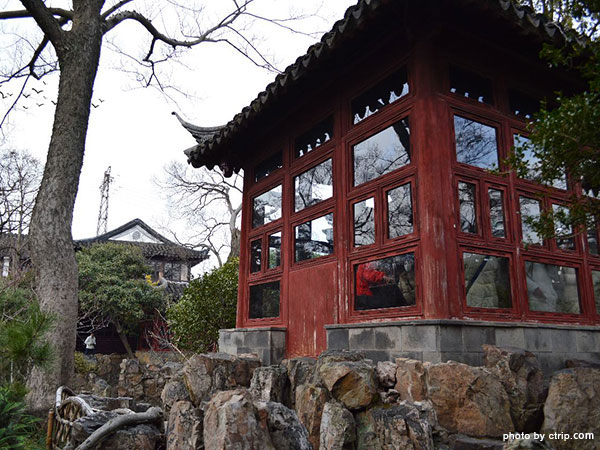 How to Get to Couple's Retreat(Ou Yuan) Garden in Suzhou
By Subway:Take Subway Line 1 to Xiangmen Station(相门站) and get out the station through Exit 3. Then walk along Cang Street to Xiao Xin Qi Lane and you can't miss it.
By bus: take Bus Route 2, 9, 32, 40, 60, 89, 112, 146, 178, 200, 261, 307, 518, 800, 900 夜2, 游5 to Xianmeng Station(相门站), then walk there. Or take 301, 30, 305 to Dongyuan Station(东园站). It is suggested to spend about 1 hour to tour in the place.