400km from Chengdu, the capital city of Sichuan, Nuorilang Waterfall is favorably located in the central Jiuzhaigou Vally. The tourist service center of typical Tibetan structure is just 300 meters (984 feet) away. Nuorilang in Tibetan means a male god, strong and mighty. At an altitude of 2365 meters (7759 feet), it is one of the biggest Travertine waterfalls in China. With a height of 20 meters (66 feet) and a width of 270 meters (66 feet), Nuorilang Waterfall is the widest fall in China. A viewing platform built on the opposite side offers a full view of the Nuorilang Waterall. Scenes of many Chinese movies and TV series, for example Journey to the West, were shot here.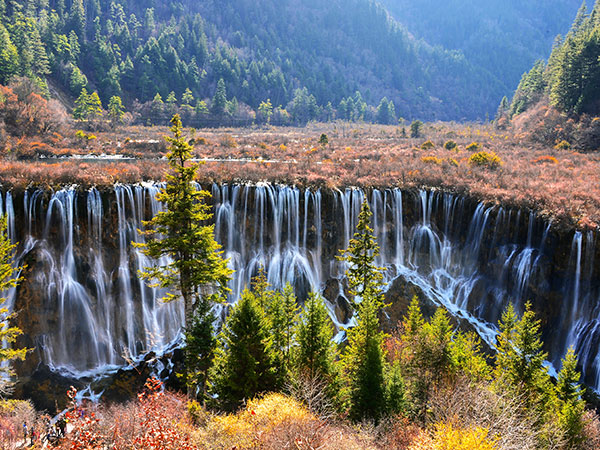 Nuorilang Waterfall in Jiuzhaigou
Best Time to Visit
Most people think that spring and autumn are the best seasons to visit Nuorilang Waterfall.
Nuorilang Waterfall in spring just awakes from a long sound sleep. The streams and water increase, dribbling on the rocks and cliffs, full of vigor and energy. The falls get bigger and bigger.
Nuorilang Waterfall in autumn is at its best, when JIuzhaigou National Park is full of colors and turns to be a huge oil painting. The fall foliage and colorful plants make the waterfall extremely beautiful.
Nuorilang Waterfall reaches its biggest in summer, offers a magnificent view and refreshing air. For those visit Jiuzhaigou and Nuorilang Waterfall in winter, the falls are frozen with the whole land
How to Get to Nuorilang Waterfall
Travelers can take Jiuzhaigou scenic shuttle bus to Nuorilang Waterfall, which runs between 07:00 and 17:00 daily. Or you can have a hike in Jiuzhaigou and make your way to the fall by foot. Refer to the page Jiuzhaigou Transportation to find out the most convenient way to get to Jiuzhaigou.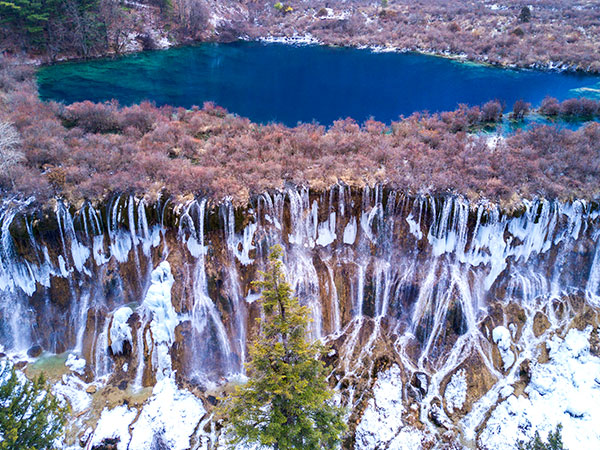 What to Eat
The Nuorilang Restaurant is the only restaurant in Jiuzhaigou Valley, offering buffet with good local foods (cooked in advance). The price is from RMB68 to RMB128, depending the set meal you order.
A Myth about Nuorilang Waterfall
Legends has that there was not waterfall on the site in the beginning, but only a smooth, flat platform. One day, the respectable Monk Zalmudd came back to Jiuzhaigou from his long journey with palm-leaf manuscript, the iron plowshare crown and a cord wheel. The beautiful local Tibetan girl named Ruoyiguo soon mastered the skill of using cord wheel, and showed the other girls how to use it on the platform.
Luozha, the ferocious chief, considered it was an unhealthy practice and evil phenomena, therefore kicked Ruoyiguo with the cord wheel off the cliff. Almost at the same time, torrents of water rushed down the mountain, and killed the bad guys. Since then, the platform has had falls with it. This is how Nuorilang Waterfall was formed.