China Snow Town, official name Bimodal Forest Farm. It is the top winter destination in China. As the No. 1 snow town in China, Bimodal Forest Farm is located northeast direction of
Harbin, about 5 hrs driving from Harbin to there.
Facts
【Chinese Name】: 大海林局双峰林场
【Area】: 95 square meters
【Nickname】: Shuangfeng Forest Farm, Small Mt. Lushan, China Snow Town
【Best Time】: from Dec to the end of Mar in the next year
【Suggestion Days】: 1-2 days
Location & Climate
The exact location will be an intersection of Zhangguangcai mountain and Laoye mountain (both are belonged to
Mt. Changbaishan Range).The cold air from Lake Baikal and oceanic warming wet airflow from Japanese waters meet each other frequently here, and the climate of forest also functions, thus from Oct to Apr next year, this area is covered by snow. The period of snow falling lasts 7 months one year. The height of the snow covers can reach 2 meters. Because of its unique climate, the Snow Town is a fairy land which could not be copied in other place in the world.
China Snow Town on the Screen
The unique scenery here makes snow town becomes a beloved in media industry. The pictures and videos by press, photographers, or TV series had been spread to the world widely. And from then on, Snow Town got many titles such as the Soul of North, the Source of Snow Scenery. From the past decade, many Chinese TV series had been framed here. Famous series includes
Tracks in The Snowy Forest (
林海雪原), Brave Journey to Northeast China (
闯关东), The North Wind Blows (
北风那个吹). And now, aiming to protect the valuable screen culture, the movie base has became a preserved area for visitors.
Things to see in China Snow Town
•
"Snow Cake" & "Snow Mushroom" What is snow cake and snow mushroom? They are the nicknames of the houses covered by thick snow. The snow covers the roofs of houses makes them different from one by one. Some are looked like snow curtains, some are snow cakes, and some are snow mushrooms.
•
Activities in China Snow Town
Besides hiking in the snow forest and enjoy the natural scenery, visitors can have many activities on the ice including sleigh cars, skiing, motorcycling, etc.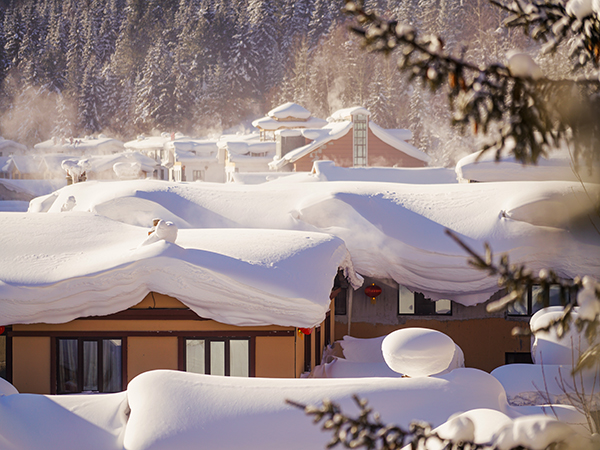 China Snow Town FAQs
Q1: What is the best time to visit?

A: The best time will be Dec, Jan, Feb, Mar. Spring Festival is a good time to visit snow town. But it is also the hot season there with more travelers than the rest time of the year.
Q2: How about the weather there?

A: The average temperature in Jan is -18.3
℃ (-0.94℉) and Feb is -10.4℃ (13.28℉). Be noted to take enough warming clothes.
Q3: What should be packed for my China Snow Town tour?
【Shoes】: antiskid shoes or boots, professional climbing shoes is the best choice
【Sock】: the thicker the better
【Gaiters】: if you plan to have fun in snow ground, gaiters will be the must equipped thing.
【Trousers】: waterproof material trousers will be the best choice
【Clothes】: cashmere, down jacket, etc.
【
Others】: scarf, glove, hats, sunglasses
【
Food】: better to taking some chocolates and drinking water