Beidaihe Scenic Area is situated in the western Qinhuangdao in Hebei Province. It is a district in Qinhuangdao. Influenced by the marine climate, this area is cool in summers and warm in winters. The fresh air and the quiet environment provide the ideal conditions for developing tourism in Beidaihe.
What to see in Beidaihe Scenic Area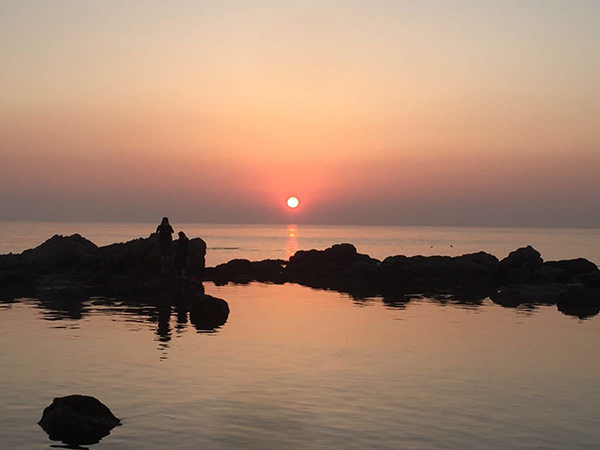 【Pigeon's Nest Park】
The Pigeon's Nest Park in Beidaihe District is a popular attraction for travelers. Some people call it Eagle Stone Park because there is a stone which is looked like an eagle in this park. And this stone was a resting point for countless pigeons in the past, thus its name.
Pigeon's Nest Park is an ideal place to savoring the sunrise and sunset. During the summer mornings, thousands of photographers come her to catch the magnificent scene "Sun rising from the sea".
【Tiger Rock Park】
Tiger Rock Park lies in the center of Beidaihe Scenic Area. There are many rocks in the park shaping into a group of tigers naturally. Some are lying in the beach. Some are hiding in the forest. Some are swimming in the sea.
Blue sea, golden beach and black rocks, these factors form into a charming resort for foreign travellers to spend the heat summer here. And the tiger stone is taken as a pearl in the Bohai Sea, shining and decorating the Beidaihe all the time.
【Strange Tower Garden】
The stranger tower garden is titled by a famous Chinese comic drawer Hua Junwu. Architectural style is based on the buildings in Dongshan Garden in Beidaihe Beach. Integrating the strange shapes and innovative ideas, there are 99 scenes in this garden. When touring in this garden, you will find the unbelievable imagination of human. And you also may fall into your childhood immediately.
【Olympic Theme Park】
The Olympic Game Park is focus on the scientism, humanism and egotism in the Olympic spirits. The facilities in the park including carvings, fountains, statues, etc tell visitors the history of Olympic Games.