Jiaoshan Great Wall of China (Chinese name: 角山长城) is located about 3km away from the Shanhaiguan Pass. The peak of Jiaoshan mountain is 519-meter-high, ranking as the highest peak to the north of Shanhaiguan Pass. Jiaoshan Mountain starts from Old Dragon Head (Laolongtou) and goes through Shanhaiguan Pass. It is the first peak of northern Great Wall climbing up after Shanhaiguan Pass. Therefore Jiaoshan Mountain is noted as "The first mountain of the Great Wall".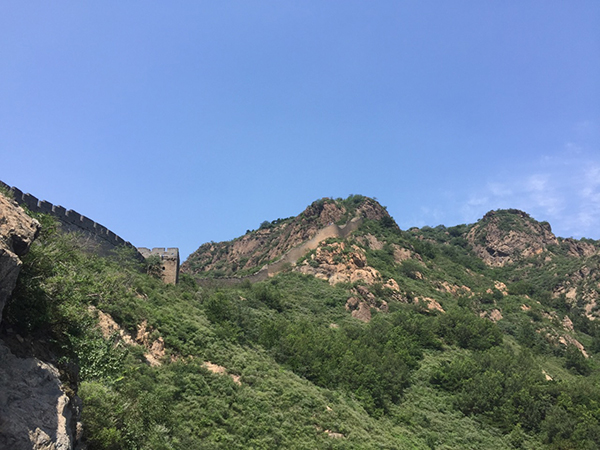 Jiaoshan Great Wall was built in Ming Dynasty. From the foot of Jiaoshan to the peak, this section is in 1,536 meters totally. The great wall here was built by rocks on the mountain, bricks and some long-shaped stones. Jiaoshan Great Wall was built according to the geography of Jiaoshan Mountain. The average height of the wall is 7 to 10 meters, and width in 4 to 4 meters. When in a cliff or a dangerous slope, the width can turn into 2.7 meters. The dangerous geography of Jiaoshan makes it as a dreamland for hikers and photographers. The Great Wall of this section is marvelous when having a long-distance view. There is a poem to describe the Jiaoshan Great Wall – there are countless difficulties in passes and entrances of the Great Wall, the most dangerous section is located in Jiaoshan. When viewing in a long distance, the Great Wall is just looked like a ribbon hanging in the mountain. When having a bird's view, the pass is just presented in the front of your eyes.
Tips for Climbers and Hikers
To explore the real Jiaoshan Ancient Wall, visitors have to climb over a wall cemented to No.3 watch tower of the repaired Jiaoshan Great Wall. Unlike the newly restored wall, Jiaoshan ancient wall provides you a sense of historical vicissitude. Walking on the dilapidated wall is a great challenge. The wall appears more and more crumbled and deformed as you forge ahead. In some sections, the wall is only built on one side, with the other side being the deep cliffs. In some sections, the mountain ridge is functioned as the wall, which is called by experts "mountain-supported wall". Watch your steps when you enter this zone. Look out to the southeast, and you will see a watch tower standing at the top of a lonely hill. It is Zhenlu Platform (translated as "Suppress Enemies Platform"). Gaze to the northwest, and you can find Jiaoshan Temple (also called Qixian Temple) dimly hidden in the thick forest. It is the place where Xiao Xian studied. (Xiao Xian was a noted calligrapher in Ming Dynasty who inscribed for the plaque "The First Pass under Heaven" in Shanhaiguan Pass).