Bayanbulak Wetland (Chinese name: 巴音布鲁克湿地) located in the northwest of Hejing, south of
Tianshan Mountain, formed by two high mountains basin of the big Zhuletusi and small Zhuletusi and mountain hilly pasture. With a total area of about 2.3 square kilometers, 636 kilometers away from Korla, 2000-2500 meters above sea level, it is second to the Erdos prairie grassland in China. Here snowy mountains encircle each other with terrain ups and downs, aquatic plants beautiful are attractive scenery. The famous "swan lake" China's only swan nature reserve is located here, the swan dance against the background of snow mountain flower, just like the fairy tale world.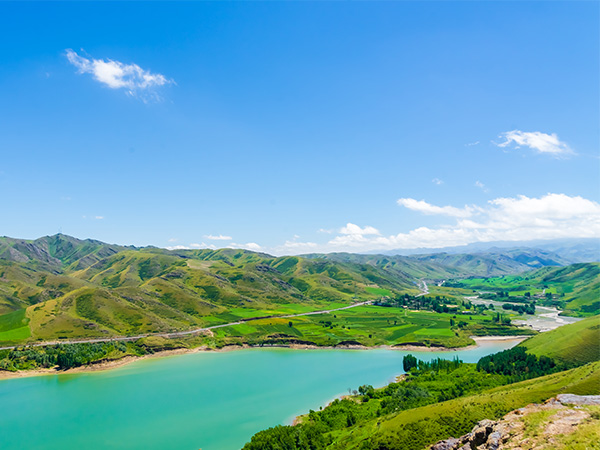 Bayanbulak in Mongolian means for "fertile spring" where is located in the central Tianshan mountains intermountain basin, surrounding are the snowy mountains, is one of the most important animal husbandry base in
Xinjiang. Water supply is given priority to with snow and ice dissolved mix water and rainfall, parts of supply are groundwater recharge, formed a large number of lakes and marsh grass. Large Numbers of swans and the Tianshan Mountains as background are the unique charm Bayanbulak wetland. The Bayanbulak wetland rewarded as the second of "China's most beautiful six big wetland" in "beauty China" activity held by
Chinese National Geography magazine.
Introduction
The famous swan lake is located in Xinjiang Hejing county about 60 km from the Bayanbulak district government on the southwest of wetland. Swan Lake is actually composed of many series of large area of lake swamp; it is the first swan nature reserve in China. Reserve spread rich grass, with wet climate and beautiful landscapes. Here is the home to the largest populations of wild swans, is breeding place of birds and the summer habitat. Here at an altitude of 2300 meters to 3100 meters, with a total area of about 100000 hectares, there is no distinctive season all the year round, is a paradise for birds. Area of 30 square kilometers of the Tianshan Mountains, accounting for about one fifth areas of the Xinjiang, and Bayanbulak prairie is a verdant mountains basin surrounding by Tianshan and there are dense virgin forest, grassland, blooming flowers and cool and refreshing mountain spring lake. On the eastern of Bayanbulak prairie is called small Youerdusi basin, in the west is called big Youerdusi basin, flat prairie, the abundant rain and snow, surrounded by mountain at an altitude of 3000 meters, and snow on the top of the mountain is ice crystal all year around. Years of snow and ice dissolving parts of water, rainfall and groundwater, have formed a lot of marsh grass and lakes, provides very superior breeding habitat conditions for swans and other birds. Here are many different kinds of plants, once in summer, the wild flowers in full bloom, high-quality "ghee grass" is green. Herds of cattle, sheep, horses, yaks, camels roam on the green grass, the scene was spectacular.
Basic Information
【Self-driving route】 Go by bus to Bayanbulak grassland from
Urumqi, along the Wuyi-Duku highway route, driving more than 460 kilometers can arrive at Hejing county. Or by train from
Turpan to reach Hejing county, Xinjiang, from Hejing county along the rough mountain road towards west for 300 kilometers can enter the Bayanbulak grassland.

【Travel information】 Temperature on the grassland is low, tourists should pay attention to temperature, even in the summer in July, August or September, when rest at night shall cover thick quilt. On the Bayanbulak, with higher altitude it is much colder, also mosquito in there is fierce and severe, there is no use of mosquito-repellent incense, be sure to bring essential balm.

Bayanbulak grassland 217 national road, the conditions is poor, potholes and gravel spread all over. Known as the "hero", Duku highway is difficult to go, avalanches, landslides, shattered, pumping, landslides, frozen soil, and so much disasters often erodes the road, therefore people need to be driving carefully.

【Accommodation】

Bayanbulak hostels and hotels are in the town, the condition of hotel is pretty good outside the town, but the price is not cheap, a set of three rooms with one hall and four small bed room offer a big bed cost 8900 dollars or so. In addition, in the meadow was built room for tourist accommodation.
【Best time to go】

The best travel time is September.
【Packing equipment】

Bring enough drinking water, fruit, dry food, warm clothing and skin care product, eye drops, masks, goggles.