Yellow Crane Tower is located on Snake Hill in Wuchang, Hubei Province in central China. Together with Yueyang Pavilion in Hunan Province and Tengwang Pavilion in Jiangxi Province, it is praised as one of the Three Most Notable Towers in the south of the Yangtze River. It has been a symbol of Wuhan city for many years. In China, even a 4-year-old child may know this attraction because of a famous poem titled Huang He Lou, which is the Chinese pronunciation of Yellow Crane Tower. Due to the high frequency of being quoted or mentioned of this poem, everyone develops their unique feelings toward the Yellow Crane Tower before they witness the real features. In a word, Yellow Crane Tower deserves its fame.
With its original function of ministry gave place to a scenic spot for junketing and chanting in the Tang Dynasty (618-907), Yellow Crane Tower had witnessed the artistic talent of many celebrities, including Cui Hao, Li Bai, Bai Juyi, Jia Dao etc. They all traveled to the tower for inspiration. Famous lines of some are still widely read nowadays. There are a lot of stone tablets and stone carvings, which are all authentic works of ancient celebrities. The greening area here is very large, and it is comfortable to walk around on the hill. If you are lucky enough, you can catch a change to see featured chime performances, which is put on at 10:00, 11:40, 14:20, 16:00 daily for free.
Now the new tower is a five-story building with a height of 50.4 meters (165.4 feet). Murals, statues of famous poets, poems and paintings can be found inside the tower. Standing on the grand tower, one can overlook the beautiful landscape of Wuhan City, as well as the remarkable Yangtze River.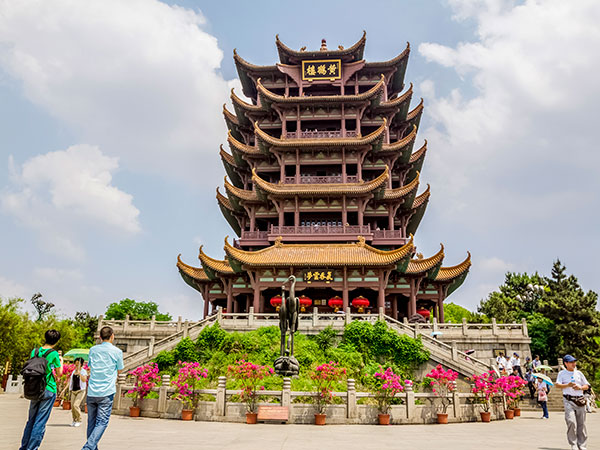 History of Yellow Crane Tower
It was originally built in AD 223 during the Three Kingdoms Period. It was used to be a watch tower for military purpose. The original site of the tower was on the Yellow Crane Jetty, a location situated west of Xiakou. The Yuanhe Maps and Records of Prefectures and Counties notes that when Sun Quan, founder of the kingdom of Eastern Wu, built the fort of Xiakou, a tower was subsequently constructed at this location and named after the "Yellow Crane Jetty." After the three kingdoms came into unity, it lost its military value and developed into a must visit site in the city for first-time comers. Warfare and fires have led to the destruction of the tower for many times afterwards. In Ming and Qing dynasties, the tower was destroyed seven times, and was repaired and rebuilt on ten separate occasions. The last tower, was built in 1868 in the Qing dynasty, and was later destroyed in 1884. The site was later occupied by the trestle of Wuhan Yangtze River Bridge in 1957. In 1981, the Wuhan City Government decided to rebuild the tower at a new location, which is 1000 meters from the original historical site. The relocation and reconstruction started in October, 1981. The current tower was completed in 1985.
Travel Guide
【Chinese name】: 黄鹤楼


【Best time to visit】: March to May, September to early November. The two time period is neither too hot nor too cold, and the view is the best.


【How to get to Yellow Crane Tower in Wuhan】: You may take Bus Route 4, 10 61, 64, 108, 401, 402 to Yellow Crane Tower Stop (黄鹤楼), or take Bus Route 11, 514, 539, 542, 554, 566 Jiefang Road Houchang Street Stop (解放路后长街), then walk to the entrance of the park.