Apak Hoja Tomb is located about 5 km east of
Kashgar. Built in 1640, it is the tomb of
Apak Hoja and the families. As the largest Islamic mausoleum in China, Apak Hoja Tomb covers an area of 20,000 square meters, composed of gate tower, great mosque, small mosque, scripture hall and main tomb chamber.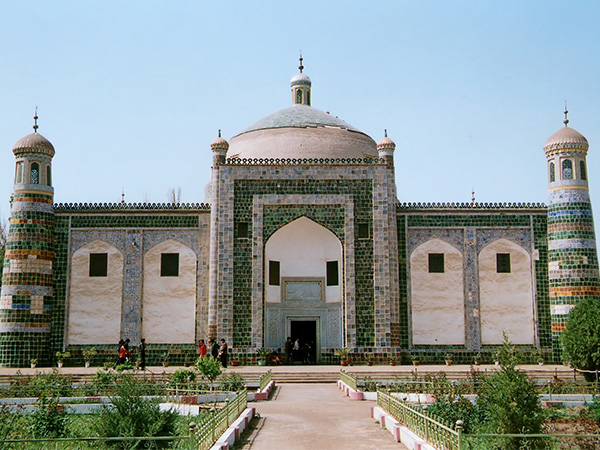 Abakh Khoja Tomb consists of five parts: a gate tower, a chapel, a large worship temple, a hall for learning scripture and a tomb chamber. The tomb chamber is mighty and splendid. The walls of this chamber are decorated by green marble bricks with yellow and blue tiles enchased among them. The gate of the tomb is located to the south of the chamber.
Legend
The legend goes that a lady called Yiparhan, Hoja's descendants, was once a concubine of Qianlong Emperor in Qing Dynasty. She was commonly-known as the "Fragrant Concubine" because of the rich delicate fragrance of flower sent forth by her body. After she died, her remains was escorted back to Kashgar and was buried in the Apak Hoja Tomb.
Another legend is said that the first generation buried here was Yusuf Hoja (1640), a celebrated Islamic missionary. After he died, his oldest son Apak Hoja carried on his father's missionary work and became the leader of the famous Islamic faction of Baishan during the seventeenth century which seized the power of the Yarkant Court for a time. Apak Hoja died in 1693 and was buried in the tomb. His reputation was greater than his father's, so the tomb was renamed "the Apak Hoja Tomb".
Structure
Apak Hoja Tomb is a set of very elegant and magnificent ancient building, 29 meters high, each corner was set up giant brick cylinder which embedded a half within the wall, and on the top of each pillar there is a delicate cylindrical "bunker building". Main mausoleum is a rectangle vault of tall buildings, 26 meters high, 35 meters long. Main grave assumes the circular, the circular arch is 17 meters in diameter with no beams. All the main chamber walls and roof are green colored glaze brick veneer, patterns of yellow or blue tiles, which is particularly solemn and magnificent. Mausoleum hall is large and spacious, arrange with the grave-mound platforms, the grave-mound is made of white orchid colored glaze brick. Large worship temple is located in the western part of tomb, which is using for worship during the festival. Chapel and gate tower is a set of the outermost buildings, colored drawing or pattern and brick pattern on the buildings are very beautiful. Outside the temple there is a pool of clear water, towering trees, quiet and pleasant.
Apak Hoja Tomb experienced a history of more than three hundred years of wind and rain baptism, and it kept with the architectural style of primitive simplicity with its tenacious unyielding spirit. Some visitors are attracted to here by its reputation of Fragrant Concubine, also some comes here for worship, and more visitors come here to see the superb architectural technology and art style of Apak Hoja Tomb. Fragrant Concubine Tomb is commonly known as the Apak Hoja family tomb, which is typical Islamic style palace mausoleum architecture. Tombs buried with the 72 white orchid glass tile covered mausoleum of the same family. The first generation is the Islamic missionary Aji. Yusupu Hoja. After his death, his eldest son Apak Hoja inherited his legacy am continued to preach, and once he won the hereditary regime of Yarkand dynasty, in the peak time he ruled Kashgar, Yarkand, Hotan, Aksu, Kuqa and Turpan six cities and received the title of "the master of the world", in the 17th century, he became the leader of the Baishan Sect Islamic. And after his death, the tomb was named Apak Hoja Tomb. Fragrant Concubine is Apak Hoja's granddaughter.


Travel Guide
【
Chinese Name】: 香妃墓;阿帕霍加墓
【Recommended Visiting Time】: 2 to 3 hours
【Best Time to Travel】: August and September is the suitable time to visit Apak Hoja Tomb.
【How to Get to Apak Hoja Tomb】: taking public bus No.20 in the city to the terminal station Apak Hoja Tomb Station, or you can take taxi there which takes about 20 RMB or so.