Formerly known as the
Daji Cave(Chinese name: 打鸡洞), it is located in northeastern
Guizhou Zhijin county Guanzhai Village Township, 120 kilometers from the provincial capital
Guiyang. Split into three layers, the cave extends for some 13.5 km (8.4 mi) over a total area of 7 km2 (2.7 sq mi) and is believed to possess the largest unsupported roof span of any cave worldwide.
With rich ethnic customs, there are many specialties.
Zhijin Cave(Chinese name: 织金洞) in Miao ethnic area where you can enjoy the Miao performance, you can jump up with joy of Lusheng dance. In addition, great "golden black jade" marble series products, the primitive wax printing souvenir and crack pot or casserole can be purchased here, and high nutrition bamboo fungus, gastrodia elata, and other products, is a famous specialty of Zhijin county. Unique flavor of the "Gongbao chicken", "buckwheat bean jelly", and "pot potato with stinky tofu", which can make visitors taste aftertaste.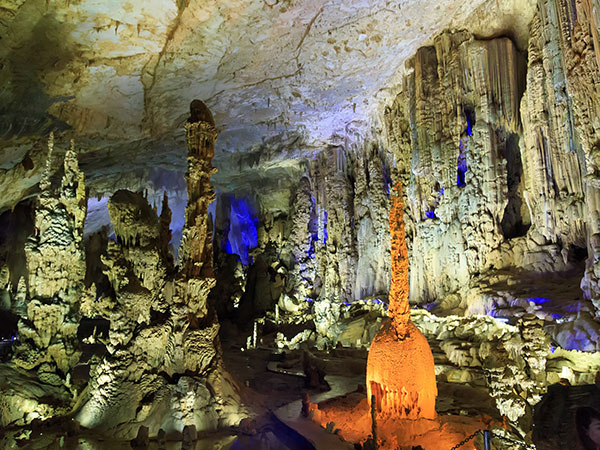 Geography
Zhijin cave is located in south bank of Wujiang River which is one of the origins of six rivers, belongs to high dry karst cave. The cave has stalagmites, stone pillars, clint, more than forty of accumulations, as the formation of various karst landscape. It is known as "karst treasure", "cave wonders".
Zhijin cave is called as the "king of the cave" in the world is that it has many of greatness of the world. Such as the whole hole developed part of 350000 square meters; Cave has many deposits category, the high grade which is rare; the highest, the most wide span of hall is the top in the world; More than 120 different crystalline formations are found in the cave's interior along with stalactites and the "Silver Rain Tree" (银雨树), a 17 m (56 ft) tall rare flower-like transparent crystal.
Scenic Spot Area
The surrounding area, known as the Guizhou Zhijin Cave Scenic Area, was made a national level tourist site by the Chinese State Council in 1988. Other attractions here spread over an area of 307 km2 (119 sq mi) and includes Zhijin Old Town as well as Luojie River Scenic Area. The colorful shape, large scale, different forms, is the significant feature of Zhijin Cave landscape. Inside the hole, length of 12.1 kilometers, the relative difference of more than 150 meters, the most wide span have investigated is 175 meters, width in 60 meters to 100 meters, with a total area of more than 70 square meters According to expert investigation, the scale of Zhijin Cave, shape classification, landscape effect are better than France and Yugoslavia's global water-eroded cave and it is bigger, more complete, and more beautiful.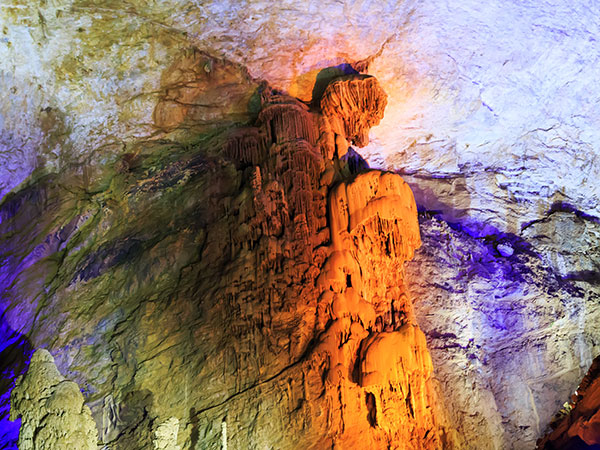 Human Landscape
Ancient city of Zhijin is full of Yi nationality cultural relics, gives beautiful Zhijin cave a rich cultural atmosphere. Shocking uprising leader's former residence "Nawei relics" and "Anbangyan Tomb" of late Ming dynasty are near the Zhijin Cave. And Zhijin Cave is 23 kilometers away from Zhijin Ancient City which known as "small Guilin" and it is the one of the four provincial famous historical and cultural towns. In the city there are temple, pavilion, stone bridge, and rugged mountains set merges with beautiful river, spring. Together with Shexiang lady of Ming dynasty and master Dingbaoxue of Qing dynasty relics, making Zhijin Cave become a scenic spot integrate with natural landscape and human landscape.