Yufeng Temple (Chinese Name: 玉峰寺), located at the southern foot of Jade Dragon Snow Mountain with ancient forests clustering around, is 9 km away from the Lijiang. Yufeng Temple is called 'Kalashicongfeilin' in Tibetan language. There is a small pond in front of the temple embraced by big pine trees. The whole temple shows a distinctive and conjunct architecture style of Han Buddhism, Tibetan Buddhism, Taoism and the local Naxi Dongba Religion due to the cultural communion between different minorities and different areas. It is also the witness of the peaceful coexistence and syncretism of multinational cultures and religions, and still plays a very important role in acculturation of Naxi Ethnic Group.
The temple has three courtyards and the famous great Camellia is in the northern one. It was said that the camellia tree here had been more than 500 years old. Actually, it is a combination of two different breeds of camellia. They were engrafted in one tree and now have grown into a huge tree with the crown shading the whole courtyard. In the eyes of the Naxi, Camellia is the symbol of true love. Naxi young lovers that want to die for their love in Yunshanpin of Jade Dragons snow Mountain will come to Yufeng Temple to take a look at the great Camellia. This tree is believed to have a magical power to persuade the young lovers to cherish their lives and enjoy happy life in real world. It is said that this tree was planted between 1465 and 1487 during the Ming Dynasty before the temple was built. So the tree is more than 500 years old. Its blossoming period lasts more than 100 days a year, and produces more than 20,000 flowers in 20 groups, each group over 1,000 flowers. One blossom is about 17cm in diameter. The scene is magnificent.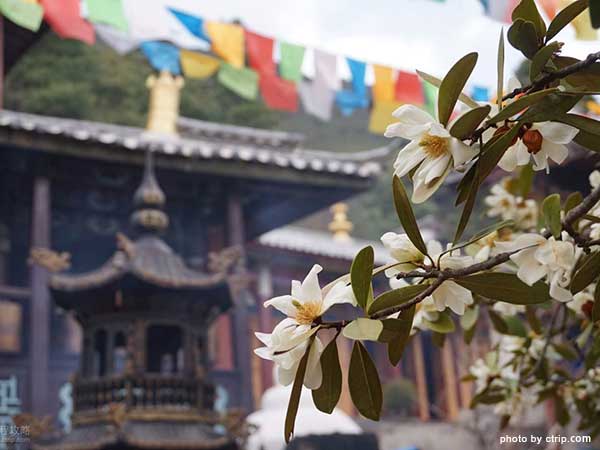 Construction Features
Yufeng Temple hall is quadrangle courtyard layout, consists of a gate, the hall, and two tigers. And it is harmonious symmetrical layout. The hall is facing east, double-hipped roof. The hall is16.3 meters wide and 12.6 meters deep. Upper eaves are brackets retainer, down eaves are arc-shaped, and it has strong architectural style of the Qing dynasty. Four golden columns in indoor are carved with dragon embossments. Octagonal caisson ceiling on the top was painted with tantric Buddha, beams skirtboard was painted 20 of Buddha figures, and the painting line is concise which has Tibetan "Thangka" style.
History
Yufeng Temple was built in the last years of the reign of emperor Kangxi in Qing dynasty and it is one of the famous lama temples in Lijiang. The temple is small, but it was famous due to a camellia. There are three courtyards in the temple, the famous "camellia" rooted in the north courtyard. According to legend, the camellia was planted during the Ming dynasty Chenghua period (A.D. 1465-1487), there was the camellia first and then built the temple.
This "camellia tree king" has a history of more than 500 years. This camellia was made by two different species of camellia through grafting, 34 cm in diameter, 2 meters high, and the crown area of 56 square meters. In every spring flowers are in full bloom and in summer the flowers faded. During the seven seasonal occasions of more than 100 days, there has more than 20 batches of camellias are opening successively, each batch of thousands of flowers, a total of more than 20000 flowers. From the front, it looks like a peacock in his pride.
Travel Tips
Each spring tourists who come to watch camellia are in an endless stream that people in the flowers and flowers in the crowd. Yufeng Temple, Beiyue Temple and Beisha Murals have become important cultural scenic spots in Lijiang.
Although it is said that thousands of camellia flowers here are bloom from February to May, but only bloom in March, so if you miss the blossom season you do not have to go. In the temple there is a memorial arch made of Michelia floribunda which is also worth a look. Michelia floribunda is lunar white, and it has faint scent.
【Best time to visit Yufeng Temple】 From March to June is the best time that tourists can appreciate camellia during that time.
【How to get to Yufeng Temple】 taking public bus No.7 can reach Yufeng Temple, but there is a distance between the bus stop and Yufeng Temple. It is suggested riding bike or chartering car there.