Baisha Mural is located at Baisha Villages, 10km north of Lijiang. Although the traditional houses do not look impressive, this was the cradle of the Naxi culture and ancient capital of the Naxi Kingdom.
The valuable murals are protected inside Dabaoji Palace and the colored glaze temples. The originality and figures within the murals reflect the different religious cultures and artistic forms of Buddhism, Lamaism, Taoism and local Naxi Dongba religion's development into Naxi School. Each painting includes at least one hundred portraits, which are not only Buddha, but also ordinary people such as bureaucrats, farmers, citizens and even criminals. Dominated by black, silver, dark green, gold and red colours, the murals in the back hall, overlaid with centuries of brown soot, are doomladen and bizarre. The scenes and figures, some still vivid in detail, are largely taken from Tibetan Buddhist iconography and include the wheel of life, judges of the underworld, the damned, titans and gods, Buddhas and bodhisattvas. Many of the scenes and subjects are drawn from people's daily life showing fishing, riding horses, weaving, dancing and casting iron.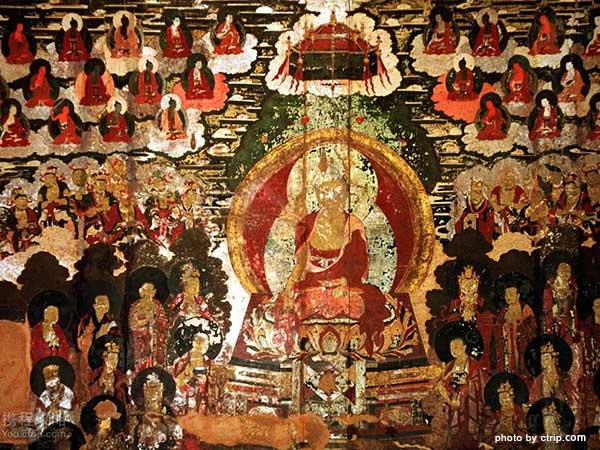 History
Baisha is 16 kilometers away from north of Lijiang city, Yunnan province, it is an ancient and beautiful town, is the original settlement of Naxi people in Lijiang dam, and also the birthplace of Lijiang Tusi Mu family, also the earliest Naxi political center. The famous "Lijiang Mural" is the product of the opening of Naxi society in Ming dynasty, it was painting from Ming to Qing dynasty, has lasted for over 300 years. Late Ming dynasty and the early Qing dynasty is the Lijiang mural boom period, more than five hundred years of history.
During the Ming dynasty, Lijiang Tusi Mu's Family was in the heyday with political stability, economic prosperity, to show its rich, Mu's Family built palaces, a batch of considerable scale buildings—existing Baisha colored glaze temple, Dabao palace and Dading pavilion were built during this period. The Ming dynasty murals stored in there is a very precious cultural relics, belong to national key cultural relics protection units. Dabao Palace has 558 existing murals, where stored the largest number of Lijiang Murals. Murals integrated of Han, Tibetan and Naxi culture and different religions in harmony as an organic whole, and Lijiang murals show the Tibetan Buddhism and Confucianism, Taoism and other life stories.

Travel Guide of Baisha Mural
【Best Season to Travel】 from July to September is the best season to travel, during that time the scenery is beautiful. The spring of Lijiang especially the melting season in the early spring is quite cold; summer is the most heated season, and it is also the rainy season; autumn is the most beautiful season in Lijiang, moderate temperature, fresh air, colorful trees and flowers; winter is the season with the low temperature and snow, the lowest temperature can be minus 20 degree.
【How to Get to Baisha Murals】taking public bus No.6 or No.7 in the