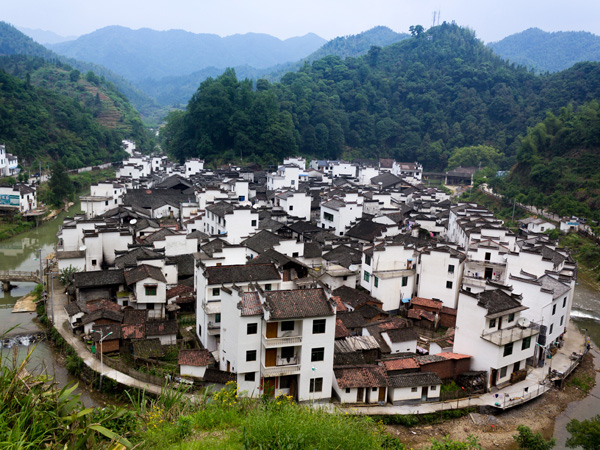 The main material of porcelain making – porcelain clay produced largely in mountains embrace Yaoli Yaoli Village is located in Fuliang County, jingdezhen City (the Ancient Capital of Porcelain) in the north-east of Jiangxi province, China, on the mountainous border region with Anhui province. It is about 50 kilometers from the city center of Jingdezhen, about 1.5 hours by car from Jingdezhen.
Yaoli Village is a famous place of tourist attraction as it combines scenic mountains, woodland, waterfall, valley and other natural scenery with ancient town, the ancient kiln sites and other cultural landscape as a whole. There is a valley in the centre of the village. There are 127 remains of the ancient pit, 67 ancient kiln sites, 149 water mills, 600 ancient workshops and 100 ancient piers. There are also ancient dragon kilns and even pottery wheels where you can try throwing Jingdezhen porcelain.
Yaoli has also age-old ceramic civilization in Jingdezhen area. Yaoli is the home of a type of porcelain stone known as "glaze stone". This stone is a major component of traditional Jingdezhen glazes. The main material of porcelain making – porcelain clay produced largely in mountains embrace Yaoli Village. Thus Yaoli, a village with rich resources, handcrafts and kilns, was one of the key areas of porcelain manufacturing in ancient time. Yaoli has been known as the capital of Jiangxi Jingdezhen porcelain.
As it is a remote mountain village and far away from main roads, it lost its glory gradually, frozen in time. But on the other hand, it well preserves its original look, of its natural beauty, cultural relics and unique simple customs.
Visiting the village, you can enjoy the fresh and beautiful countryside view with thick forest, waterfalls and rare wild life. You can also enjoy seeing the well-preserved architectures in Ming/Qing-style, shopping street of Ming and Qing Dynasties, ancestral hall, old dwelling houses and old school archways, etc. Meanwhile, Yaoli "Yanyu" Green Tea got its great reputation since Tang Dynasty, which famous for its distinct but subtle aroma and light green color.



Travel Guide
【Chinese name】: 瑶里古镇


【Best time to visit】: It is suitable for visiting all year around, best from May to November.


【How to get to Yaoli Village in Jingdezhen】: You take direct Bus Route Jingdezhen-Yaoli (景德镇-瑶里 in Chinese) at Jingdezhen Licunduan Bus Station (里村短途汽车站). There are two buses running every day. One starts off at 7:30am and arrives in Yaoli Village at 9:30am; the other starts off at 2:00pm and arrives in Yaoli Village at 4:00pm. Return buses from Yaoli to Jingdezhen are only two as well, at 9:00am and 4:00pm.