Xiling Snow Mountain, the largest snow mountain skiing resort in China, is located in
Chengdu
Sichuan Province. With the area of 375 square meters and a height of 5,364 meters above sea level, Xiling Snow Mountain, the highest peak in Chengdu, is the world natural heritage and the habitant area of Giant Panda. Xling Snow Mountain is well-known as the Oriental Alps, can be currently a national-level scenic place exclusively funded by Chengdu Xiling Snow Mountain Tourism Development Co., Ltd. With a 95km distances far from Chengdu; it really is situated in national scenic resort. The actual traffic is definitely accessible with high class cement road linking Chengdu. It will take justtwo hrs through tour bus from Chengdu.
Have a bird's eye-view via lower area, visitors will discover
► The lower red rock peak forms like a large rock line towering straight into sky,
► Middle red rock peak just like a disk rock
► Top red peak similar to a crouching turtle
► Additionally it is a well-equipped, large-scale grass-skiing place and also sports and amusement ground on high mountain grass fields. The Xiling Snow Mountain range will be actually obvious from city Chengdu presented the sky is apparent. It can be a magnificent view to see the snowfall mountain peaks position high and looking straight down in the structures. It is just a nationwide scenic spot reputed for the forests and alpine scenery.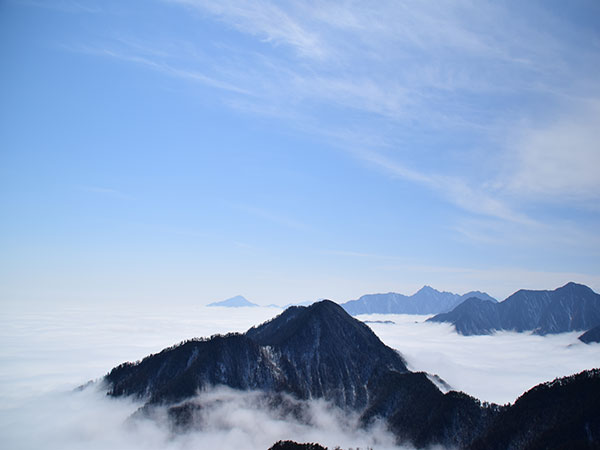 Three magnificent spots
► The Sun Shines over the Golden Mountain 日照金山
► Yin and Yang Worlds 阴阳界
► Buddhist Halo in the Forest 森林佛光 Lines of tall trees and shrubs cover the whole area of the mountain range. A great deal of greens are harvested and grown right here. There may be unique distribution of plant based on the periods in which they grow.
What to See
Panda Forest The panda is China's first class protected animal, is the specialty of the mountains in southwest China, and it has the reputation of "national treasure". Fargesia nurtured to be a flourishing forest in Xiling S
now Mountain, rich vegetation, dense woods, and pleasant climate makes it the giant panda's natural shelters and breeding habitat. "Panda
Forest" is the place that giant panda haunted for many times, so it was developed and name after panda to commemorate. The whole forest is more than four kilometers, the area of hundreds of acres, notably the cuckoo, arrow bamboo, hemlock, is precious.
Yin and Yang Worlds The great attraction is the "Yin and Yang Worlds" in Baisha Hillock area. Yin and Yang Worlds is a mountain, and also watershed of the two distinct climates. In one side is bright sky, light blue days; On the other side is cloud and steaming fog, hazy and give the visitors mystery of the infinite daydream. Baisha Hillock is winding for thousands miles, jagged dolomite, silver flash, its top of ridge is only 2 meters wide. It is a watershed, and the boundary between the different climates, its western part is Qnghai-Tibet plateau climate that is cold and dry, the east is the basin climate that is warm and moist. The two different airflows met on the Baisha Hillock and formed peculiar weather: In one side is bright sky, light blue days; On the other side is cloud and steaming fog, hazy world.
Cloud Viewing Platform

Thousands meters platform makes tourists thrilling when they commands a broad view on the platform. Under your eyes are waves of cloud. When you take a view cableway to the Moon and Sun Level Ground, you will appreciate the mood of speeding across the sky, move back and forth from the clouds and view fluctuated myriad spectacular sea of clouds.

Moon and Sun Level Ground Moon and Sun Level Ground is an original world, common vast sea of clouds, spectacular and magical Buddha halo, sunrise, and rainbow circle. Visitors can appreciate the magnificent scene of Cloud Sea, feel the scenery of exceptional charm, sunny day, bright night with star, and overlook lamps and candles of myriad families, just like heaven and earth. It is said that it is not everybody that can see the Buddhist Halo in the Forest of Moon and Sun Level Ground. Someone who see it will be very lucky!
Sport Events in Xiling Snow Mountain Xiling Snow M
ountain ski resort is located half slope of back mountain of Xiling Snow Mountain, and is located in the east gate of Xiling Snow Mountain Scenic Spot. Xiling Snow Mountain is 2100-2800 meters above sea level, ski base covers an area of about 7 square kilometers area, year snow cover period is for four months (from the early December to the end of March in the next year), snow thickness of 50-80 cm, the winter average temperature is 2 degrees below zero (lowest temperature of 15 degrees below zero), is a mountain plateau, which is a good natural condition for building into a large-scale tourism ski resort. According to the surrounding mountain type and grade, opened up elementary, middle and high level ski run. Xiling Snow Mountain Ski Resort has 2000 sets of the world famous ski equipments, 10 international standard tracks that can accommodate 2000 people ski at the same time. And there are 500000 square meters high mountain lawns planted in the ski resort, forming a large scale grassland, imported 600 sets of grass skiing equipment that Xiling Snow Mountain Ski Resort has become the best and largest high-altitude skiing base in south China and the largest grass-skiing base in China. It is especially suitable for spring, autumn and summer spot events. The spot events in Xiling Snow Mountain Ski Resort are: flying kite, snow ATV, ziptreck, skiing, snow frisbee, snowmobile, grass skating, modern ZoBr, and mountaineering, etc.
Transportation
► 1. Generally there are two routes to travel Xiling Snow Mountain, hiking route and ski route.

► 2. From Chengdu Railway Station and the Luojianian, there is tourist bus goes the scenic area directly, but not many buses. In Chengbei Passenger Bus Center, Qingyang Palace, and Jinsha Station there are tens of buses depart to Dayi daily. And there are many buses from Dayi station to Xiling Snow Mountain. From Chengdu to Dayi it takes less than 1 hour's drive. In Chengdu Xinnanmen Bus Station there is direct bus to Xiling Snow Mountain Scenic Area.


Accommodation
Xiling Snow Mountain is 95 km from Chengdu City, the scenic area is developed that the accommodation condition is quite well and tourists will have chances to choose different hotels. ► A: stay in the Mountain Resort Hotel at the back of the ski resort ticket office; ► B: inside the scenic area, there are Xiling Snow Mountain Yingxue Hotel, Xiling Snow Mountain Maple Leaf Inn and five-star log cabin villa Xiling Snow Mountain Scandina Resort Hotel; all rooms adopt floor heating system, the constant temperature is 21 degrees, and tourists might be lucky to catch up with roast sheep bonfire party organized by hotel. You can also choose to Xiling Snow Mountain Sunshine Holiday Hotel, Xiling Snow Mountain Snowflake Hotel, etc. Xiling Snow Mountain is a developed mature tourist attraction, accommodation condition is good. Visitors can also choose a closer hotel from the scenic spot like Huashuiwan Hot Spring Resort, where can enjoy spa. During the Spring Festival, tourists have to book in advance.
► There are mainly four areas: Mountaintop Area: it is suitable for people who love hiking and mountaineering, from here people can see sea of cloud and sunrise preferably. Huashuiwan Area: people who pay attention to the quality of life can stay here to experience hot spring. (The environment is better, but the price is also expensive) Agritainment Area: this area is rural style, tourists can spend low costs to appreciate beautiful sceneries and taste delicious food. Ski Area: this area is very convenient for ski amateur and grass skiing amateur, convenient for people to take part in various sport events and the price is quite expensive here.
Best time to visit Xiling Snow Mountain:
April to August, while winter is another good time with thick level snow carpet in the skiing places.