Mount Siguniang, the highest peak of Eastern Hengduan Range, is located in the bordering area of Xiaojin County and Wenchuan County in Ngawa Tibetan and Qiang Autonomous Prefecture,
Sichuan Province. With a similar layout of the South European scenery, Mount Siguniang is also called the Chinese Alps. Mount Siguniang is well-known for its grandness, straightness and forcefulness. It is a natural forest area with abundant forest, thick green grass, and clear flowing rivers.
Climate of Mount Siguniang
► Spring provides less severe temps, with snowfall and rainfall getting much more regular.
► Summer's climate is unstable, however could get up to 30˚C throughout the day. Nights is normally cool, nevertheless, regardless of the day time heat. Thunderstorms will also be frequent.
► Fall sees fewer precipitation, with sunnier climate and lower night-time temps that fall below getting stuck.
► Winter season in Mount Siguniang is actually chilly and comparatively dry, with night-time temps falling to under -15˚C frequently in Rilong, and also to even chillier temps in the mountains. Day time temps float about 0˚C, though the conditions are frequently sunny, along with very little snowfall.



What to See
► Mount Siguniang (Four Ladies Mountains)
Mount Siguniang is composed of four peaks, they are lined up from north to south, within the scope of the 3.5 km. The four peaks covered with year-round ice, and they are like four pretty girls gracefully stand in the two silver river of Changping Ditch and Haizi Ditch. Among Mount Siguniang, Yaomei Feng (4th peak) is the most slender, known as the "Queen of Shushan Mountain", "the Alps of Eastern". And the Mount Siguniang is referred to this highest and most beautiful 4th peak most of the time. Mount Siguniang, "Siguniang" means four laides in Chinese, is titled because of 4 peaks: • Da Feng(Big Peak or 1st peak)大峰 • Er Feng(2nd peak) 二峰 • San Feng(3rd Peak) 三峰 • Yaomei Feng (4th Peak) 幺妹峰 The highest peak is Yaomei Feng also known as the 'Queen of Sichuan's peaks'(蜀山皇后), standing at 6250 meters. It is also the second highest mountain in Sichuan Province. The first ascent was in 1981 by a Japanese team via the east ridge. Very few people attempt to climb this and very few of them succeed after that.


【First Guniang Mountain】 First Guniang Mountain has an elevation of 5355 meters, below 4000 meters is the alpine meadow, and in the lower place there is shrub forest and wild flower everywhere. You can see herdsman and free-ranging yaks and horses, and some wild fungus; 4000 meters above is bare. In summer, the top of the hill covered a small amount of snow, from October to April in the following year here will snow, and the accumulated snow on the hill is knee-high.
【Second Guniang Mountain】 Second Guniang Mountain, located in the Aba Xiaojin County west 230 kilometers away from Chengdu in Sichuan province. It is located between the First Guniang Mountain and the Third Guniang Mountain, at an altitude of 5454 meters. This region is composed of four mountains three gullies, is located in the junction of Wenchuan county and Aba Tibetan autonomous prefecture, it is the peak of the Qionglai mountain ranges of Hengduan Mountainous Region. Every summer, there are starts are green trees, green grasses in the mountain, people can see rare animals living in the gorge of the Qinghai-Tibet plateau, also can find many precious medicinal herbs produced in Tibetan areas.
【Third Guniang Mountain】 Third Guniang Mountain, located in the junction of Aba Tibetan Qiang Minority Autonomous Prefecture Xiaojin County and Wenchuan County, west 200 kilometers away from Chengdu and it is at an altitude of 5664 meters. Third Guniang Mountain Scenic Area is beautiful with complex landform, abundant animal and plant resources, among them, the giant panda in the most famous. Besides, there are Tibetan and Qiang cultures. Giant panda protection and research center of the world – the Wolong Nature Reserve in the Third Guniang Mountain scenic spot.
【Yaomei Peak】 Yaomei Peak is 6250 meters above sea level, second only to be known as "the king of Shushan Mountain" Gongga Mountain, so people call it as "Queen of Shushan Mountain", "Oriental
Holy Mountain". In 1982, Mount Siguniang was listed as one of the top ten climbing mountains in China, in 1994 was listed as national key scenic area, in 1996 it was recorded into the list of national nature reserve, in 2000 it became a national AAAA level tourist area, in 2005 was approved as a national geological park, and it was listed as the Sichuan panda habitat world heritage by UNESCO in 2006.


► Three Ditches


Shuangqiao Ditch Shuangqiao Ditch (Twinbridge Ditch) is located in northwest Rilong Town, total length of 34.8 kilometers, covers an area of 216.6 square kilometers. On both sides are mountains. At an altitude of 400 meters, Shuangqiao Ditch has both common birch grove of low mountain area, and also spruces, fir, and redwood, and patches of sea buckthorn, shrubs, and larch of high mountain area.
【Changping Ditch】 Changping Ditch is located in northeast Rilong Town, 29 km in all, occupies an area of 100 square kilometers, and is one of the main scenic spots of Mount Siguniang. There is not only beautiful natural scenery, and more unique Gyalrong Tibetan folk customs. The main attractions are Zhangmu Tibetan Village, the Gelug sect lama temple, ancient cypress path, etc.
【Haizi Ditch】 Haizi Ditch is located in the east of Rilong Town. The ditch is 19.2 kilometers long, covers an area of 126.48 square kilometers, the scenic spot is empty flat, and there are native meadows. Here is the birthplace of Zanla River, the ancient fish from the quaternary are kept up to now, become a living fossil that people can learn about the land. The main tourist attractions are in Guozhuangping, Big Lake, Flower Lake, etc.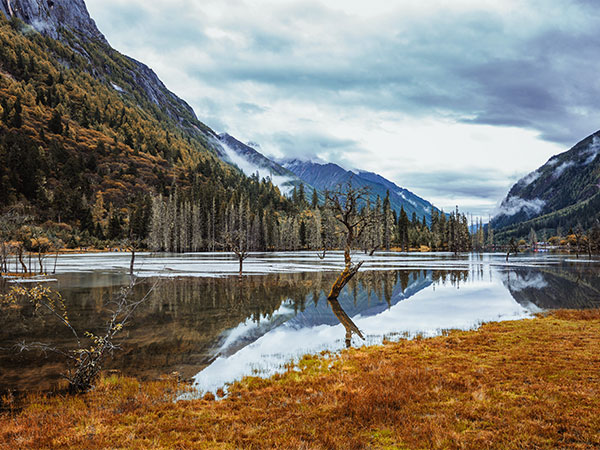 Transport Information of Mount Siguniang
【The internal transportation】

Only in the Shuangqiao Ditch and Changping Ditch there are sightseeing cars. Shuangqiao Ditch need to visit by sightseeing car all the way, from Tourist Reception Center to last stop Changhe River Dike; Changping Ditch sightseeing car is from Tourist Reception Center to the Lama Temple (about 7 kilometers) , then tourists can choose to continue visit on foot or riding a horse.
【External traffic】
Air The nearest airport from Mount Siguniang is Chengdu Shuangliu Airport. After arriving at the airport people can take airport shuttle bus and get off at the Minshan hotel. Transfer to public bus No.82 to Chadianzi Passenger Station and take the bus to Mount Siguniang; Or directly take a taxi from the airport to Chadianzi Passenger Station.
Bus There is no direct bus from Chengdu to Mount Siguniang, tourists should first go to X
iaojin County and then take bus to Mount Siguniang. In Chengdu Chaidianzi Passenger Station, there is a bus departs at 6:30 a.m. every day to Xiaojin County and it takes about 5 hours to there. After arriving X
iaojin County, the easiest way is to take local minivan to Rilong Town Mount Siguniang Scenic Area.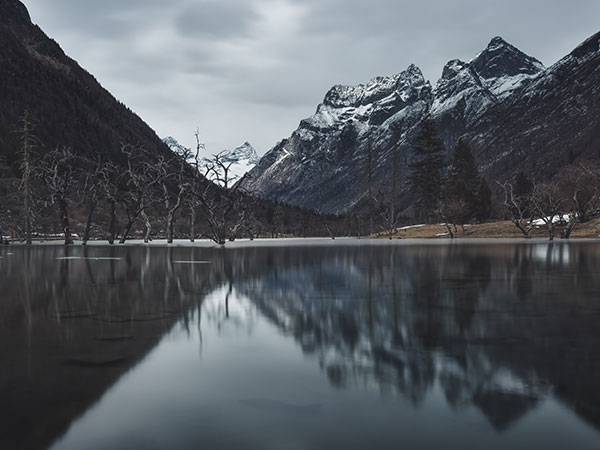 Travel Tips of Mount Siguniang
【Best travel time to Mount Siguniang】

July and August two months each year are the best travel time to Mount Siguniang. This time full mountain flowers are in full bloom and flowers are booming like a piece of brocade, and tourists can go down into the ditch to feel the coolness of water of Snow Mountain. In addition, from mid-October to mid-November, the autumn scenery of Mount Siguniang is very charming.
【Clothing Tips】 In the local Mount Siguniang, there is a saying "In a mountain there are four seasons, and there is different weather each ten miles".


【Spring】 The average temperature in Mount Siguniang in spring may reach 10 degrees below zero, the sunny weather is just 2 degrees below zero, a larger temperature difference between day and night makes it is going to be sunny during the day, but at night the temperature will drop. Travel to Mount Siguniang at this time, people must prepare warm clothes, such as down jacket. After snow there will be very dazzling light, be sure to wear sunglasses.
【Summer】 The climate of Mount Siguniang is mild in summer, day and night temperature difference is not big, and tourists can travel light. But at this time, Mount Siguniang in the daytime the sun is very strong, also it is the rainy season, when it rains the weather will be cool, so visitors should bring wind-proof and warm clothes, like a thick wind-resistant jacket is better, and the most important is that don't forget to bring the sun block.
【Autumn】 Mount Siguniang in autumn is changeable, at this time, people in the scenic spot always pay attention to the weather conditions to put on more or less clothes accordingly. And it is better to take a sweater, vest or thin clothes, and then take a coat that wear in morning and evening.
【Winter】 The hardest moment of Mount Siguniang is in winter, the weather is relatively dry. Although there are many sunny days, it does not warm, so tourists should prepare the sufficient warm supplies and moisturizing supplies, both men and women need to pay attention to sun protection. Although this paragraph of time the snow is not too much, visitors still need to be careful not to go out too early. It is recommended to spend 2 to 3 days to visiting there. The best time to travel to Mount Siguniang is July and August.