Xikou, lying 35 km away towards the southwest of Ningbo City, Jiangsu Province, China, is famous at home and abroad for its integrity of humane culture, Buddhist cultureas as well as scenic beauty. It is the right place where Maitreya Buddha practiced his Buddhist rites; also, it is the home town of Mr. Chiang Kai-Shek, who was a significant historical people in Chinese history.
Xikou town is also named Wuling, as the Wuling Mountain stands south of this town. Trace back to ancient times, this town was regarded as one of the "Ten Scenic Sights." This town is proud of its picturesque scenery as well as fantastic sceneries.
Xikou, as Chiang Kai-Shek's hometown, has become a well-liked attraction to a lot of his admirers; and for the time it was the center of the nationalist party as well as significant government officials who came in flocks to visit here when Chiang Kai-Shek was back at home.
Things to Do and See
【Xikou Museum】Xikou Museum mainly showcases local and distinct products unearthed historic articles, as well as ancient local handcraft works, like bridal sedan chairs, traditional beds, boat drums as well as a few Fenghua-made modern handcraft artistic articles.
【Wuling Gate Tower】
Wuling Gate Tower is the gateway of Xikou Town. It is actually a pseudo-classic building, which is magnificent and stately with its upturned eaves as well as curling up roofs.
【Wenchang Pavilion】
Wenchang Pavilion, a private villa and library of Chiang Kai-Shek and his wife Song Meiling, was built during Qing Dynasty. It was one of the ancient "Ten Scenic Spots of Xikou". The wall of this pavilion was built by black brick along with overhanging eaves and rake angle; painted beams and carved pillars; carved beams and painted rafters; rosewood palace lantern hang on the top.
【Fenggao House】
Fenggao House is a national-class key unit of a historical site. It is the former residence of Chiang Kai-Shek's family.
【Yutai Salt Shop】
Yutai Salt Shop was the birthplace of Chiang Kai-Shek. It was ever a grocery selling salt, brew beer, rice, pancake, lime and other things.
【Xuedou Mountain】
Xuedou Mountain has an altitude of 800 meters; is the highest peak of the ranges of the Siming Moutain. There is a hole in the mountain, from which there is a spring which is milky white, thus the spring is called Milky Spring, and the hole is called Xuedou. Hence, this mountain got such name.
【Xuedou Temple】
Xuedou Temple has a history of more than 1700 years. Entering the gate, there are two ginkgo trees, which were planted during Han Dynasty. The two trees are with different gender. The one on the left is female, while the one on the right is male. It is said that the Maitreya always gave sermon to the Buddhist in the temple. Thus the Xuedou Mountain is regarded as the sites of Maitreya worship. Between the Hall of Heavenly King and the Great Buddha's Hall , there is a Maitreya Hall.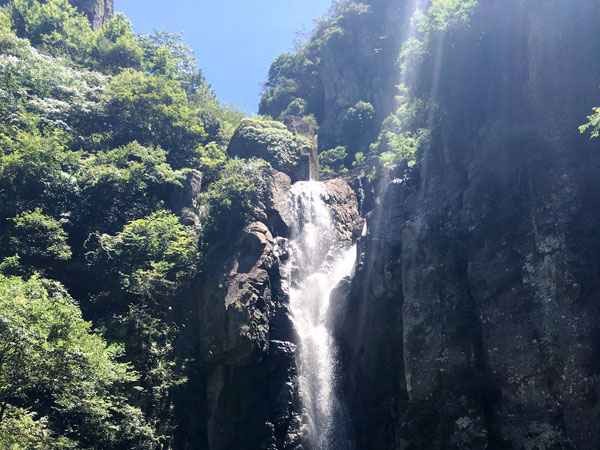 Travel Guide
【Chinese name】: 溪口镇
【Best time to visit】: from March to May and September to October is the best time to visit Xikou Town
【How to get to Xikou Town in Ningbo using public transportation】: Your may take bus from Ningbo South Bus Station to reach the town area directly. The buses run from 8:00am to 6:40pm.