Dongqian Lake lies in southeastern Ningbo, Zhejiang Province, China, covering an area of 234 square kilometers. It is the largest natural freshwater lake in Zhejiang province with a water surface area of 20 square kilometers. It is famous for its intoxicating blend of picturesque mountains as well as clear waters with abundant cultural heritages. Dongqian Lake is really a multi-functional and an ideal tourist destination as well as a good recreational spot. It is only 15 kilometers away from Ningbo downtown.
This lake is said to be the largest natural fresh water lake in Zhejiang Province with a water area 19.89 square kilometers, four times that of Hangzhou West Lake. The lake is now 6.5 kilometers wide, 8.5 kilometers long and 45 kilometers in girth.
Dongqian Lake has over 1200 years history. It was finally turned into a first-rate reservoir and irrigation source as a result of the workers' strenuous work during subsequent dynasties. This lake has long since guaranteed good crops under all types of weather, helping transform the whole region into "a fertile land of fish and rice".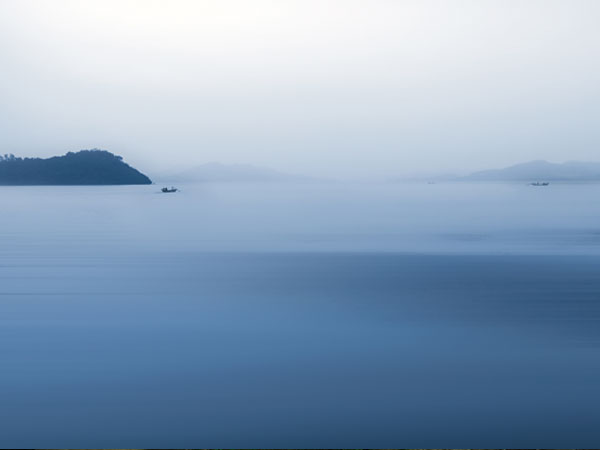 Things to Do and See
Along the scenic area of East Lake is dotted with Little Putuo (Xiǎo Pǔtuó, named after Mount Putuo)., Taogong Island, Fuquan Hill, The Museum Stone Carvings of the South Song Dynasty, etc.. There are some villages and small parks around the lake area. People usually spend a day or two to visit a few interesting sites around, not all the sights around lake area. There are many buses lines leaving for different major attractions around the lake area, very convenient.
【Little Putuo】: it is a long embankment in the lake, which is the most popular attraction in Dongqian Lake. Xiayu Temple in the center of the lake island is a hot place. You may also take electromobile to see the Guanyin Statue in water. Or just walk along Little Putuo embankment to enjoy the beautiful scenery and fresh air.
【The Hanling Street】: a thousand-year-old village
Central Lake Area: the 1800 meter-long dyke in the center of the lake which links to the Dual-Soul Hill in the east with the Reverend Tao's Island in the west.


【The Museum Stone Carvings of the South Song Dynasty】: this museum mainly displays collections of stone sculptured images for tomb passages during the South Song Dynasty; as well as a few 120 uncommon stone crafts carved during the Ming Dynasty and Qing Dynasty.
【Butuo Cave】: it is a cave of Avalokitesvara Bodhisattva, a grotto bulit in the South Song Dynasty.
【Taogong Island】: it is a hot outdoor place for barbecue for local people. It is a perfect place for group activities. If you schedule is tight, you do not need to visit here.
【King Yue's Temple】: this temple was built in memory of Yue Fei, a famous China's national hero in the South Song Dynasty.
Putuo across the bridge from childhood, Kosei is the Narathiwat Island, this is a popular local barbecue place for a group of people together to do activities like expansion, overseas visitors if time is tight, do not have to pour into the special visit.
If you come with children, Ya Ge Er Zoo in the east side of the lake is a good choice. In addition to the cute animals, kid here can also play a carousel, bumper cars and other rides.

Riding around East Lake
In addition to seeing the sights, riding round the lake area can be said to be the most popular activities. You can take time to enjoy the natural beauty and lakeside villages. There are dedicated bike lanes around the lake, and there are different biking lines recommended for different people. In the visitor center, south of the Water Park, Masan wetlands and the northern side of Ya Ge Er Zoo, there are many bicycle rental sites, where offer all kinds of bicycle rental service. In addition, there are many docks by the lake, where operates water buses, sculling boats, speed boat, etc. You may take them to reach each attraction around. Or you can rent a boat to have a cycle trip in the lake.
You may spend just one day to visit area. Or if you have enough time, you stay overnight there. There are many hotels around the lake area, from deluxe hotel resort to hostels.
About eating, around much of the lake, old houses cluster along the shore, a number of which now exist as local restaurants, many of which specialize in dishes featuring fresh lake fish.

Travel Guide
【Chinese name】: 东钱湖
【Best time to visit】: March to October is the best time to visit here. Around September 10 in lunar calendar, Dongqian Lake Dragon Boat Festival will be held here. In winter, you may take part in the winter fishing festival to experience fishing culture. In a word, the lake will present you different view in different seasons.
【How to get to Dongqian Lake using public transportation】: You may take Bus Route 906, 902, 903, 905, 106, 620 to reach Dongqianhu Town first. Or you may take Bus Route 901 to get to Taogong Island or Little Putuo Scenic Area first. Bus Route 966 can reach most of the main sites around the lake.