Xikai Church, also known as the Tianjin Catholic Church or St. Joseph Cathedral, is located in Dushan Road, Heping District, near Lida International Department Store in Tianjin City. This church really stands out as architectural masterpiece. The cathedral is a 45-meter-high Roman-style building and is the largest church in Tianjin.
The church consists of two parts: a cathedral and a chief church. The chief church was constructed in about 1913, while the cathedral was built in 1917. They were all built by the French Catholic Church. As a Tianjin landmark, features three massive green domes making it easy to spot miles away. The façade adds to the building's novel appearance with a series of orange and brown horizontal stripes. The interior of Xikai is based on French and Roman architecture styles. The long main hall is lined by 14 large columns (two rows of seven), leading to a gallery-style tee. The nave has a stacked composite side portico, supported by semi-circular tops. There is also an interesting market behind the church.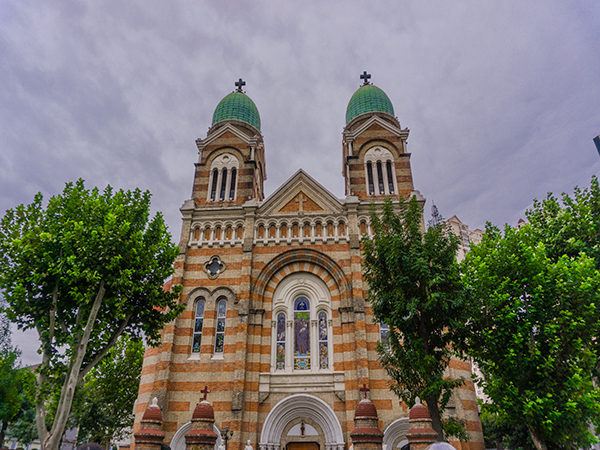 Sited in the central commercial district and original French concession of Tianjin city, the cathedral is one of Tianjin's protected historical relics. The church was built in 1913 under the name of MG Church before it was renamed St. Joseph's Church.
History of Tianjin Xikai Church
In 1912, the Holy See issued an edict, announced by Zhili Vicariate on behalf of the Northern Territory Zhili Vicariate. Tianjin's Bishop House was located near the Sancha River in the Wanghailou Church, and the first bishop was Du Baolu.
In August 1913, construction began by French Jesuit missionaries. Every brick had to be shipped from France. In June 1916, Xikai Church was finished and became the main cathedral for the Roman Catholic Diocese of Tianjin. The Red Guards attacked the area on August 23, 1966. During this attack, three towers were destroyed and were not rebuilt until the 1980s. The 1976 Tangshan earthquake also caused some damage to the church. It was not reconstructed until 1979 and in the autumn of 1980, the reconstruction was completed. It was opened to the public again. In August of 1991, Xikai Church was listed on Tianjin's cultural relic's protection list.
Travel Guide
【Chinese name】: 西开教堂
【How to get there】: Take Buses No.3, 45, 851, 50, 643, 901, 35, 847, 600, 800, 673 to get to the church; or you can take a taxi to get there.
It was not terribly impressive but does have a somewhat interesting history and would be a worthwhile stop for many. It is located right next to a thriving shopping area and you can find a Starbucks right there, if that is to your liking.