Wuzhen Water Town is a national 5A level scenic spot, one of the six China's southern towns. It is 80 km from Hangzhou and Suzhou, 140 km from Shanghai. Wuzhen water town has a long history of 6,000 years. Since its foundation in 872 A.D., Wuzhen has never changed its name, location, waterways, or way of life. Traditional buildings remain intact today even after hundreds years of weathering. It is a typical ancient water towns in southern Yangtze River, known as the "a land flowing with milk and honey, House of Silk". In 1991, it was named as historical and cultural city of Zhejiang Province. In 1999, the protection and tourism development project of this ancient town started.
With its thousands of years of history and culture; its honest and beautiful scenery of rivers and lakes; its unique flavor of the cuisines, colorful folk festivals, deep heritage and timeless lifestyle, Wuzhen has become a living fossil of ancient oriental civilization. The water town will show tourists a fascinating historical picture which is an innate beauty.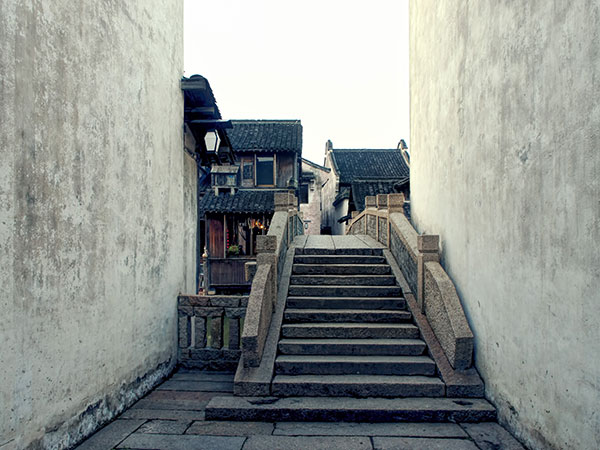 Layout of Wuzhen Water Town
The ancient Beijing-Hangzhou Grand Canal flows through the town, which is divided by waterways into four areas, Dongzha Area, Xizha Area, Nanzha Area, and Beizha Area. Among them, Dongzha Area and Xizha Area are two main areas for tourists.
Even on a cold, rainy spring day, Wuzhen, a town surrounded by rivers, has a special beauty which has not yet been overrun by tourists. Its recent restoration gives it a pristine appearance missing in other traditional water towns such as Zhouzhuang.
Like many towns located south of the Yangtze River, Wuzhen is built along rivers, in this case the East Town River and Town River. They run through the town and main scenic spots all gather along rivers, which run 1.3 km from east to west. Visitors walked through the long pavilion and in front of shops, as the cries of vendors rise and fall on the ear. The air is full of the smells of fresh vegetables, walnuts, fish and shrimp. The signboards of coppersmiths and grain shops still swing in the wind, reminding tourists of their history, but the doors are tightly closed.
The pavilion is the best place from which to view the architectural complex on the other side of the river. All the buildings are of the style of Qing Dynasty (1644-1911): wood structure, black tiles on the roof, white walls and high eaves. The most interesting building in Wuzhen is the "water pavilion," which is an extra part built in river connecting the houses built on the bank.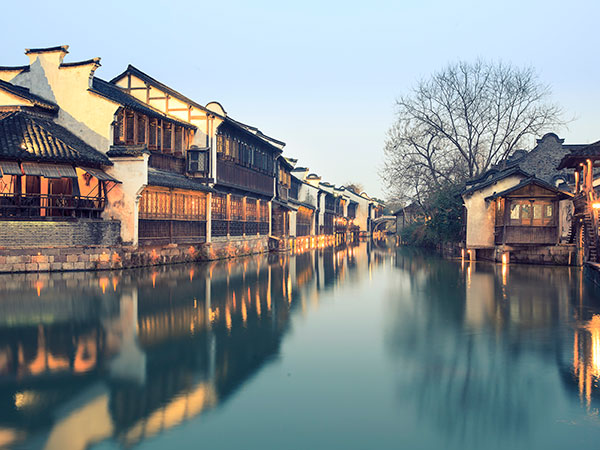 Highlight Attractions to Visit in Wuzhen
【Ancient Bed Museum】
Ancient Bed Museum is the first museum in China that is devoted to the collection and display of antique beds. It is located at No.210 Dongzha Street in Wuzhen Town. Every bed is a unique piece of art and has its own story, from the newlyweds who pray for a good and healthy life to the old couple that have shared the same bed for a lifetime. Inside you will find exquisite examples of the regional style, the oldest dating back to the Ming Dynasty. Displayed in the first hall, along with other pieces, is a framed bed with hoof-shaped legs and rails that look like a writing brush. In the second exhibit hall, you will find the Bed of a Thousand Craftsmen, a beautiful piece of craftsmanship from the Qing Dynasty (1644-1911).
【Indigo Fabric Workshop】
Indigo Fabric Workshop is a large, environmentally-friendly, print and dye workshop with an area of 2500m². Paved with green bricks, the cloth-drying space is filled with tall poles and terraced cloth frames. In addition to using bluegrass as dye for fabric, the dye house also employs its unique color roasting technique which can reproduce bright colors from plants belonging to the local flora, such as mulberry, tea, bark and tallow leaves, hence its Chinese name, Caomu Bense, which means "true color from plants" in Chinese. As a traditional specialty product of Wuzhen and the favorite natural clothing material of the local people, patterned indigo cloth is an ideal souvenir for tourists.
【Water Market】
At the center of an extensive network of waterways, Wuzhen was once a transport hub linking all the surrounding prefectures and provinces. People residing in the nearby places used to row their boats here in the early morning to drink a cup of tea or to sell their vegetables and fruit. Gradually it developed into a thriving market on the waterway. The riverside denizens could call out to passing boats, and they would row up to the house with fresh vegetables or fruit for sale, much to the delight of local people. It still thrives today.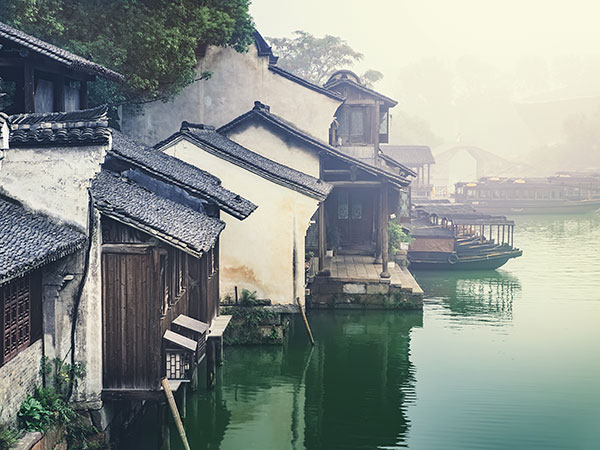 Popular Activities to Do in Wuzhen
【Take Boat Cruise】
Taking a boat cruise along the waterway would be another way to enjoy the beautiful scenery of Wuzhen. There are two kinds of boats you can choose from, one is sculling boat with 6 passengers seats on one boat only, and the other is tourist cruise which can take dozens of passengers at one time.
【Watch Shadow Play】
Shadow Play is like the cartoon of traditional Chinese culture. It tells entertaining stories by projecting characters made with sheep or cattle hide onto a white screen. Performers control the puppets with bamboo sticks, creating lifelike action with their shadows. Through the performers' consummate skill, viewers are treated to plays in a wide variety of genres. It is interesting to watch.
How to Get to Wuzhen Water Town
Wuzhen can be easily accessed through a number of expressways and national highways. You may find more transport details at
→ How to get to Wuzhen Water Town from Hangzhou
→ How to Get to Wuzhen Water Town from Shanghai