Western Xia Tombs (Chinese name: 西夏王陵), or West Xia Imperial Tombs, located at the foot of the Helan Mountains in the Ningxia Hui Autonomous Region of northwestern China, cover an area of about 50 km². It is just to the south of the Gunzhong Pass, consisting of nine imperial mausoleums and 250 tombs of imperial relatives and officials.
It is one of the largest and best preserved imperial graveyards in China. About 17,000 m² so far have been excavated, and efforts are continued to preserve the remains of this mysterious area.
Western Xia Tombs
The Western Xia dynasty were very first built by the founder of the Western Xia Kingdom (1038 to 1227), Li Yuanhao, exactly who built about 70 tombs; among which, one was for himself, and a few tombs for his relatives and much more to be kept empty in order to prevent theft. From 1220 to 1227, as Western Xia Kingdom failed in the war against the ancient Mongolian army, the imperial tombs were damaged. Nowadays, tourists here can only see piles of relics.
So far, only the No.3 mausoleum has been completely excavated and researched. This mausoleum, owned to Western Xia's first emperor Li Yuanhao, has been believed as a pavilion-tower structure both traditional mausoleum and temple styles with Buddhist characteristics.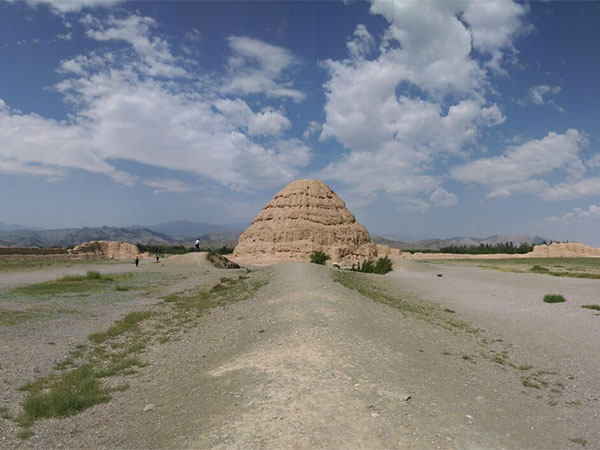 Features
The Western Xia Tombs seem to be extremely unique in contrast to the wooden and stone structures of the Ming and Qing imperial tombs. They are actually earth and brick constructions that reflect the culture of the ancient western kingdom.
According to the archaeologists, octagonal glazed-tile pagodas once stood by each tomb. In the wake of the heavy erosion and poor maintenance, the majority of the structures are now greatly dilapidated, made from crumbling brown earth and scattered across the plain. Luckily, people today still have the chances to enjoy the broken stone tablets, towers, building materials, walls and steles, glazed tiles with inscriptions of Western Xia or Han characters; and get valuable information on the Western Xia here.
Each main tomb, encircled by a wall with an entrance gate in each direction, has an independent group of buildings; also each has an array of watchtowers and four corner towers; external city; pavilions housing stone tablets; sacrificial hall and coffin platform from south to north.