Wansheng Stone Forest in
Chongqing ranks as the oldest stone forest in China. This large-scale stone forest began to form about fourhundred and sixty-five million years to six hundred million years ago. This long history makes Wansheng Stone Forest got the reputation as the "ancestor of the stone forest". This typical karst site is attractive because of the various shapes of the stones. Visitors can find a rock shaped like a tower, a mushroom, a sword peak, a lively bird, etc. During your visit in this forest, your imagination will be enlarged when you see these shaped rocks. Just like its name "a natural stone zoo" referred, Wansheng Stone Forest is a leisure house for both human and animals which are alive or just made of stones.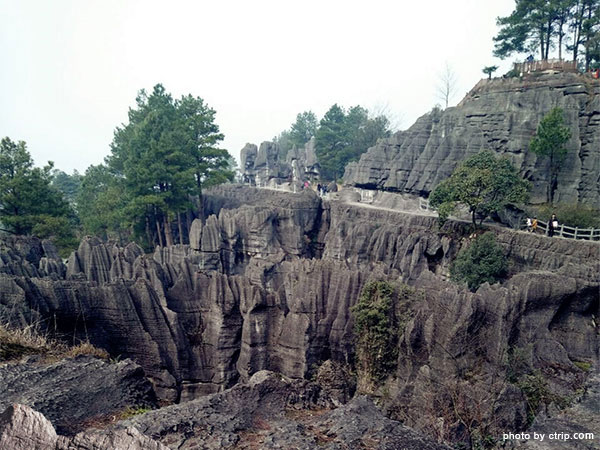 It is a geological museum experienced trillion years' ocean changes. The ocean biological fossils distributed on many stones have recorded trillion years of changes of the ancient ocean. Furthermore, the place boasts a good number of scenic spots, such as the earthly slit, a group of limestone caves, underground streams and the milk stone in various shapes. Various activities are offered to the guests, which encourage every one to participate, such as ethnic dance show, teahouse and clap the mountain.
Sedan chairsare available to take visitors up the numerous stairs to the top when some one feeling tired needs to relax.
It is a scenic spot for original customs of Miao Nationality. Wansheng Stone Forest belonged to the territory of ancient Yelang Country. Miao nationality, who are skilled in singing and dancing, have been living here generation after generation and the colorful original customs of Miao Nationality has endowed the stone forest with the characteristics of touring for folk customs.

What to See
【Surface Stone Forest】 Typical karst landscape represented by the surface stone forest is very attractive. Here, the peaks rise steeply, mountain cliff stones are in various shapes, like stone gate, stone village, column, etc., which like people to pile it but without artificial trace; Stone animals and birds are vivid and lifelike. The main landscapes are Qinglang Peak, Xianglu Mountain, Huge Fan, Stone Drum, General Stone, etc. It shows the aesthetic feeling of Wansheng Stone Forest landscape and the spiritual.
【Underground Karst Caves】 Wansheng Stone Forest Scenic Area, not only has fantastic rock peaks but also underground karst cave landscape around. There rare mainly the vertical and horizontal two types of caves. Horizontal caves are Tianmen Cave, Guojielou Cave, Liangfeng Cave, the Fairy Cave, Guanma Cave, Touniu Cave, N
ine Dragons Cave, Goddess of Mercy Cave, etc. Among them, Tianmen Cave has unique landscape and modeling, there are stalagmites, stone pillars, rock flowers and stone curtain inside the cave, hanging, stand and clamps, such as jade crystal, such as the palace. It may be said "created by heaven".
【Tiquan Gorge】 So far, there was developed three gorge scenic spots, all parallel arranged in scenic area in the east, followed by Lotus Gorge, Birdsong Gorge, Tingquan gorge (Listen to spring gorge). The best scenery is Tingquan Gorge. Tingquan Gorge is a valley formed by karst collapse and fracture. It is nearly 300 meters long, 1-2 meters wide, about 80 meters deep, and can be accessed by a narrow road. Entering the gorge, the path is extremely narrow and very risk, pedestrians can enter by a single row. But the cliffs of gorge weigh several tons, shape like square stone piles up. To move forward, the deeper the gorge, the darker the light, and the wall is like knife-cutting, and dead trees like ghosts skeleton, vines spread like a snake array cover day, rock on the water like a snake venom.
Local Products
The bamboo shoots
: Wansheng is one of the main origins of bamboo shoots, due to the unique natural environment and climate; the bamboo shoots are called natural green mountain delicacies. And because it is fresh fragrance, good taste and rich nutrition, convenient and exported to Southeast Asia, Taiwan, Japan, etc.
Wangsheng Tea: Wansheng natural condition is superior, the good ecological environment Wansheng is suitable for growing tea, and it is famous tea producing area in Chongqing. In the tea garden area there is 1200 mu, the annual output is nearly 1000 tons of tea. Wansheng has a long history of producing tea, and has different kinds of tea, such as Chongcha tea, Sichuan tea, Yunnan tea, Fuding tea and other 27 series. Processed tea varieties are: green tea (liquor pan-fried grenn tea, baked green tea), jasmine tea, red tea, oolong tea, and more than 20 varieties.
Miao Silverware: In Wansheng Stone Forest Scenic Area, visitors will see Miao ethnic youth women carry their basket with silverware inside and they warmly greet visitors to take photo, the silver that they carry is Miao silver. Not only their headwear has rich varieties, their body accessories sort is also various, such as silver sautoir, plastron of silver, silver lock, silver decorative back and other ornaments which is magnificent, beautiful and skillful, shows red Miao compatriots the unique cultural features and aesthetic interest.


How to Get There from Chongqing
People can take bus to Wansheng from Chongqing Nanping or Chejiaping long-distance station. Chongqing Nanping rolling start to depart bus and Chenjiaping long-distance bus station departs per every hour a shuttle to Wansheng. After arriving Wansheng, then can go to Nantong station to take bus directly to Wansheng Stone Forest; the tourist train from Chongqing direct to Wansheng has temporarily suspended.
Every 8:00 in Chongqing railway station visitor can take tourist train to Wansheng every day; or to take No.327 bus in Nanping Bus Station to Wansheng, and then transfer to the tourist special line shuttle bus can reach the stone forest.