Chongqing Wulong Furong Cave, China National AAAA level tourist area, China national key scenic area, national geological parks in China. Its huge body, rich cave sediments not only conquered the world cave experts, also welcomed by many visitors. More than 70 kinds of secondary chemical sediment to make this rich landscape, which is majestic, exquisitely carved, luxuriant and make people dizzying.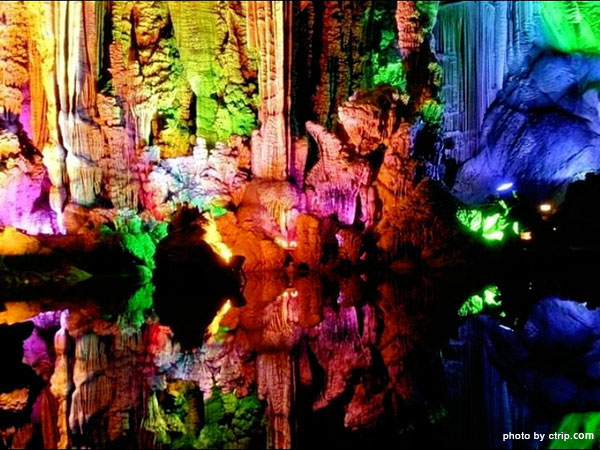 Environment
Furong Cave is a large limestone cave, located in Chongqing Wulong County, about 190 km from downtown Chongqing. It was regarded as "the most beautiful place underground" in China. Furong Cave has more than 70 kinds of secondary chemical sediment to make rich landscape, which is majestic, exquisitely carved. And it was hailed as "a colorful brilliant underground art palace."
Furong Cave formed in about 120 years ago, with stability temperature of 16.1 degrees in deep hole. It has large-scale body, varied and rich secondary physical-chemical sediment in cave, various karst caves form, spectacular collapse accumulation, many stalactites, all of these are record of its historical evolution process of vicissitudes of life.
The main attractions are Golden Halls, Leifeng pagoda, Fangs crystal flower, animal kingdom, underwater dragon temple, large waterfall, and coral jade pool, etc.
Geography
Furong Cave has two chemical types of rock, carbonate rock and sulfate salt rocks types, and it has wide variety and colorful types of sedimentary, almost contain all sedimentary types including stalactites for more than 70. Such as: stalactites, stalagmites, stone pillars, coral crystal flowers, etc. Its mineral composition is mainly calcite and gypsum, aragonite, water magnesite stone, and there are many number of most species with perfect form, widely distribute. This landscape currently found in the country, is the most unique, and some types are even rare in domestic, and rare in the world. Furong Cave in 1994 was rated as China's top cave in more than 100 caves, praised with a reputation for the "king of the cave", is recognized as the most beautiful scenery in underground.
Transport
【Passenger car】

There are shuttle bus to the Furong Cave in Chongqing Nanping bus stop.
【Self-driving】

Self-driving is more convenient, there is three kilometers road outside the Furong Cave which connects directly to the entrance of state road 319, via visiting exit.