For a long time, the ethnic groups and their exotic customs have attracted many people from home and abroad. However, visitors from far away find it difficult to cover the whole province during their short stay. Intended to cope with this situation and epitomize all these in Kunming-the capital city of Yunnan and very important stop for travelers in the province, the Village of Ethnic Culture (Chinese Name: 云南民族村)has managed to represent and exhibit the history, the cultures, the customs and the natural village houses of the 26 nationalities in this province. With the inclusion of precipitous hills, beautiful lakes and an integration of the customs, cultures, music, songs, dances, religious and architecture of the 26 nationalities, the village community has helped to show the world the true nature of Yunnan, a mysterious yet modern garden of ethnic cultures.
Located by the Dianchi Lake and at the foot of the Western Hill, the Village is a major part of Kunming Dianchi National Tourist and Holiday Zone. Opened to the public on February 18, 1992, the community is 8 km away from the city of Kunming proper and covers an area of 1,340 mus. The whole community contains 26 villages, and so far the Dai Village, the Bai Village, the Yi Village, the Naxi Village, the Wa Village, the Jinuo Village, the Lahu Village, the Bulang Village and 4 other villages have been completed.
The village is not only celebrating ethnic minorities, but it is also designed to give the world a snapshot view of both the natural scenery and cultural importance of Yunnan including: precipitous hills and beautiful lakes, parks, woods, old and modern treasures. Now the community has become a must-see for domestic and overseas visitors to Yunnan.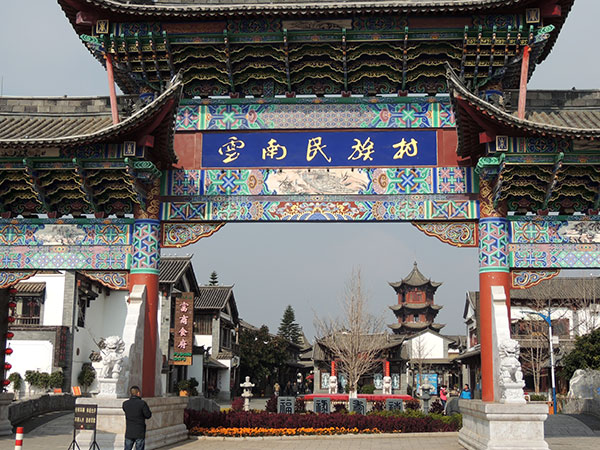 The Main Villages in Village of Ethnic Culture
【Bai Village】
It covers an area of 62.5 mu. In the village there are many traditional Bai ethnic dwellings. A "Dali street" with operating elegant industrial products linking the north and south, along the street there is folk museum and the butterfly pavilion. Bai people is hospitable, guest is the first is their hospitality etiquette. If there is a guest at home, they will treat them with a cup of liquor or tea. The famous Three Course Tea is Bai ethnic tradition to receive guests. But generally, Bai people only serve 1/2 cup of tea to guests, for they think a full cup of tea means cheat. To thank for Bai people's warm hospitality, people should say "Nor Vei Ni (thank you)" to show our appreciation and gratitude. Respect for elders is the traditional virtue of the Bai, when you see the old man to say hello, greetings, give way, offer seats, tea and cigarette. The fireplace is a sacred place in the home, spat at the fireplace and crossing from the fireplace is taboo.
【Yi Village】
Covering an area of 50 mu, the three relief wall with the tiger shape represents the Yi tiger culture characteristics. On the public square in the center of the totem pole, there is sun, tiger, fire and the eight diagrams image, surrounded by 10 different modeling moons of black and white surface. There are 12 zodiac stones distributed outer circumferential square. Tuzhangfang group, clay methods houses, built around the mountain, represent that the real life of Yi people is in harmony with nature. Inside the building there is Tusi (system of appointing national minority hereditary headmen) courtyard, culture building, school rooms, winery and silk embroideries workshop etc. In the village there is building bullring, tea garden, and folk sports facilities such as swing.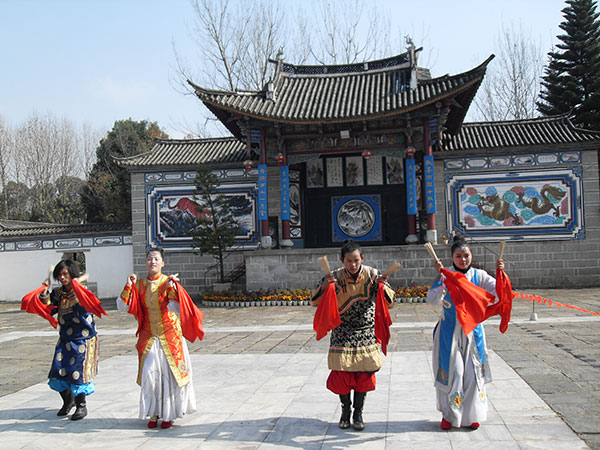 【Miao Village】
Stilted buildings show Miao clothing and handmade craft, local-style dwelling houses building reflects the folk style of living. Miao is a minority good at folk songs and Lusheng dance which is very popular with the masses. Lusheng dance is also called "jump song", "hit and jump", "tread Lusheng", is the combination of folk dances that Miao people amuse themselves and perform. On every festival holiday, Miao people in costumes get together in this field, playing moving Lusheng and dancing, living it up in the village.
【Dai Village】
Covers an area of 27 acres, Dai village is surrounded on three sides by water, shaded by green trees. Groups of "Ganlan-styled (pole-railing stilt building) residential architecture" Dai bamboo tower, connects the solemn Burmese temple by the winding red dinas path. Towering magnificent pagoda, exquisite wind-and-rain bridge (shelter bridge), as well as wind-and-rain pavilion, wells, bell pavilion and other buildings are full of Dai full-bodied feelings, which show Dai village real folk landscape.
【Zhuang Village】
Zhuang compatriots of Yunnan province mainly gathered in Wenshan prefecture, they live in Ganlan or Malan local-style dwelling houses, good at planting and diligent about farming, and they have customs of sun-worship, "Three Eternity Emperor" worship, ancestor-worship, and the custom of the master of elder is the leader. They regard highly of bronze drum, love silver ware, can sing and dance. They are hospitable and love to eat five-color glutinous rice, rice wine, and roasted tea. They have a national consciousness of self-esteem and self-confidence, their excellent traditional cultures are still intact that remain the ancient ethnic traditional culture essence of Baiyue minority.
【Tibetan Village】
Covers an area of 21 mu, the village has top residences and carving type flat local-style dwelling houses building. Sacred Tibetan Buddhist temple, magnificent welcome white pagoda, the "white yak" sculpture is symbol of auspicious peace and unique style of Tibetan architecture mutual set off, bring out the best in each other. During the festival, singing folk songs, dancing Guozhuang dance and Xianzi dance, riders are even competing for archery.
【Yao Village】
Consist of stilted building, bungalow houses and village Taoist temple, granary, the building such as village gate, strewn at random. Some Taoist culture elements of infiltration make the village typical.
Yao nationality music, dance just like its folk songs, originated from labor and religion. The famous dance like long-drum dance, bronze-drum dance, which is dance sacrifice Pangwang and Miluotuo. Folk dances like lion dance, Huagun dance, Shangxiang dance, Qiushi dance and such as more than 10 kinds of dances are prevailing.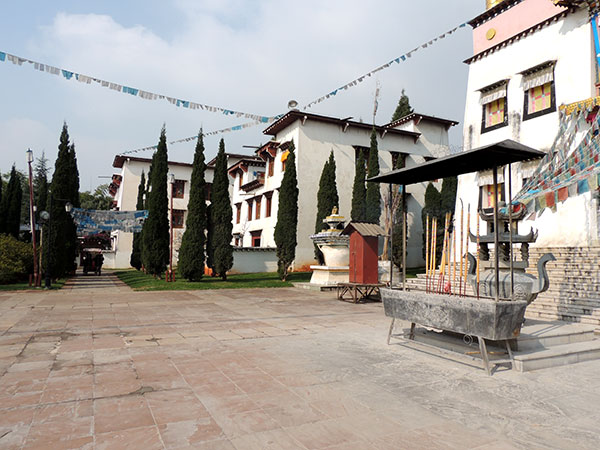 【Acang Village】
With a courtyard building as the main body, and the village gate, workshop is corresponding, such as a grey tile brick wall and stone column is characteristic. Achang people are hospitable and respect the old and cherish the young. There are guest to nap, the host entertain the guest with good tea and serve better wine; When propose a toast or pour tea, avoid to accept without comity. There is custom that the host will try to persuade guest to drink and eat, whether people who can drink liquor or tea, it is taboo that guest does not accept; When guest is persuaded by the host during dinner-time, no matter you are full or hungry, you'd better receive what the host give with bowl holding in both hands. Receiving with both hands or get up to salute is regarded as a great respect.
【Moso Family】
Close to Lugu Lake there is "Muleng House" on the bank that Moso people live, this simple quadrangle stockaded village built by log was named "the home of Moso". Moso people are living along the Lugu Lake in the northwest Yunnan plateau Yongning area with a population of about 80000, they still retains the matriarchal and matrilineal family life habits. This peculiar folk caused the attention of anthropologists around the world and made moso people special and mysterious.
How to Get to Yunnan Village of Ethnic Culture
• From Changshui International Airport to Village of Ethnic Culture
Kunming Changshui Airport is about 25 km from downtown, it takes about 100 RMB to Kunming city. And it is inconvenient to take public bus from the airport to the village because of transfering, so we recommend people to go to Village of Ethnic Culture from the airport by taxi which costs at least 100 RMB.
• From Kunming City to Yunnan Village of Ethnic Culture
By bus: You can take public bus No.24, 44, and 73 to Yunnan Village of Ethnic Culture bus stop.
By taxi: Taking taxi from downtown to Yunnan Village of Ethnic Culture takes about 30 minutes.