Tianchi Lake (Chinese name: 东小天池) is located half way up Bogda Peak in Fukang County, 110km east of Urumqi City. As a natural alpine lake, it has an elevation of 1,980 meters. In the shape of a half moon, the lake is 3,400 meters long, about 1,500 meters wide, and 105 meters at the deepest point. With limpid water, the lake shines like a sapphire under the sun and is surrounded by green mountains. At the southeast end of the lake is the magnificent Bogda Peak, meaning "Sacred Mountain" in the Mongolian language.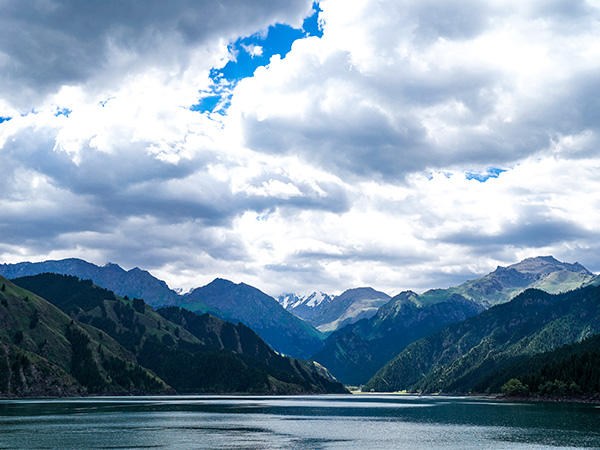 The Tianchi Lake scenic area can be divided into four natural view belts: lower mountain belt, mountain coniferous forest belt, alpine and subalpine belt, and ice and snow belt. Riding a horse, one can, within one day, arrive at the foot of 5445-m high Bogda Peak that is the highest peak of the eastern Tianshan Mountains. Bogda is a Mongolian word, meaning "God". The 5445-m high Bogda Peak was covered by ice and snow all the year round and thus like wearing a body armor, so ancient Mongolians thought that this was "God" and named it "Bogda". The Bogda Peak is one of the mountain peaks chosen by Chinese and foreign mountain climbers for climbing sports.
Tianchi literally means ' Heaven Lake ' or ' Heavenly Lake ' (in Mandarin Chinese) and can refer to several lakes in China and Taiwan.) Formerly known as Yaochi (Jade Lake), it was named Tianchi by Mingliang in 1783, the Qing Dynasty Commander of Urumqi Command.

Transport
1.From Urumqi People's Park, Hongshan (Red Hill) Hotel there are shuttle buses to Tianchi, 2 hours of driving. The first bus is at 7:40, and every 8 minutes interval departs a bus.
2. From Urumqi city taxi ride to Tianchi through highway, about one and a half hours to there, with a distance about 92.4 kilometer.
Route
Tianshan Tianchi scenic area is laying asphalt pavement, sand-gravel surface, and tourist vehicles can reach attractions inside through this road. And there are also the sidewalks, riding track s leading to any attractions in the scenic spot.


【One-day tour route】

Morning starting from Urumqi to Tianshan, first you can visit west small Tianchi- Tianshan Picea Schrenkiana-Tianshan scenery-big Tianchi-Bogda Snow Mountain- Viewing pine in South Mountain-Tiewa Temple (feel the Taoism culture) – boat trip to enjoy Tianshan scenery – return to Urumqi.