Do I Need a Travel Visa to Travel in China?
In general, yes, you need a travel visa to travel to China.
There are some exceptions, including the Visa-Free Travel Program, but these are limited to certain regions and short duration of stay in most cases. You should not rely solely on this program unless your itinerary is well-established and falls within the guidelines of one of the exceptions listed.
How Do I Apply for a China Travel Visa?
Applying for a China Travel Visa must be done in the United States in advance of your visit – visas on arrival are not available for US citizens. Therefore, you need to have your itinerary, including lodging and flight arrangements, worked out well in advance.
The application for a visa can be downloaded and filled out and signed. Supporting documentation is required as indicated on the application. After that, it must be delivered to the relevant Chinese Consulate based on the state you live in (there are 5 such service centers in the US). You do not need to appear in person, but cannot send the application in by mail, either. If you are not going to the service center in person (understandable, since it can be many hundreds of miles from where you live), then you'll need to have a local friend, colleague, or a third-party visa service deliver the application.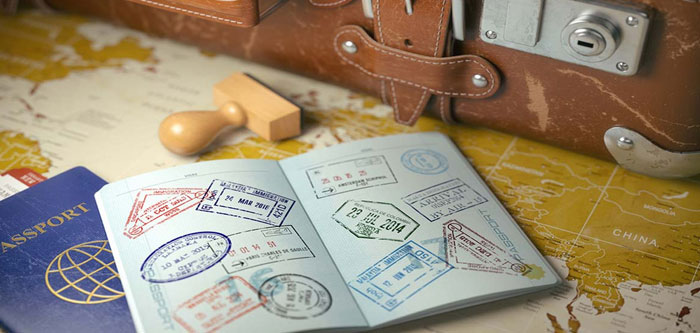 The consulate will review the application, and grant a visa if warranted. Payment is required for this service. In addition, there is no guarantee the visa type or other requests will be honored exactly, as the ultimate decision of what type of visa, duration, entries, etc. rest with the government officials.
Typical processing time is around 4 business days. When the visa is ready and has been issued, you will be notified that it is available for pickup, and your friend, colleague, or third-party service provider will need to go pick it up and settle the payment. While they can then mail your visa to you, along with any other information or documents, the Consulate will not mail it directly.
It is important to note, too, that a visa is still no guarantee of entry. Border officials can deny entry at the border on a number of grounds, just like in the US, consistent with local law and regulations. But without a visa, you're guaranteed not to get in, so that's definitely the first step.
How Can I Extend My China Travel Visa?
If you need to change or modify your visa before your arrival in China, you need to have your visa voided and submit a new application for your revised itinerary. Nevertheless, if you know your trip has changed from your original visa application, this process needs to be undertaken, or you may not be allowed into the country.
Once you're in China, if your trip is extended, for whatever reason, you can visit the local Public Security authority to either have your visa type changed, or an extension granted. Of course, these are not guarantees, but the Public Security authority will review your application for extension or visa type change and generally are quite reasonable, based on Chinese laws and regulations.
In all cases, the sooner you act in advance of your travels, or in advance of your visa validity lapsing, the better off you will be. This is especially true when the change is a result of circumstances beyond your control, such as canceled flights from bad weather, in which case authorities tend to be understanding and cooperative.
What Should I Do If I Lose My China Travel Visa?
You should protect your visa and passport as you do your money and other precious belongings – they should not be treated casually or easily lost. In the rare event that you do lose your visa and passport, don't panic, but act quickly with intent. Follow the steps below.
Notify the local Public Security authority office. They may have you fill out some forms, ask you what happened, and similar.
Visit your local embassy or consulate in-country to get a temporary or replacement passport and related documents. Without them, you are technically in the country illegally.
Return to the Public Security authority office with your new documents to apply for a new entry/exit visa.
In general, this process is non-adversarial, as all parties recognize accidents do happen and people do lose important things from time to time. However, as in all other cases, you are best off addressing the matter as soon as it arises, and in a better position if you have not had any sort of issues during your trip – polite behavior that doesn't run afoul of the local authorities is the surest way to maximize your chances for a positive outcome.
As you might expect, there are usually costs and time factors associated with this process. There is no guarantee your country will issue a temporary or replacement passport in short order, nor that a new visa will be granted. In rare cases, it may mark the end of your stay, as you will be required to leave the country – but in most cases, amicable resolution can be had by following the above steps. It just may cost you in terms of application fees, as well as lost vacation time and headaches, so it is far better to protect and hold on to your passport and visa, and be extra cautious to remember to keep them with you.
Are There Resources or Someone Who Can Help Me with The Visa Application Process?
There are many resources online that can provide additional information about the visa application process. These include the Chinese government's official US site, www.china-embassy.org.
For help with the actual application process, there are many services that charge varying fees to help get your paperwork in front of the consulate staff and coordinate the visa paperwork process. In general, you cannot work directly with the consulate by mail, but working with a third party service agency remotely is perfectly acceptable. Just be sure to do your research online to check that they are legitimate companies with positive reviews from past customers before you fork over money for their services.
And of course, there are fees just for the base process, in addition to whatever fees may be charged by third parties to assist in the visa application process. These typically run around $150 USD for US citizens, with additional fees for expedited or rush processing. Use of a visa service company may easily double that cost.