Telamukanli Glacier
is situated in the Telamukanli peak (7441 meters above sea level) in Karakoram Mountains. The whole glacier is more than 28 kilometers long, covers an area of 124.53 square kilometers, the glacier terminal is 4520 meters high, and the glacier snow line height is 5390 meters.
Glacier ice net reserve is of 26.774 cubic kilometers; converted to water yield is 2.2758 billion cubic meters, which is a veritable "solid water tower".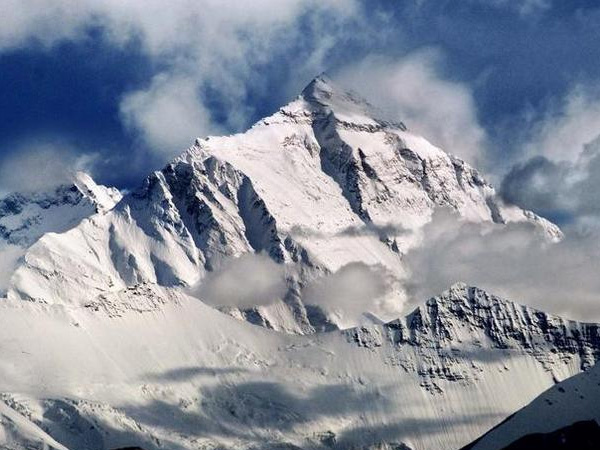 The most amazing natural landscape of Telamukanli glacier is Ice Tower Forest of more than ten meters, from an altitude of 5200 meters growth down to the end of the glacier, the length is above 11 km. The ice peaks formed in the glacier are very spectacular, and under the ice peaks are rippling Ice Lake.
Feature
The snow in Telamukanli Glacier all the year round is full of light shine, the scenery is so charming. This is typical of modern monsoon type glacier with complete type of glacier especially the huge ice basin. There is much ice avalanche, steep and huge 700 to 800 meters of ice waterfall. The ice of upstream of ablation area is arch structure, the end of glaciers coexist of frozen lake, farmland, and villages.


Telamukanli Glacier located in
Midui River upstream, and the
Telamukanli Peak is near the
Sichuan-Tibet highway in a large scale. It is accessible to enter and it is a typical representative of the Tibetan southeastern maritime glacier. The characteristics are typical with complete type, and it is famous for its developed beautiful arch structure, which is a rare natural wonders. Here, a glacier, lakes, combining together with such as farmland, villages, forests where a model of nature in harmony with human is, and it is a good place for tourism and investigation.



Transport
Kashgar is a hub of communications in the southern
Xinjiang province, the transportation is quite developed. By air Airlines between Kashgar to Urumqi, every day there are large aircrafts and flights. When coming to the tourist peak season there add four flights a week, and provides great convenience for the tourists. The flights Kashgar to Urumqi departure every day and take off at 21:30, and arrived in Urumqi at 23:00. By train Kashgar is terminal of southern Xinjiang railway, the main train information is as follows: K888 14:42 departure from Kashgar, 14:52 of the next day arriving in Urumqi; K886 13:22 starting from Urumqi, 13:16 of the next day arriving in Kashgar Transport in the city The city traffic in Kashgar by taxi the starting fare is 5 Yuan. From the airport to the hotel, the taxi fee is 30 Yuan. From the hotel to the airport, the taxi cost is 10 Yuan. Going to the railway station cost 10 Yuan. If you want to go out of the city, taxi fares generally is 14 Yuan.
Basic Information
Best Time for Travel: During spring and summer Open time: all day Site:
Telamukanli Glacier, Karakoram Range of Kashgar area, Xinjiang Province