Hong Kong Tai O Fishing Village is a small village in this metropolis. It allows people to witness a rare water huts. It is located in the northwestern tip of Lantau Island. At Tai O Fishing Village live earthy fish men. Plain land could not give people a sense of security, it mdke them to build the houses of wood on the sea bed after the tides of sea. From then on, the people here have to live on the huts above the water by generations. Tai O enjoys the reputation of "Oriental Venice". Tai O residents are mostly Hakka, making a living by fishing and living tranquil rustic life by the water.
Tai O used to be a major fishing port and garrison town in Hong Kong, and also salt powerhouse for centuries. Today, Tai O has no garrison and only retains a tranquil environment of the small fishing village. And the local salted and marinated shrimp paste have excellent flavor.
Attractions in the Village
【Guanyin Temple】
Walking along the Tai O Street, you can be reached Guanyin Temple. The temple has been 80 years of history. Its architectural style emulates Beijing Summer Palace. Bodhisattva Guanyin represents mercy for many different Asian people.
【Temple Of Guan Yu】
At the end of Market Street at Tai O Fishing Village, you can see Temple Of Guan Yu. The temple was built in Ming Dynasty (1488-1505). Guan Yu in China represents "loyalty " and " military strategy ". It is also called "Guan Di" or "Guan Gong ".
【Yeung Hau Temple】
Yeung Hau Temple was built in 1699. It is the most prosperous temple at Tai O and is considered a good land with great Feng Shui. A large bell stands in the ancient temple. The bell was made in 1699 during the reign of the Qing Emperor Kangxi. Yeung Hau Temple was made in memory of Yeung Hau, whose full name was Yang Liangjie. He was a local official during late Song period (around 1270).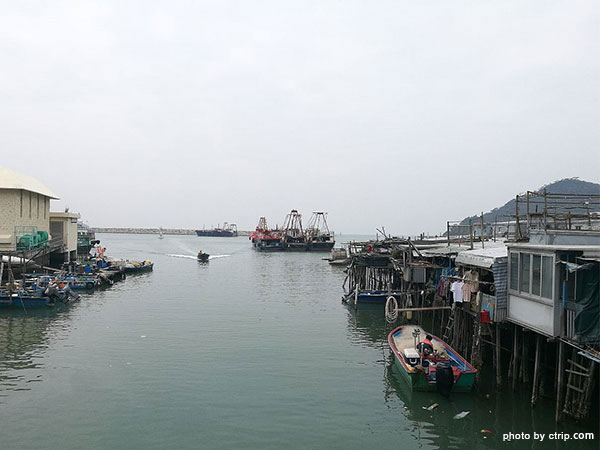 How to get to Tai O Fishing Village
There are a lot of ways for you to get to the village.
►you should take the ferry to Mui WO at Central Pier 6 (MTR Hong Kong Station Exit E1 through IFC mall), upon arrival then transfer to No.1 Line bus to Tai O.
►you should take MTR and get off at Tung Chung Station. You can take No. 11 Bus to get to Tai O in the Tung Chung city center.
►You can go from the Shenzhen Bay Port to enter and take B3 (city buses) to get to the Tuen Mun Ferry Pier Terminus. And then take Fortune Ferry to get there.