Po Lin Monastery was known as the 'Big Thatched Hut' in the early days more than a century ago. It is a famous monastery in Hong Kong and a must see attraction when visitors get this city. It is said that it took nearly 12 years to complete this work. To really reach at the base of it you nearly need to climb 268 steps.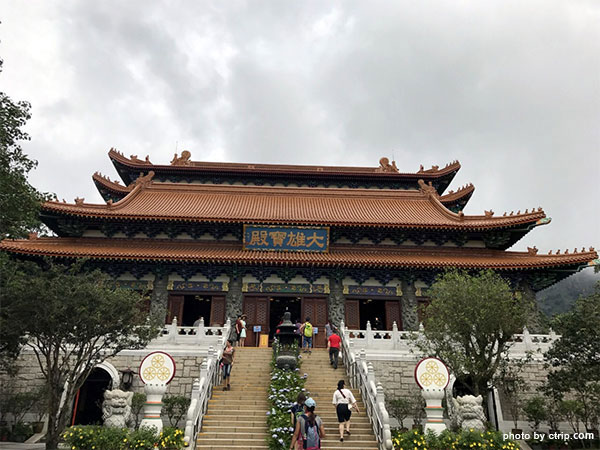 History
In 1924, Venerable Ji Xiu, also from the Jiangtian Monastery at Jinshan, occasioned upon Lantau Island on his tour of Buddhist study. He renamed the 'Big Thatched Hut' to Po Lin Monastery and became the monastery's first Abbot.
In 1925, the first Autumn Ordination Ceremony was held, participated by dozens of lay followers.
In 1928, The Hall of Great Perfection was constructed with the Vajra Cave for meditation on its left and the Guest Hall and the Treasury on the right.
In 1952, Abbot Fat Ho made a decision to cease working from his abbotship to dedicate to religious retreat. Venerable Tsang Sau was chosen as the 3rd Abbot.
In 1960, Venerable Fat Ho, resuming abbotship, renewed the conventional management method of Po Lin Monastery and transformed it to a system with the stewardship of a board of administrators. Abbot Fat Ho was the first Board Leader
In 1972, Venerable Fat Ho died in 1972. Venerable Wai Ming was chosen as the 3rd Abbot. In the course of his management, he constructed a pensionable shelter for the Abbots that had finised their own reign.
In 1981, the first phase of the building of the Big Buddha Statue started.
In 1992, In October, Venerable Chu Hui and monks on the Board of Directorsto went to Sri Lanka as a delegation to get two relics of the Buddha
In 1993, The Big Buddha was finished and the opening ceremony of it was held in Dec. 1993. From then on, Po Lin Monastery's position as a well-known monastery in the world was slowly recognized.
Travel Tips
► It can get very busy so it is best to go first thing in the morning, so plan to be at the cable car when it opens
► Make sure you eat at the monetary, very cheap and humble food. Overall i would recommend going, good half a day trip.
► MTR tung chung station exit B, then take ngong ping cable car which takes around 25 minutes. Then walk for around 10 min to the monastery.
► You can also shop, eat and relax here. A crystal cabin cable car should be taken and if you book through internet u really save a lot of time.